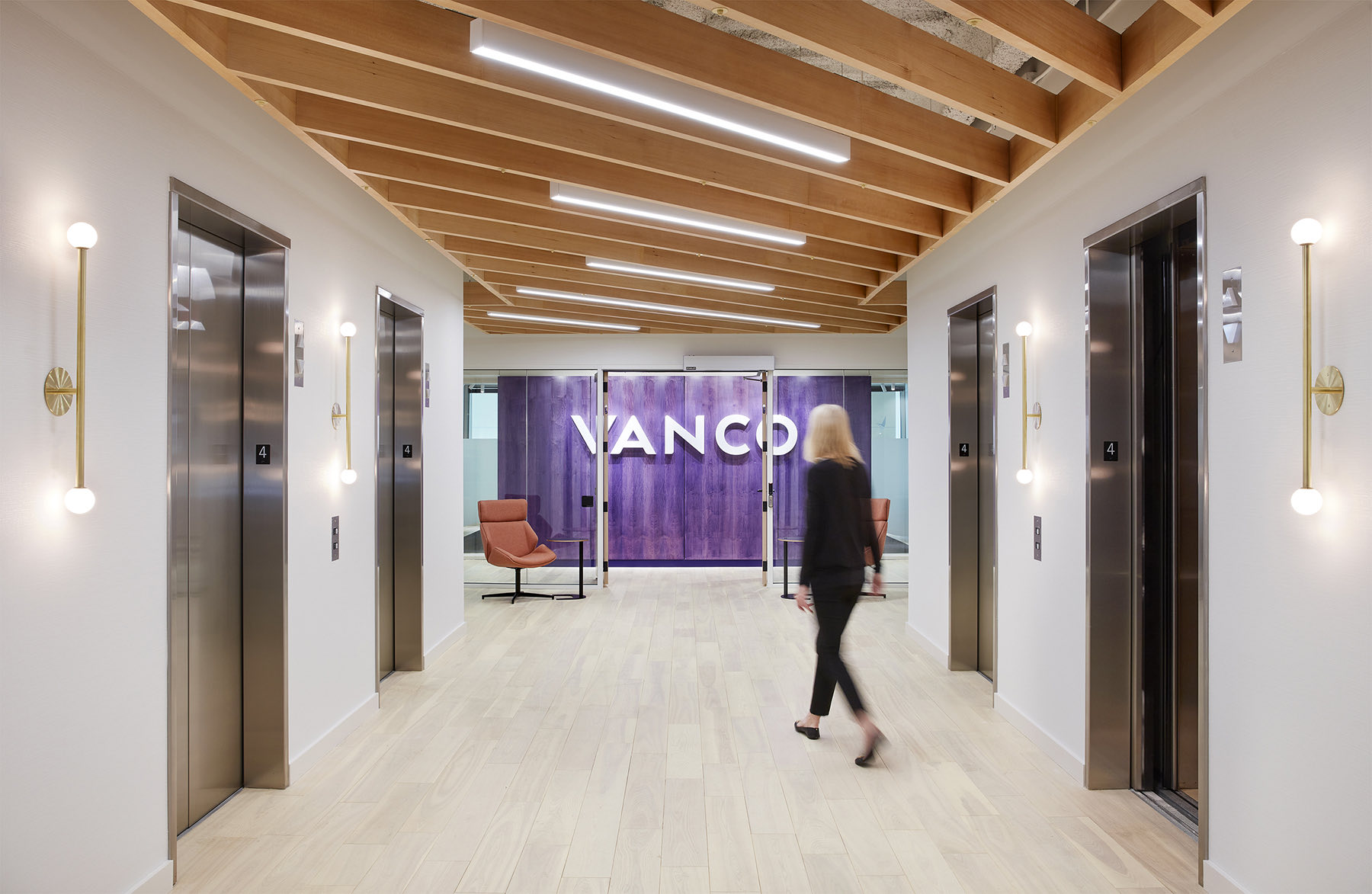 A Tour of Vanco's Elegant Bloomington Office
Software company Vanco recently hired interior design firm Studio BV to design their new office in Bloomington, Minnesota.
"The goal was to take the Vanco brand and celebrate the power of what the team can accomplish when all coming together." This is first brought to life when stepping into the main entrance of Vanco. A study in purple, the design works to express the brand color in multiple different applications to create a fresh and inspirational interior space. A locally crafted live edge walnut island defines the kitchen space with stools for gathering.

Big features in the café are the custom designed booths that use color to tell a story of light and depth of shadow. The booths have custom designed wallcovering by Studio BV that shifts in color as it moves along the walls of the booth. This creates an intimate and cozy feeling to these workspaces. The café serves as a gather place for large group meetings and can support the team needs throughout the day.

The board room is at the entry to the space. Its' purple walls with custom Vanco logo welcomes visitors to the main conference room that features a dry-erase wall and comfortable banquette seating to accommodate overflow attendance. An additional kitchen/break area just outside the conference room bridges that meeting space with the open work area. This coffee bar is more spa like than workspace. The custom wood shelves and tile detail give it a feeling of hospitality and lightness that is contrast to the bold purple wall paneling that surrounds it.

Purple hues are carried throughout the space into the open work area. Varied seating is repeated here to give employees an opportunity to work where they feel best. Personal assigned workspaces are sit-to-stand desks in benching configuration, but the space also features large counter height tables with stools, booths for focus work, endcap tables for collaboration and stationery bike and treadmill desks. Offices occupied by the leadership team feature glass walls to maximize light and serve as a reminder that their leadership is open and approachable." says Studio BV.
Location: Bloomington, Minnesota
Date completed: 2020
Size: 32,000 square feet
Design: Studio BV
Photos: Corey Gaffey