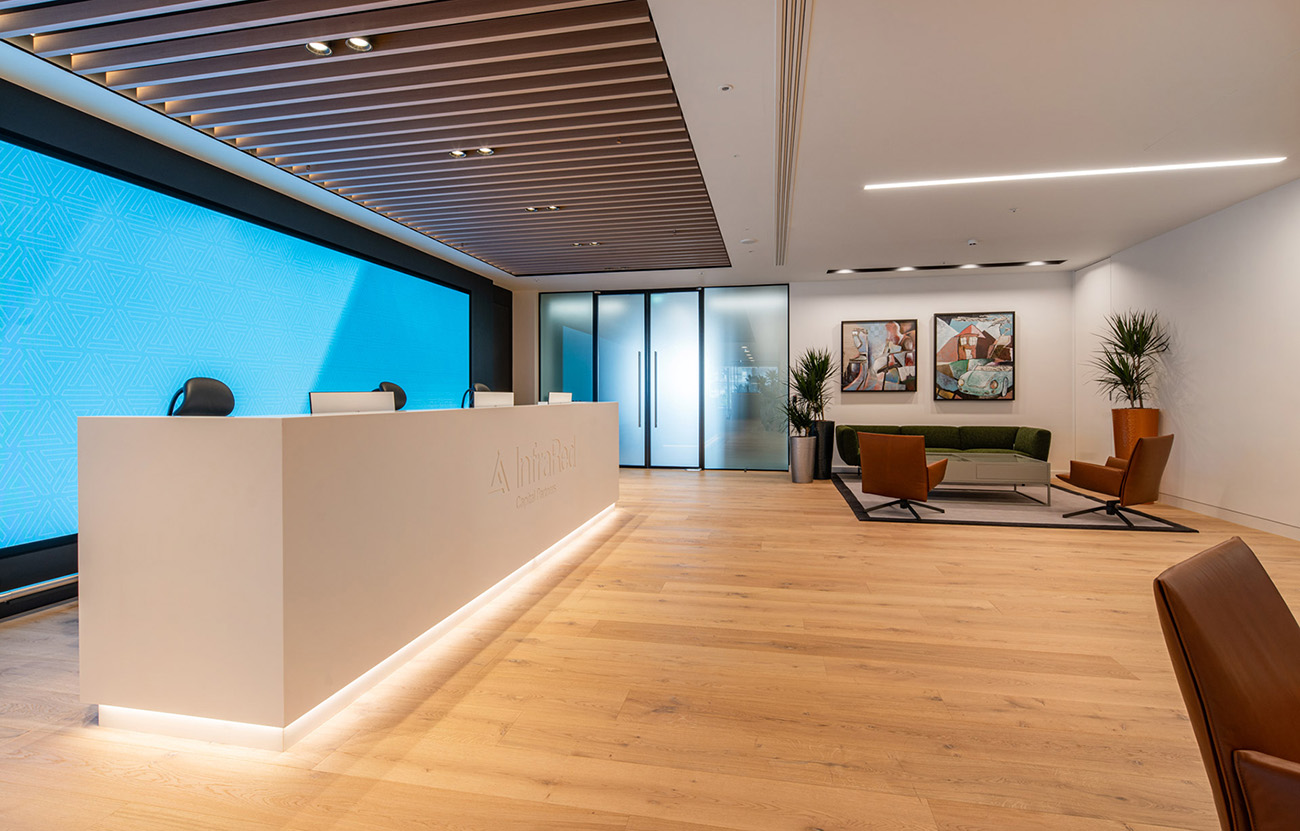 A Look Inside InfraRed's New London Office
Global investment firm InfraRed hired workplace design studio Peldon Rose to design their new office in London, England.
"InfraRed prides itself on being built on a sense of belonging and from the outset its values were instantly reflected in the front of house area – designed specifically for welcoming guests and acting as a window into life at InfraRed. The reception also features a 24 sq m digital display which can present changeable content.

The diverse and agile nature of InfraRed's work and its employees is reflected in the mixture of informal and formal spaces that are scattered throughout the office. Long-term use of space was also a key consideration, and these different areas were planned in order to future-proof and support InfraRed's ongoing aim of attracting and retaining talent.

Seamless technology also lies at the heart of the design, offering employees flexibility of working style. Practical and diverse furniture includes integrated IT, which encourages employees to get together in an informal and comfortable setting. While the breakout areas feature dedicated tech bars for drop-in sessions and troubleshooting and all meeting rooms include AV capabilities.

In addition to open-plan areas, a hub of meeting rooms offers the option of privacy and quiet in a more formal setting, these also ensure that staff can have an area to focus if needed. While a second area offers more collaborative and informal meeting spaces, giving employees much-needed variety in their working environment and helps to ensure formal meeting rooms are free to be reserved when needed.

Biophilia and natural light are incorporated throughout the office, while exquisite and detailed features such as 50 hand-blown glass pendants from Canadian design studio Bocci can be found suspended over the tea point. The office has a dedicated wellness room, and around the TV and coffee bar cosy sofas create a homely space. The stand-out feature, however, has to be the installation of a soft bench looking out across the sweeping views of the city – offering staff a special place to enjoy a few minutes away from their desks," says Peldon Rose.
Location: London, England
Date completed: 2020
Size: 20,000 square feet
Design: Peldon Rosel