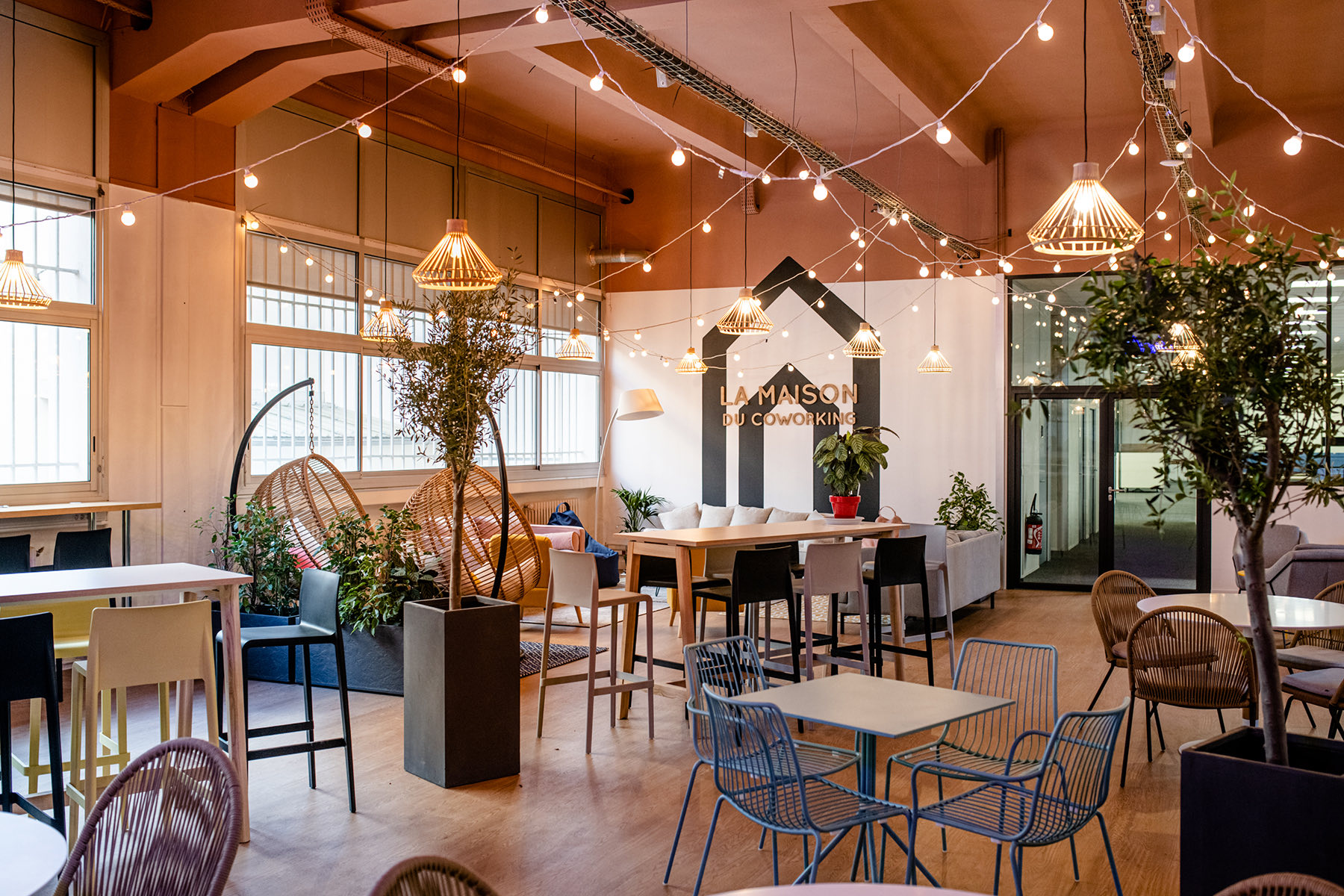 A Tour of La Maison's Paris Coworking Space
Coworking space provider La Maison recently hired interior design firm Yemanja to design their new office in Paris, France.
"We designed  1,500 m2 of coworking space in a bright, atypical and charming space , an old Call center within red bricks walls's building, dispatches on three levels. The building offered a large potential design wise, despite of numerous renovations work to be planned.

"Maison du coworking" is a French chain of coworking spaces which wants family and where it is pleasant to work. The main challenge was to create a space where the different company teams could mix, meet and above all, communicate.

Emphasis was therefore placed on the main living space: "the living room", designed as a living and comfortable discussion space, "like at home": open kitchen, sofas, poufs, games room, Baby foot.

Extremely bright due to the large both sides openings to the outside, it has been thought as a modular space to accommodate all kinds of events such as business meals, match broadcasts, conferences, concerts, etc.

The idea of ​​exploiting the 5 meter height under ceiling of this main space highlighting it with a terracotta color was obvious and gives all its charm to this volume. To invite "coworkers" to change their work environment and invest this space to work differently lot of spot as sofas, hotdesks, even an outdoor terrace have been installed. The offices are made up of different comfortable places that facilitate exchanges.

The outdoor terrace, for its part, has been furnished in a simple and effective way with only picnic tables, hammock and different height tables, just to be able to welcome newcomers as it should be around a barbecue!

The unification of the two buildings created relatively complex and tortuous traffic, signage design work was also to be expected. It was mandatory to clearly indicate the floors and to facilitate traffic flow. The trombone symbol, logo of the "Maison du coworking", therefore served as inspiration. Unrolling it over the entire height of the stairwell, it invite visitors to go from 0A (ground floor of the first building) to 2B (second floors of the second building) .

The aesthetics of the whole wanted to be fresh and colorful, punctuated by small informal meeting rooms, which we repeated on all of the two buildings to homogenize the whole," says Yemanja.
Location: Paris, France
Date completed: 2019
Size: 16,145 square feet
Design: Yemanja
Photos: Jonathan Moyal