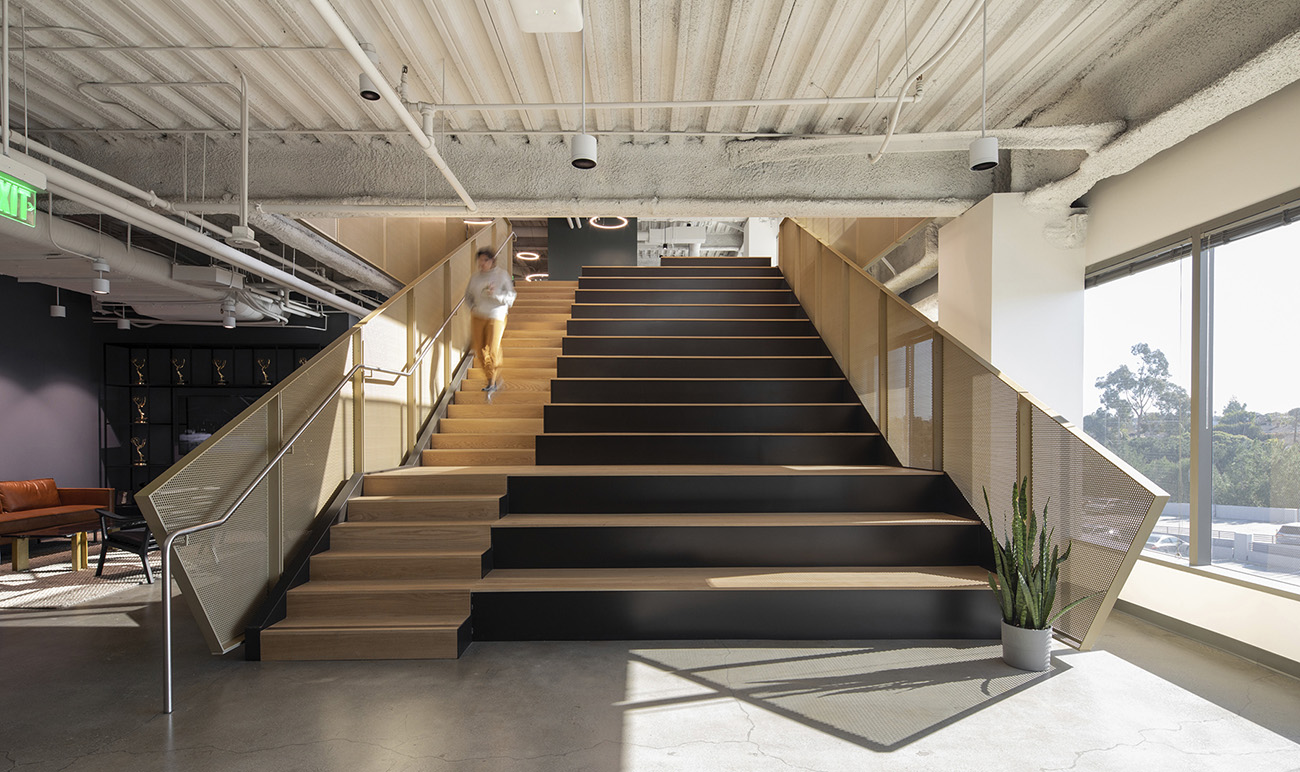 A Tour of All3Media's New Los Angeles Office
Digital production company All3Media recently hired architecture and interior design firm Hawkins\Brown to design their new office in Los Angeles, California.
"In response to a new location and an expanding portfolio of production labels, All3Media needed to rethink their existing space to create a more flexible, creative and professional home in the heart of Silicon Beach, Los Angeles.

Having previously operated across a single, cramped floor plate, All3Media needed a more space to cater for an expanding collection of companies, greater efficiency and variety of working space and an improved identity to create a new 'home' for the brand.

The renovation doubles the existing commercial area across two floors. The introduction of a large auditorium stair links both levels, not only providing much needed visual and physical connections, but also doubling as a screening space to showcase new material to the whole office. Level 4 acts as the production house – where production teams operate out of shared offices around the building's

Lobby and multifunctional space perimeter. Open plan desking has been introduced to improve communication across teams as well as increasing efficiency. Dedicated edit bays are located within the heart of the plan – doubling their previous editing capability. A reconfigured reception space creates a more welcoming arrival point at the bottom of the auditorium.

Level 5 is home to the corporate and creative activities, with production labels housed in their own glass fronted offices, with shared meeting and huddle rooms clustered around the central core. A large social space connects with the auditorium to provide a focal point for the exchange of ideas and social discourse.

The renovation offered the opportunity to create a new identity for All3Media. The introduction of a sophisticated color palette across both floors, as well as new lighting, custom furniture, patterns and signage create a contemporary aesthetic that is seen as a new home for the American arm of the business," says Hawkins\Brown.
Location: Los Angeles, California
Date completed: January 2020
Size: 50,000 square feet
Design: Hawkins\Brown