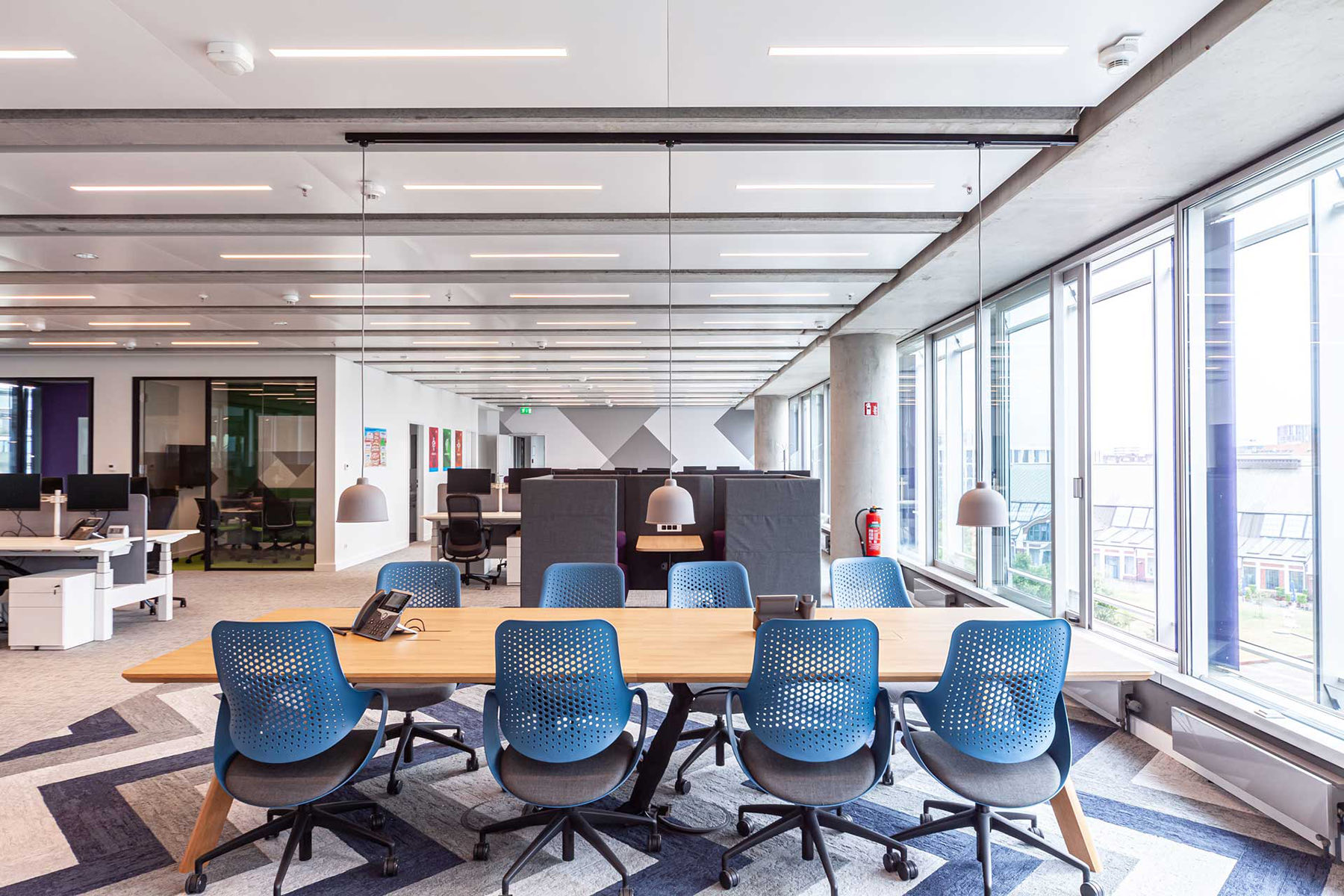 A Look Inside Blue Yonder's New Hamburg Office
A team of designers from workplace design firm Area recently designed a new office for software company Blue Yonder in London, England.
"The fit-out was to continue the high standards and dynamic approach established in Area's earlier work for Blue Yonder's offices. The design needed to reflect Blue Yonder's corporate palette and design guidelines while creating a functional, appealing space that would support the work of the office and impress visitors. Area took on a design and project management role to ensure the contractors provided the quality of materials and finishes expected by the client.

The project was assisted by the client's familiarity with our dedicated team, which helped to streamline the process. We worked to a very clear programme with a set of key milestones, well-defined objectives and a clear project budget. The client was keenly interested in the finishes and fittings, which resulted in the procurement of furniture from across Europe.

The initial plan for a straightforward operational space for programmers and scientists evolved into a more dynamic scheme, requiring the integration of a front-of-house suite, client washrooms and breakout space, along with a bespoke reception.

The completed design makes creative use of the angular lines dictated by the building's singular footprint. Airy, open-plan working areas are juxtaposed with collaboration areas, acoustic booths and breakout seating where people can meet and chat. The meeting rooms are spacious and distinctive, with high-quality AV facilities.

Visual interest is supplied by judicious use of Blue Yonder's corporate colours, attractive joinery in the form of finned ceiling and partition features, motivational imagery, and the coloured walls of the meeting rooms. The primary teapoint and communal space is welcoming and fun, with warm wood finishes, informal furnishings and table football", says Area.
Location: Hamburg, Germany
Date completed: 2019
Size: 7,357 square feet
Design: Area