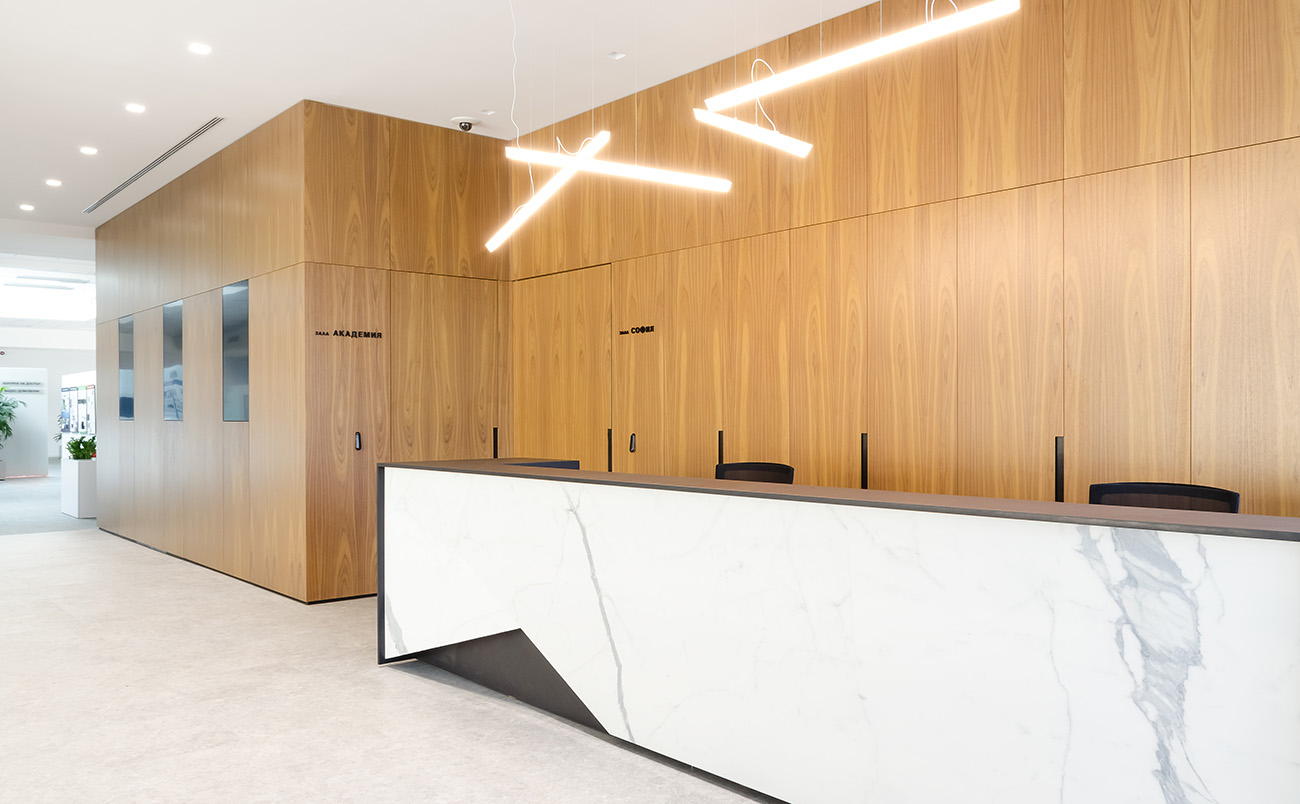 A Look Inside Sectron's New Sofia Office
Security system company Sectron recently hired architecture and interior design firm DA Architects to design their new office in Sofia, Bulgaria.

"The goals were to design a modern look with upscale sensation, while uniting and combining spaces with different function and representability. The common areas, reception areas, reception desks and waiting areas have granite floors, paneled walls with American walnut and glass, integrated presentation screens, enhanced by designer lights in accordance of the use.

A vertical garden at the entrance welcomes visitors and employees creating a transition between the interior of the building and the surroundings. The following two storey open space situates the first and second floor reception desks connected by stone staircase. On the first floor there is an open space work area and a company store. The store is an open and bright space close to the showroom with a separate access from the outside in clients' convenience. On the second floor there is a second open space work area, combined with an exhibition area and a demonstration area. There are also the manager's office, a conference room and a training room. The manager's office is stylish and formal space defined by strict volumes and use of high quality materials. In the same time showing the manager's individuality exposed with collectable pieces about his sports cars' passion. The patterns of the marble walls and walnut furniture bring detail in the interior and complete the character of the space. The collection of significant car models is exposed in a narrow horizontal niche cutting through the whole length of the wall behind the desk. The Recaro chair and accessories such as the wall clock and the sound system complete the auto style of the office.

The representative meeting room contains a large conference table and a cozy informal seating area. The granite paneling of the room's door and entry niche refer to the floors of the reception areas. The doors of the meeting rooms and manager office are integrated in the walnut paneling of the reception area. Combining contemporary design, sheer functionality, distingue character of different areas and skilled use of materials and elements transforms the present headquarters into stylish and cozy space with unique identity," said DA Architects.
Location: Sofia, Bulgaria
Date completed: 2019
Size: 21,500 square feet
Design: DA Architects
Photos: Martin Ryashev