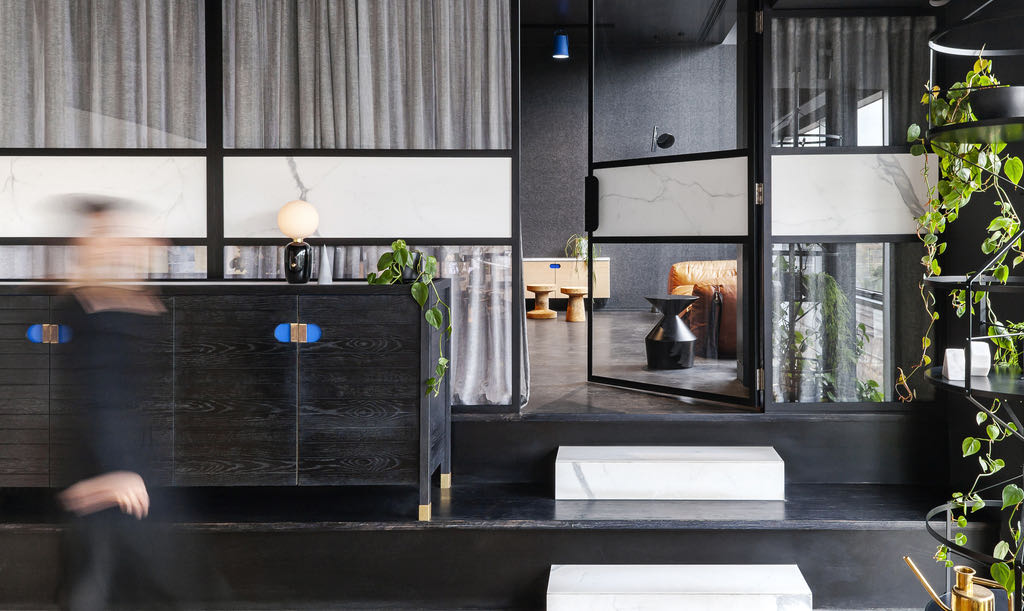 A Peek Inside Cornwell's Minimalist Melbourne Office
Creative agency Cornwell recently hired interior design firm Kestie Lane Studio to design their new office in Melbourne, Australia.
"Following on from the original Cornwell office, designing a space for collaboration and creative expression was once again the focus. The new space called for a more contemporary style with a minimal and clean line aesthetic.

Approaching the long and expansive space with a very minimal style posed the risk of the space lacking the creative expression that is our client's brand. As designers, our challenge was to inject the space with bold elements and statement pieces which are heored by the simple backdrop.By creating a strong focal point at the end of a long hallway, the eye is drawn into the communal space. As the theme of the space is very monolithic and sleek, these moments of surprise are key for creating points of interest and personality. The inhabitant is then drawn into a space which encourages a sense of community and interaction.

The expansive site allowed for a very social and open plan office space. The hero of the interior is the communal kitchen and meeting area featuring a large meeting table extending the length of the space. This area allows for Cornwell's creatives to interact and collaborate in a social and work setting.

In true Cornwell style, the graphic stone bench is a bold element of surprise. The simplicity of the white walls and polished concrete which surrounds allows for the monochromatic graphic pattern to be the statement. Amongst the paired back colour palette are outbreaks of deep purple and blue, a nod to Cornwell 1.0. The space has many sculptural moments. Stone artifacts and steel frame floor to ceiling planters are showcased as pieces of art amongst a minimal and sleek canvas," says Kestie Lane Studio.
Location: Melbourne, Australia
Date completed: 2020
Design: Kestie Lane Studio
Photos: James Withers