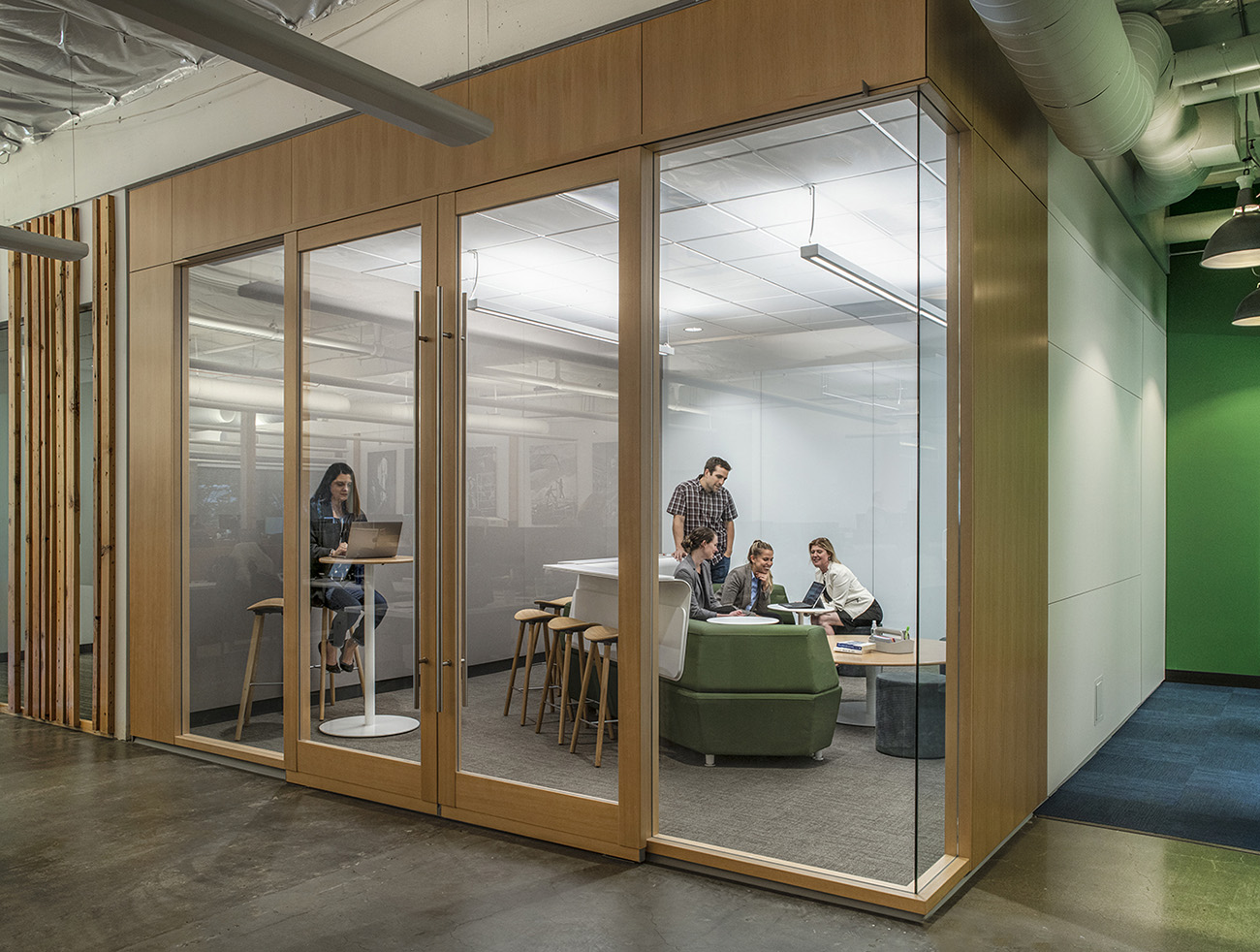 A Peek Inside Fortis Construction's Portland Office
Construction firm Fortis Construction hired architecture firm Woofter Bolch Architecture to renovate their offices in Portland, Oregon.
"Inspired by a vision to accentuate and strengthen collaboration, the Fortis Headquarters renovation blends core company values: the support of individual team members with a boldly innovative and experimental culture. As a shorter-term improvement, the project required strategic space refinement rather than an immediate overhaul. Additionally, the office had to be fully occupied and functional during construction further influencing design opportunities and challenges.

The organization, functional arrangement, and materiality of the new spaces creates a perimeter defining the open-workplace environment where team members remain connected and energized from their individual workstations. Vibrant paint colors define private phone booths and small meeting spaces with a Doug Fir clad volume housing a meeting room intentionally designed for different meeting types. Instead of a classic conference table, the design team developed an ancillary furniture solution supported by sleek integrated technology. The wide range of conference, breakout, and private call spaces greatly enhance usability and functionality, resulting in improved efficiency and productivity. Team members are able to "escape" the open-office area, allowing for collaborative work sessions without disturbing colleagues concentrating on focused, individual work. The simple insertion of these spatial elements makes a vast functional difference without a disruptive renovation.

The majority of Fortis's team works in the field, and the headquarters serves a company of more than 450 employees. As a result, functional, effective, and innovative solutions were required to accommodate their rapid growth in the office and the field. With a future expansion highly likely, the design team strategically incorporated premanufactured wall systems and experimental workstations. The variety of architectural systems, furniture, and new workstation types were incorporated to inform future office design decisions. Fortis's office culture regularly shifts seating arrangements to co-locate functional teams and accommodate a team consistently moving between the headquarters and jobsite. The open office and workstation configuration, which opens to natural light on the south and east, is designed to continuously explore shifting workstations," says Woofter Bolch Architecture.