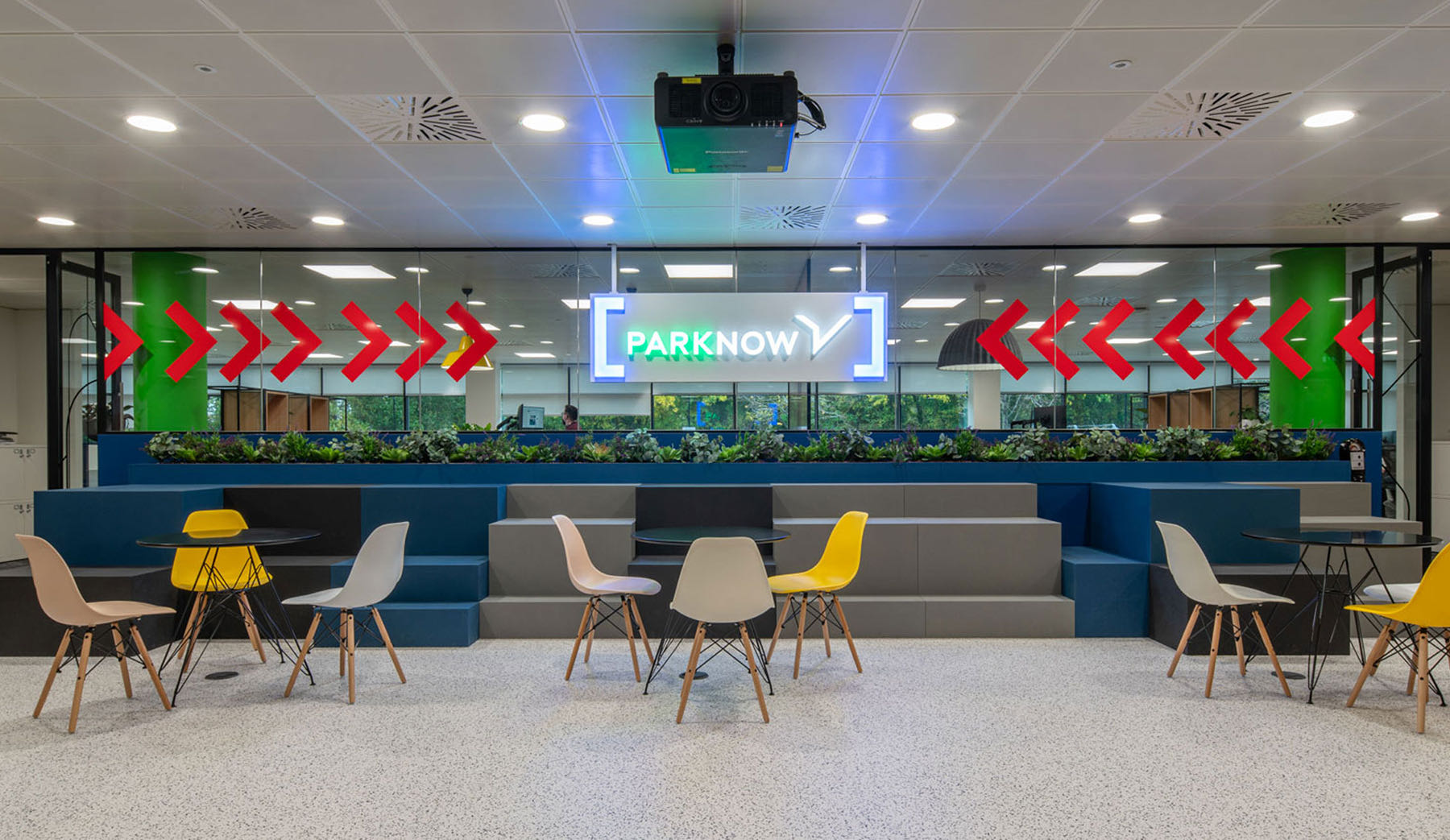 A Look Inside PARK NOW's New Basingstoke Office
Parking app PARK Now recently hired workplace design firm Peldon Rose to design their new office in Basingstoke, England.
"PARK NOW were previously split across multiple industrial units, a set up that was not conducive to collaboration across the rapidly growing team. Crucially, the new space brings the whole organisation together on a single floor plate, and moving from a one-to-one static working format to an agile way of working has brought the brand identity into the physical layout of the office. With better use of flexible meeting rooms and access to informal meeting spaces for their regular morning team huddles and collaboration meetings, PARK NOW has created the best working space for its employees, boosting productivity and communication.

Despite the overarching need for openness and collaboration, Basingstoke is home to PARK NOW's UK call centre, which required private space to discuss customer needs while ensuring that the team did not feel cut off from the wider organisation.

The new office layout had to bring people together whilst giving each team the space, privacy, and technology they required to operate efficiently, with the help of a beautiful building to work in. The office has been designed around a central collaboration hub that can hold all PARK NOW's people for events and provides the flexibility to work in an agile manner.

Aesthetically the design is in line with PARK NOW's brand identity; fun and diverse. The use of natural timbers and muted greys against a backdrop of vibrant blues and pinks sets the tone for a fun and sophisticated office – the use of fun lighting and planting also came into play to help liven the scheme up.

Peldon Rose worked closely with Gerald Eve Project Management who were appointed to advise and guide PARK NOW through compiling the tender and employers' requirements, as well as fulfilling a project management, cost analysis, and contract administration role on the project. Additionally, Gerald Eve aided PARK NOW with the construction elements of the lease and Licence to Alter, as well as the dilapidations on their existing premises," says Peldon Rose.
Location: Basingstoke, England
Date completed: 2020
Design: Peldon Rose