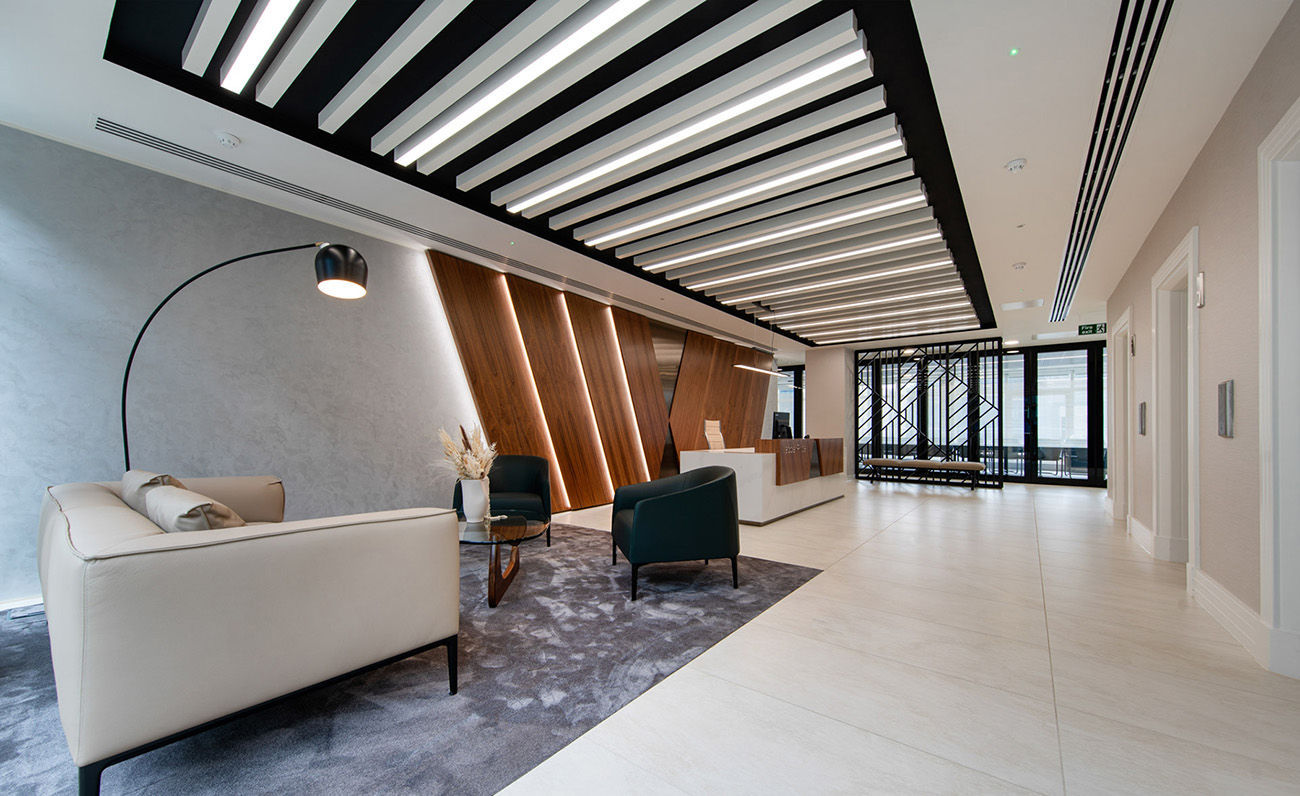 A Look Inside Vedder Price's New London Office
Law firm Vedder Price recently hired workplace design studio Peldon Rose to design their new office in London, England.
"At a prime location within the City of London, the firm occupied the sixth floor of 4 Coleman Street. When the opportunity arose, Vedder Price took the opportunity to expand to the seventh floor, partnering with Peldon Rose to fully design and fit-out the new space and provide a much-needed refurbishment to their current workspace.

The brief was clear – to create a balanced image of a successful, professional law firm, with a design that offered the flexibility the client required. We created a front of house meeting suite that met the acoustic and visible privacy requirements of the firm, and can be entirely opened up to host client engagement events. With use of a double-glazed folding wall and a smart storage solution – the space was created to be truly multi-purpose.

Within the reception space a beautiful feature wall is the landmark. Inspired by the Vedder Price logo – it combines bespoke walnut veneer joinery and inset lighting to create a fan-like feature to draw the eye through the space.

The objective of the workplace expansion is to cater for the client's growing team by providing a standout office paying homage to their global brand, nuanced to the London market.

Throughout the workspaces the design is harmonious with key elements of the Vedder Price brand – such as the walnut veneer doors, providing effective solutions such as new architectural ironmongery creating a modern uplift. We created a sophisticated finishes scheme that was harmonious with original features; soft patterned carpets and feature wall paints carry the same aesthetic from the meeting suite through to the new workspace on the seventh floor and refurbished sixth floor.

Our design featured an overhaul and expansion of the staff tea point area where were able to incorporate a large family style table to encourage shared mealtimes, a key element of the firm's culture. The materials through the tea point strike a balance between sophistication and warmth; dark timber flooring and an architecture ceiling feature are perfectly juxtaposed by the softness of colours in terrazzo tile inset floor and engineered stone worktops," says Peldon Rose.
Location: London, England
Date completed: 2020
Size: 11,870 square feet
Design: Peldon Rose