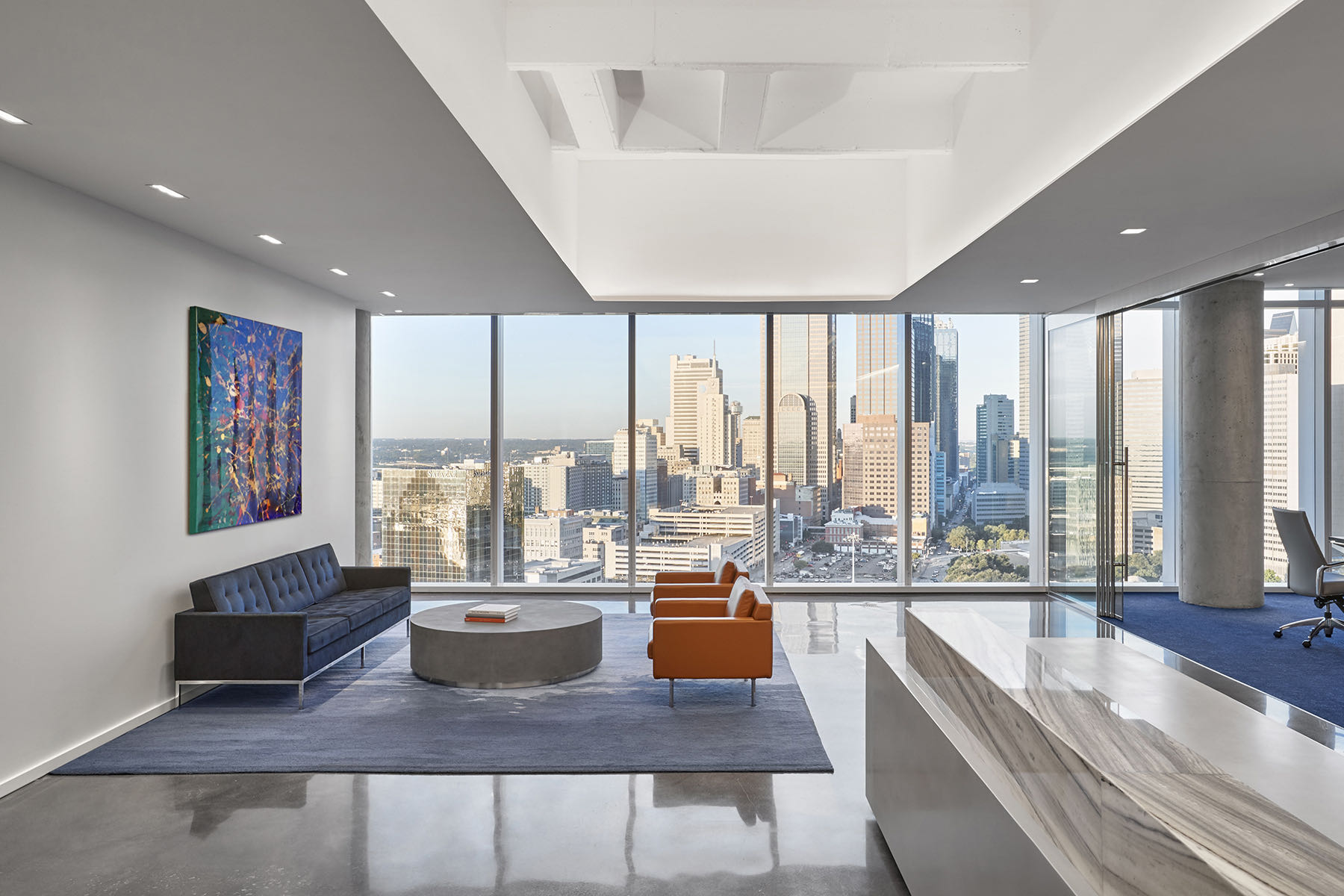 Inside Westdale's Modern New Dallas Headquarters
Real estate investment firm Westdale recently hired architecture design firm Perkins&Will to design their new office in Dallas, Texas.
"Although Westdale values privacy and quiet areas to work, the firm wanted the new office to break down barriers and reflect the warmth and hospitality of its employees. The framework of the surrounding community informed the organization of the program. Separation of volumes accommodate clear east and west vistas at the entry and circulation zones north and south. These vistas are anchored with destinations for users to gather and collaborate. As a result, the modern space utilizes natural and honest materials found within Deep Ellum, with an emphasis on glass-fronted rooms that allow natural light to permeate into the core of the building.

At just under 35,000 square feet, the new office currently accommodates 80-plus employees and is spread across two levels on the 16th and 15th floors. These upper two levels serve as an observation point to connect and view the company's presence within the communities they serve. The lobby space is defined by an expansive marble reception desk and accent wall, and polished concrete floors disperse daylight coming in through the large windows. A combination of open structure and drywall ceilings incorporate cove and wall accent lighting design strategies. A telescoping glass sliding door dividing the conference room and lobby when open can accommodate a variety of after-hours functions or events.

A monumental stair serves to connect the departments on each level and spill out to a communal casual retreat situated on the north-facing corner of the building. This breakout space takes advantage of sweeping landscape views looking upon the neighborhood. The office has multiple additional community and hub areas throughout that encourage collaboration and an agile work life. Additional features include a large mail room with a high-density filing system helps Westdale keep track of invoices and billings with more efficiency, as well as an open-plan Human Resources area that is sectioned off into its own suite.

Overall, the Perkins&Will team was able to create a space that was uniquely-suited for Westdale: a warm office that provides its employees with privacy, and also focuses on the city the company helps shape through real estate," says Perkins&Will.