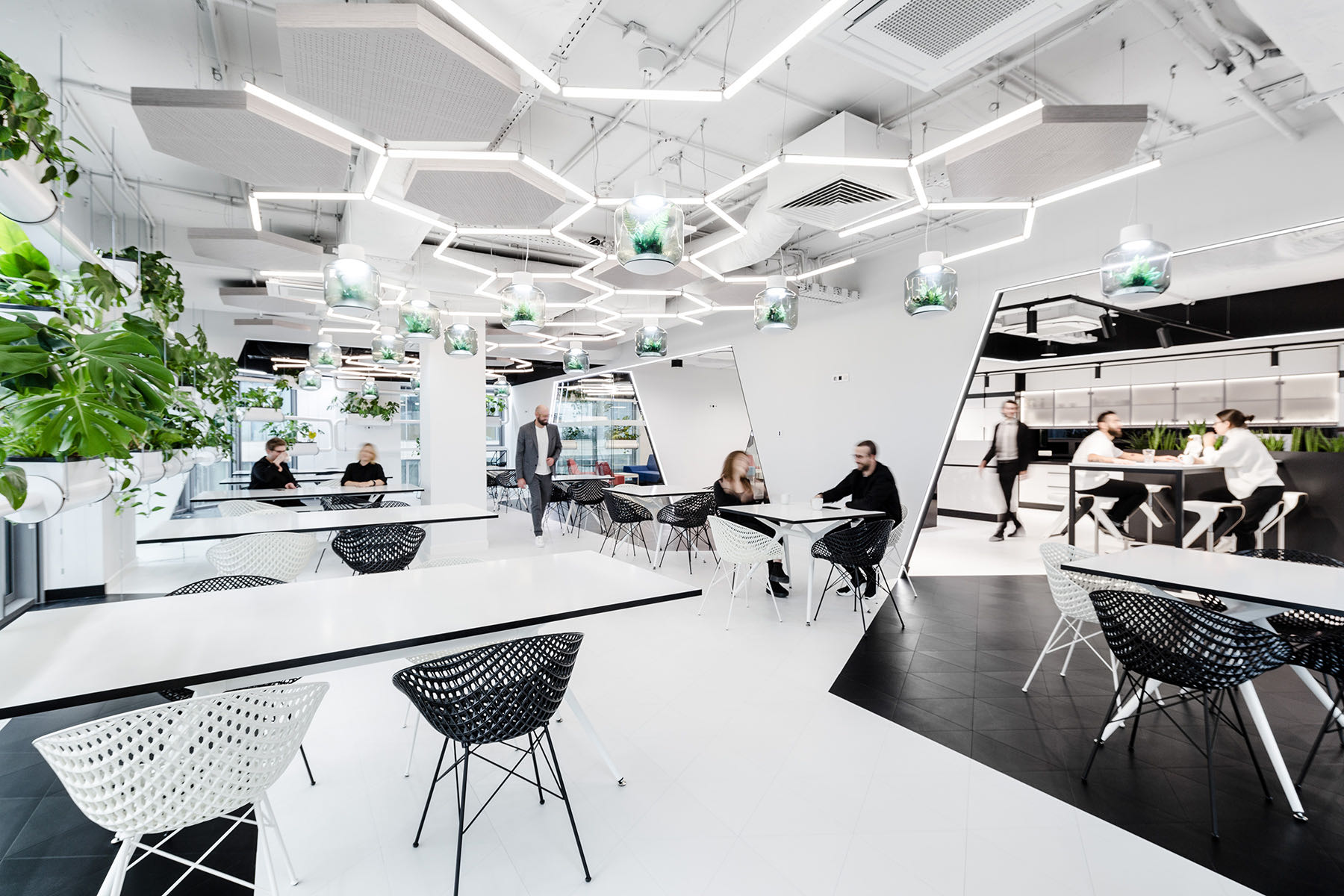 A Look Inside Nordea's Contemporary Warsaw Office
Architectural firm Workplace recently designed a new office space for banking company Nordea in Warsaw, Poland.
"Architects proposed to merge the top two floors in a newly constructed building into a single, two-story space, and to build an internal staircase connecting the 3 floors of the entire office. This construction modifications integrated the space. It improves the communication flow and shortens the time of reaction to system errors.
A coherent vision of an office is inspired by futuristic themes. The scenography is a narration referring to the confidential nature of the place. The cosmic décor evokes scenes from Kubrick's Space Odyssey and Hollywood sci-fi productions. The geometric forms and monochromatic colours are emphasised by programmed lighting scenarios – an integral part of the design. Combined with the greenery systems in all rooms it creates an unique work ecosystem.

Project is detailed from specially designed desks, tables with greenery, and mobile AV constructions, to programmed lighting scenarios, animations and graphics displayed on huge video walls, and a personalised space branding and wayfinding.

You enter the office through special security control joint airlock. Then, we see the staircase – the heart of Horizon. It has infinity mirrors on both sides, and resembles a space-time tunnel. The steps light up under our feet. Walking down, we can touch the green wall visible along the entire staircase. The main working space is a two-story auditorium with a large video wall. To ensure the security of the data displayed on the large screen, the walls were designed of cellular polycarbonate which blurs the image and is light permeable.

The team of managers supervises the work from captains bridge. In the case of some risk of error they can alarm the controllers by changing the colour of the whole interior lighting system into red. The main common space is a kitchen connected with a canteen. The central element of this space is a glass vivarium with tropical plant species, surrounded by floral installations. Right next to it there are sleeping capsules with full-size beds. The key part of the centre is The Experience Hub, an interactive experience space with programmed audiovisual. It is a closed area presenting the technological possibilities of space, where design ensures multisensory experiences. Entering the room triggers an interactive presentation sequence, taking you for an astral journey. The architecture and audiovisual effects mix and merge, and the space seems to be a living creature," says Workplace.
Location: Warsaw, Poland
Date completed: 2020
Size: 26,909 square feet
Design: Workplace
Photos: Adam Grzesik