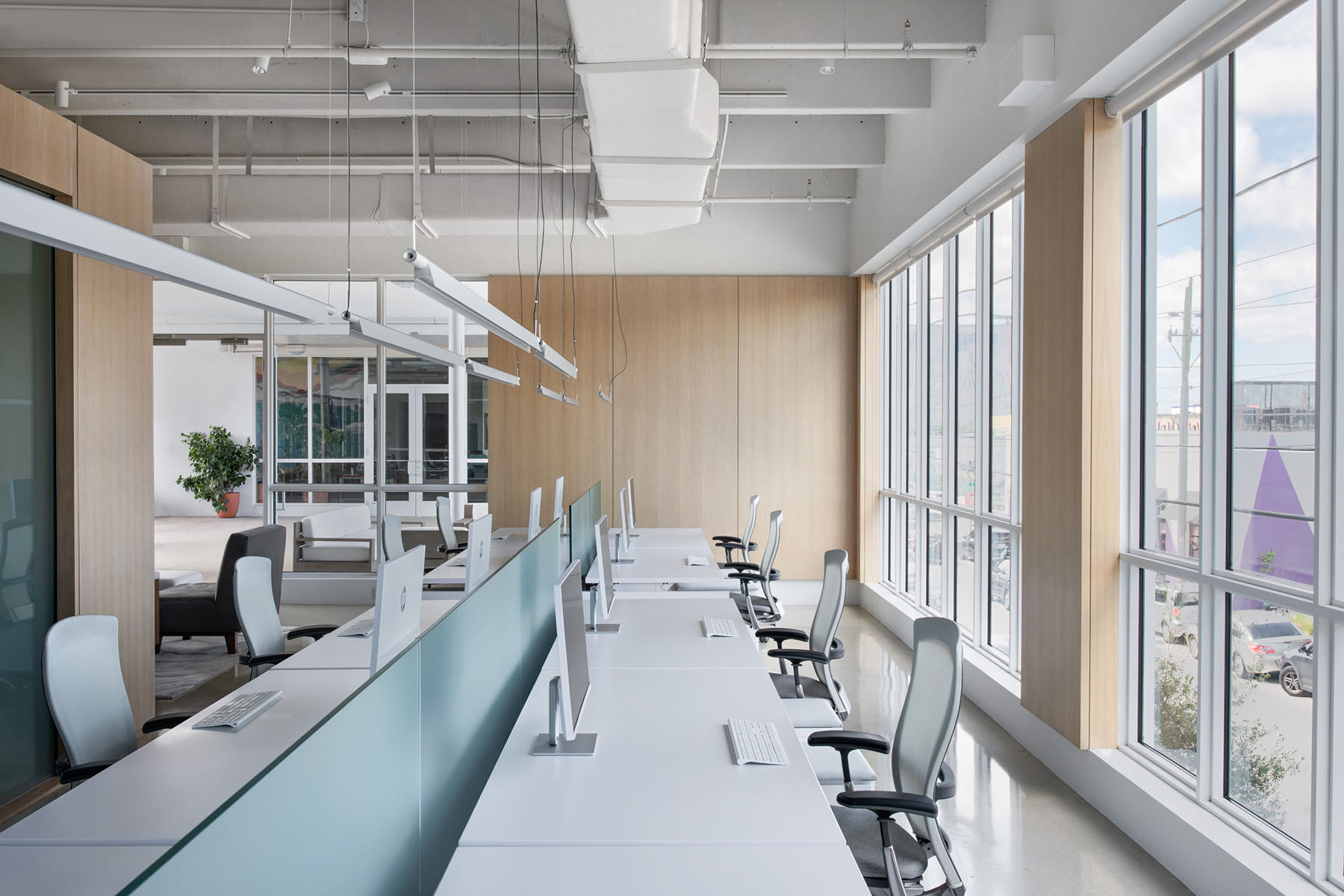 A Look Inside Audemars Piguet's Minimalist Miami Office
Luxury watches manufacturer Audemars Piguet recently hired interior design studio Galeon to design their new office in Miami, Florida.
"We partitioned the open space with a conference room to allow for a separation of the office's distinct functions while also positioning the room as a natural gathering point for both formal and informal office discussions. This volume divides the space in half with glass walls forming two sides of its perimeter to allow natural light to flood the entirety of the space. One side of the office is dedicated to staff administration and office settings, and the other designed to accommodate a small kitchen and storage, wrapping around to a small lounge on the other side of the conference room. Upon entering the space, visitors encounter a white oak-paneled wall that forms the conference room's south end. Its outward face is embellished with the Audemars Piguet logo and acts as a small reception and lobby area.

Two smaller private offices sit in opposite corners of the office. Their glass walls are gently curved to encourage more fluid circulation in between their perimeter and the sharp corners of the conference room. The radius of the curved glass walls in each private office is replicated throughout the space – gentle little ripples that offer a quiet reminder of this unique detail. Visitors may notice the same curvature in the custom-designed lozenge-shaped coffee table made from travertine in the rear lounge.

A similar rounded edge is seen in the travertine top crafted for the credenzas in the private offices, custom oak pieces we designed and had fabricated by our millwork partner in New York. With them, we also designed and crafted a low-slung leather sofa and lounge chairs in the the rear lounge. Travertine seemed like a natural choice to impart a more textural element that cohered with the handsome color of the white oak and also evoked the beach nearby, an analogy that is pushed a bit further in custom rug designs that feature striations recalling water gently rolling in over bands of white sand," says Lucia Galeano from Studio Galeon.