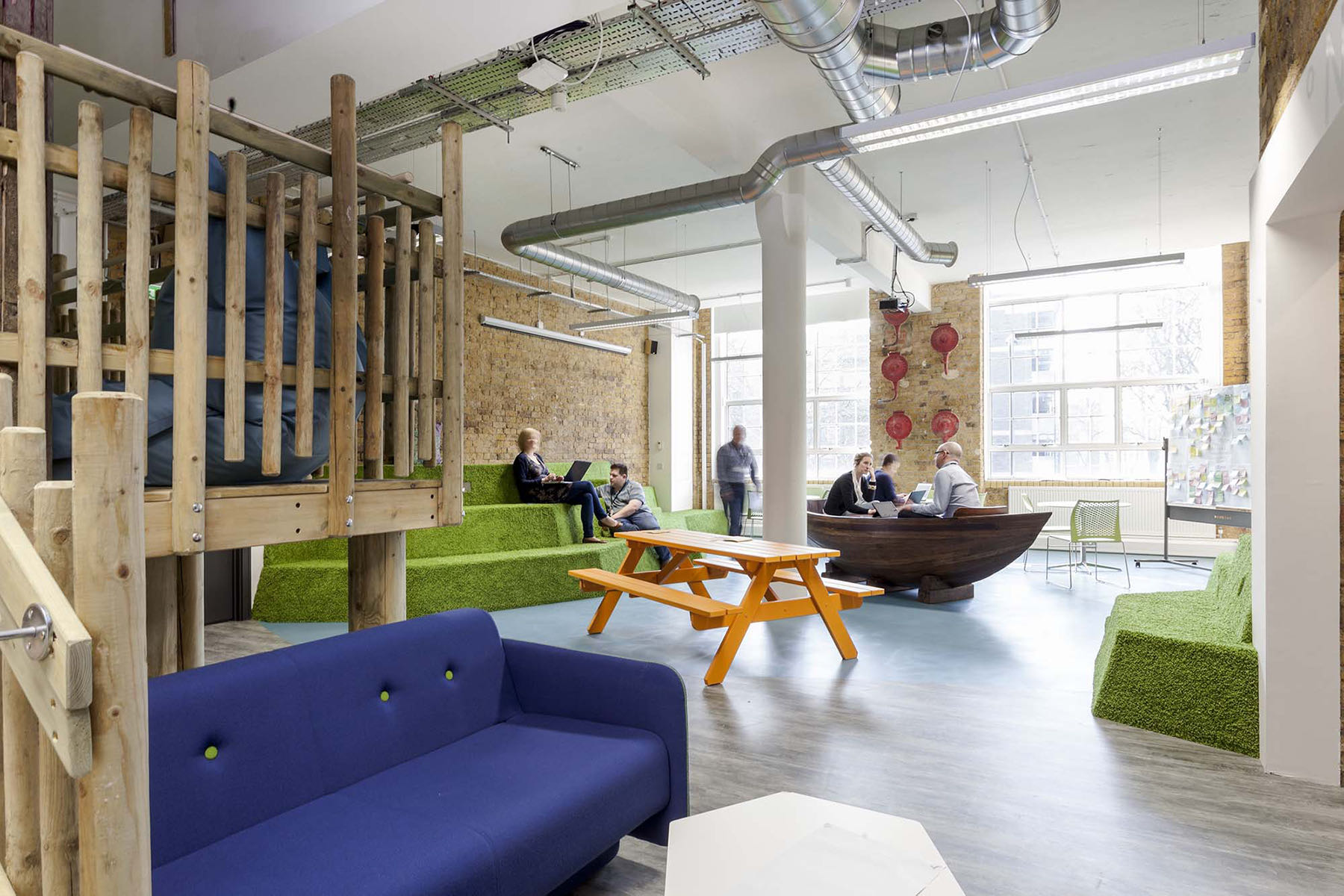 A Look Inside Friends of the Earth's Eco-Friendly London Office
Non-profit environmental organization Friends of the Earth hired workplace design firm Peldon Rose to design their new office in London, England.
"Having been in an office space which was disjointed, it was essential their new workspace was more practical and allowed them to introduce new ways of working. In partnership with commercial property agents, we helped Friends of the Earth assess the suitability of several buildings, creating office space plans to demonstrate how each one would meet the objectives set following our workplace consultancy. After assisting Friends of the Earth with protracted lease negotiations, they selected The Printworks – a 10,018 sq ft period warehouse in South London.

Once we found The Printworks, our design concept was called 'What if the world was flat?'. Here we divided the office left to right along the earth's latitudinal zones, creating geographical regions from around the world. Their new office features an iceberg meeting room in the polar regions, rain forest open spaces in the tropics and a boat, preserved moss walls and a tree-house at the heart of the hub space for meeting in the wetlands.

The cool calming effect of the polar regions lend themselves to quiet working, library spaces and as the temperature of the latitudes rises, so do the heat of the colours and in turn encourages an energy and pace to work in more collaborative spaces. A wetland hub boasts an all-hands flexible zone where people gather on a tiered hillside for contemplative work or for 'Town Hall' style staff meetings.

The office provides a work space for the whole organisation of 170 staff, however there are only 78 traditional work stations. The rest of the office is made up of quiet rooms, informal meeting spaces, acoustic meeting pods, touchdown benches and breakout spaces strategically placed throughout the office. This smart working makes efficient use of the office space, with staff taking laptops to explore the earth each day, moving through latitudes.

Sustainability was unsurprisingly a big factor for Friends of the Earth and we were proud to gain the RICS Ska Rating for their new office. Almost all materials selected were recycled, reclaimed or recyclable. These included the wood floor which was taken from elsewhere in the building, Interface carpet tiles and a reception desk constructed from recycled cardboard. Other initiatives include motion detector and manual switch lighting, instant hot water taps, windows that open to allow in fresh cool air and an air cooling system which sucks cooler air in at night to remove the need for an aircon system," says Peldon Rose.
Location: London, England
Date completed: 2020
Size: 16,000 square feet
Design: Peldon Rose