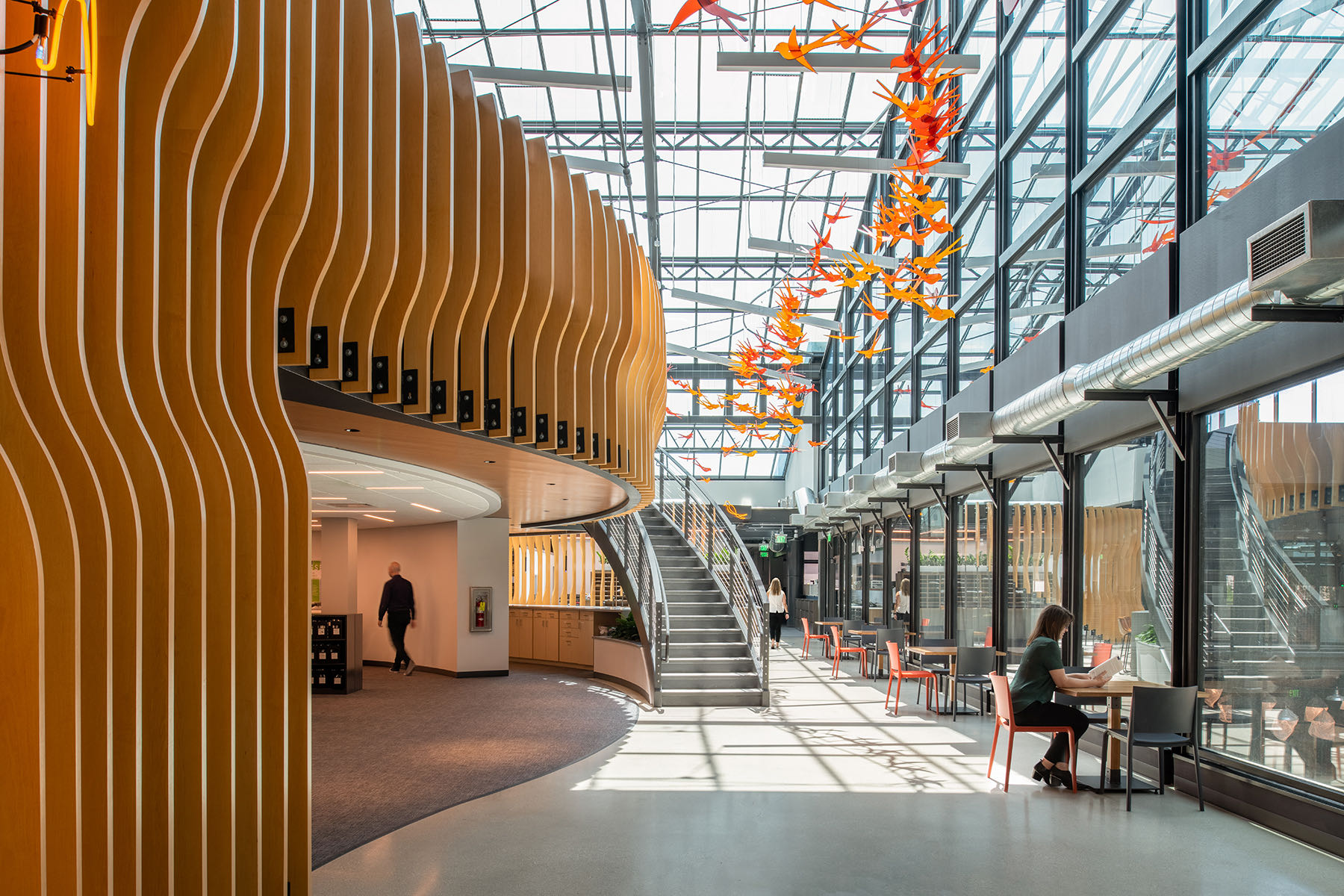 A Look Inside GRAEF's New Milwaukee Office
Engineering consultancy GRAEF hired architecture design firm firm Valerio Dewalt Train to design their new office in Milwaukee, Minneapolis.
"We began by engaging with GRAEF employees during a two-day visioning session to gather input. Using a variety of activities and an interactive engagement app, the focus groups would connect to content via their smartphones, and answer questions anonymously while receiving live results graphically on screen. Through this process, we de-fined the program for the space and mapped out GRAEF's day-to-day activities to compile a series of design princi- ples for the renovation. We created three preliminary design studies, then refined the chosen concept.

We also reviewed GRAEF's schematic design and design development packages and advised on the selection of materials and finishes. To increase the leasable area within the high-volume space, we created a mezzanine beneath the third-floor skylights. The mezzanine is a circular structure clad with vertical, curving wooden fins that provide a warm, natural contrast to the building's concrete structure. Illuminated by skylights and clerestories, the deck of the mezzanine is dedicated to collaborative work spaces.

Visitors arrive at a large, skylit area that also includes a training room and the main conference room. This space overlooks the Avenue's beer hall, and extensive glazing provides views to historic Third Street. The 1980s shop- ping center incorporated the historic Plankinton Arcade Building, so it was possible to expose the historic terracotta detailing of what was once the Plankinton's exterior in this space. Curving circulation paths wind through the space, leading to the open offices that line the building. The café/break room includes access to an urban balcony that opens to the Avenue's atrium, looking down on the first-floor food hall," says Valerio Dewalt Train.
Location: Milwaukee, Wisconsin
Date completed: February 2019
Size: 37,500 square feet
Design: Valerio Dewalt Train