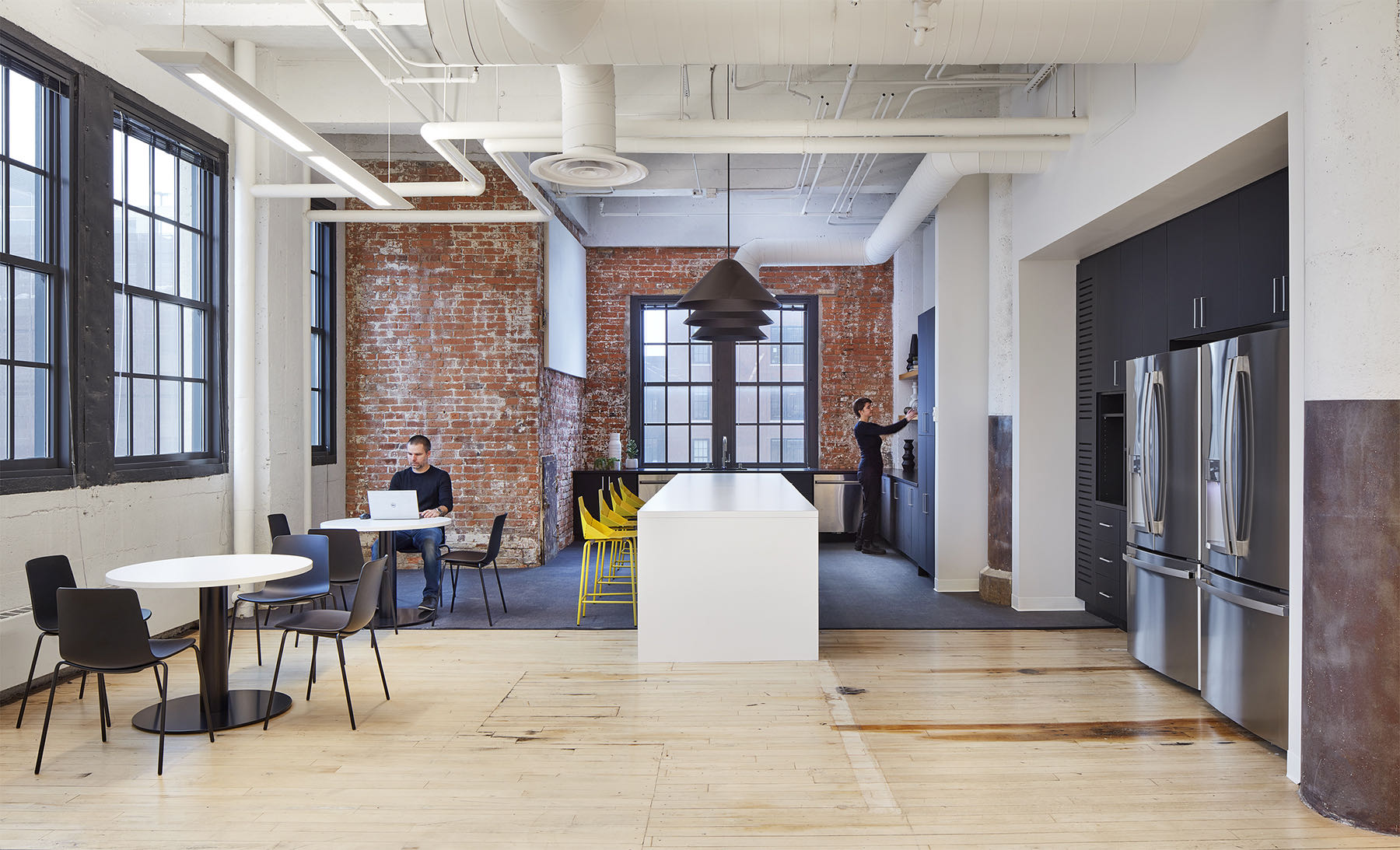 A Look Inside Loose Wiles's Office Suites in Minneapolis
Architecture design firm Studio BV recently designed new office suites for Loose Wiles Building in Minneapolis, Minnesota.
"Spec suites are meeting the market where it's at. The tenants for spec suites vary, they could be start up companies that are coming out of co working, they could be mature businesses who want to short cut the traditional real estate process. These ready to go suites are appealing to businesses that can't wait the 7-12 months a traditional design process takes to move into a commercial office space.
The Loose Wiles building is a historic building in the North Loop in Minneapolis. It is a brick and concrete manufacturing building that made animal crackers and Cheezits. The building maintains its original birch floors and red brick walls. The columns are unique they are have Cor-ten steel and have concrete.

"The shell is warm and rich and presents a warm and rich backdrop to a modern office," says Betsy Vohs, Studio BV Founder and CEO. "The new spec suite features multiple styles of workstations and offices. The open office has a variety of open office collaboration spaces to support the need to connect when coming to the office."

The new café space is a place of hospitality and work. The bar anchors this space and supports the entertaining needs of the future office team as well as a nice place to gather for groups.
There are lots of open collaboration spaces around the café to leverage that opportunity to gather and connect.

The design team worked to create a custom branded graphic pattern wallcovering at the suite entry to add energy and establish the sense of arrival. This pattern is playful and modern and adds a balance of colors that offset the rich brick and concrete palette of the space. 
The space has a variety of meeting rooms and focus areas to support the teams needs to connect. Overall the space is flexible and adaptable to the changing needs of the office in this dynamic time," says Studio BV.
Location: Minneapolis, Minnesota
Date completed: October 2020
Size: 15,000 square feet
Design: Studio BV
Photos: Corey Gaffer