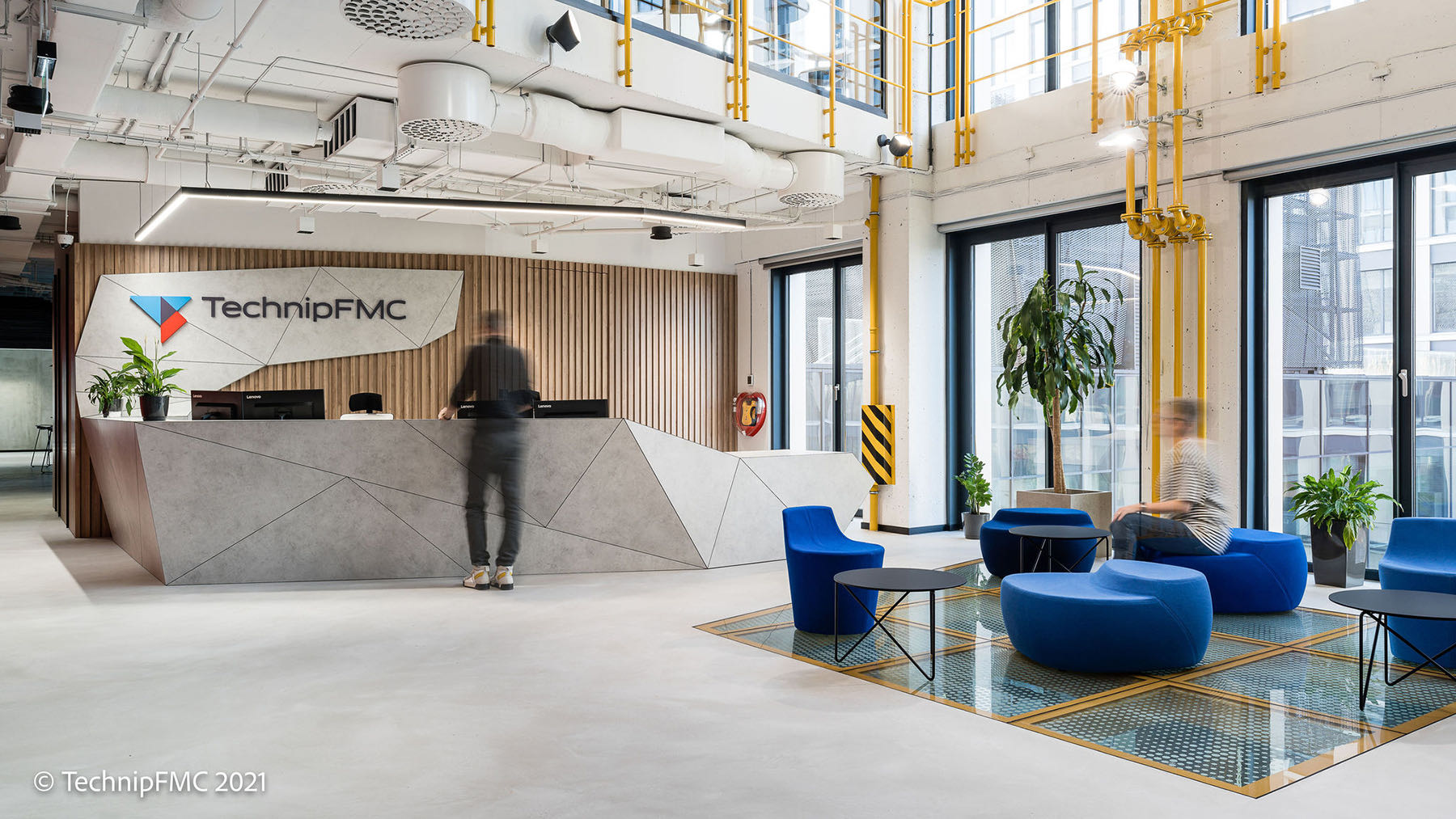 A Tour of TechnipFMC's Modern New Krakow Office
Energy company TechnipFMC hired office interior design studio The Design Group to design their new office in Krakow, Poland.
"The TechnipFMC office in Krakow has several unique solutions created especially by architects from The Design Group. Among them it is definitely worth mentioning the so-called void, i.e. a free space integrating floors 2, 3 and 4 and connected by glazing with floor 1. This original TDG idea allows you to look from the first floor to the other levels of the office, almost as we can observe the world while under water. The void zone is also a symbolic integration of all teams working on each floor, where open spaces, collabs and rooms are located. In the previous location, this connection was impossible, so the client was very anxious to ensure that all employees in the new office had a sense of consolidation.

The first floor of the office, i.e. the underwater level, is a collab area designed for collaborative work. It was maintained in navy blue, and the sand-coloured carpeting refers to the seabed. The walls are finished with a special light diffusing structure – to give the most of the underwater nature of the world. The shape of the seats proposed by The Design Group (especially for this zone) resembles the underwater installations produced by TechnipFMC. The second floor (water surface) has representative functions. This is where the reception desk and event space dedicated to, among others, town hall meetings are located.

Red, blue and purple, which dominate the company's logotype, have been supplemented with raw concrete resin. It can be found on the floor and walls in the reception and event area. The element warming the arrangement is a wood-like laminate used on the walls in offices. However, there are many more references to the characteristic TechnipFMC logo here. They are present in various details of the interior design of the office, which clearly reflect the unique dynamics of the triangle, e.g. in glazing under an angle or selected furniture.

The next levels of the office are characterized by different brand colors of the trapezoidal metal sheet, which is the core of each space. In offices, meeting rooms and work rooms, the ceiling is decorated with expanded metal modules painted black, under which installations and mineral wool also in the same color are attached. Therefore, closed offices meet the acoustic requirements. In addition, this solution is aesthetically interesting because there is an impression of space between the mesh and the ceiling," says The Design Group.