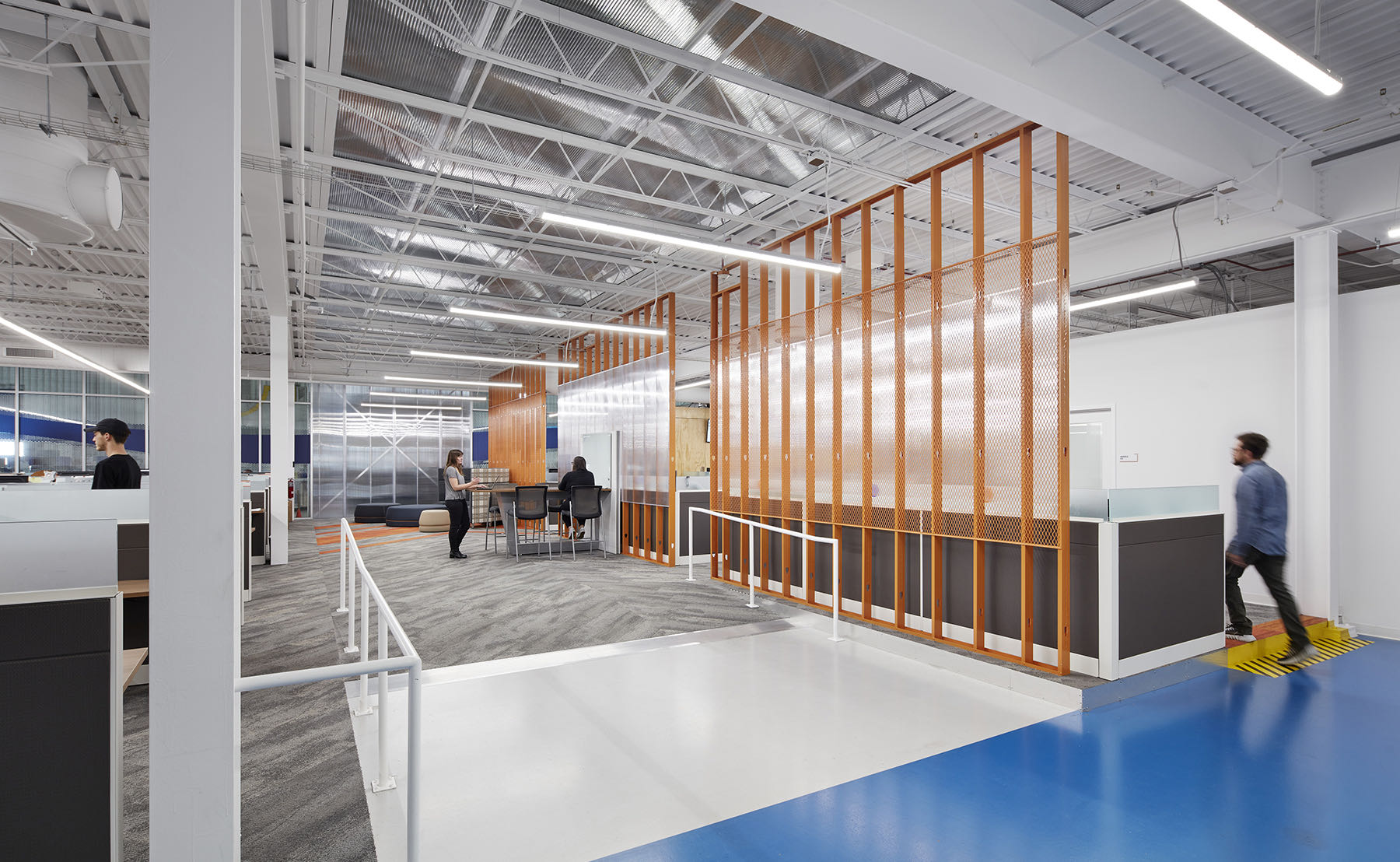 A Look Inside Sun Country Airlines' New Minneapolis Office
Passenger airline Sun Country Airlines recently hired architecture and interior design firm Gensler to design their new office in Minneapolis, Minnesota.
"For its new headquarters, Sun Country desired a destination where they can live their values while bringing together staff from different locations under one roof. The airline hangar provided the perfect site to capture Sun Country's spirit—fun, energetic, and accessible meets sensible, functional, and convenient.

As a connector of people and places, Sun Country's overall design concept focuses on connections. Connections to land and sky, Minnesota to Sun Country destinations, past to future, and staff to each other are palpable within. Raw, industrial materials combined bold brand moments compliment the hangar while adhering to Sun Country's objectives for a sensible, flexible, and cost-conscious design.

The main circulation—beginning at the entrance and leading out of the hangar to the runway—features a distinct design pattern and serves as a wayfinding element intuitively leading users through the space. Shared collaboration spaces and conference rooms along the path bring the energy to the forefront.

Creating a modern workplace inside of a hangar does present some design challenges—among them access to natural daylight. Use of creative materials including polycarbonate allow daylight from clerestories to penetrate the walls and bring a natural glow within. Warmer weather will permit the opening of the large hangar doors, flooding the space with natural light.

As an open office, balance and choice in places for employees to do their best work is of the utmost importance. An array of open collaboration, huddle rooms, conference rooms, and focus rooms are located throughout. The new workplace also includes a dedicated training facility for pilots featuring a mix of multi-purpose rooms for optimal set-up," says Gensler.
Location: Minneapolis, Minnesota
Date completed: 2019
Size: 90,000 square feet
Design: Gensler
Photos: Corey Gaffer