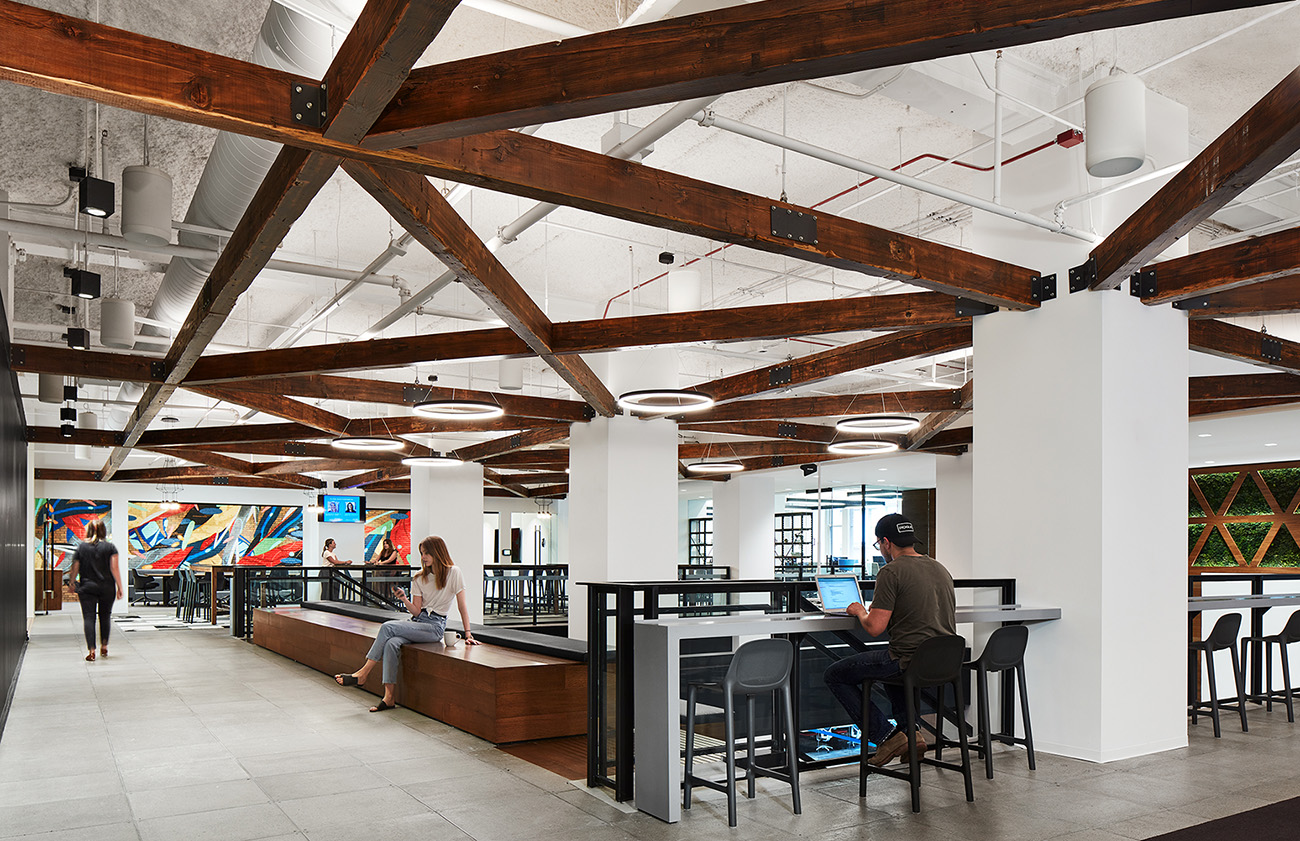 A Tour of ActiveCampaign's Chicago Office Expansion
Marketing software company ActiveCampaign recently hired architecture & interior design firm Eastlake Studio to design their new office expansion in Chicago, Illinois.
"ActiveCampaign has grown exponentially over the last few years, opening offices on three other continents, and reaching their maximum capacity in the Loop. An open floor below their headquarters, which we completed in 2017, gave us the opportunity to expand their original space without displacing their roots.

In the first design phase, the full-floor suite in 1 North Dearborn emphasized ActiveCampaign's employee-centric culture, with numerous gathering areas, impactful branding, and memorable spaces. Leadership guided the open plan to be free from hierarchy, so much so that even the CEO sits among staff. Lounges and quiet areas are free to be used as workspace, giving everyone a choice of how and where to work. Small huddle rooms, named after fictional locations by the staff, celebrate a collective love of science fiction and fantasy pop culture. Hidden in the game room behind a revolving bookcase, a secret meeting area also communicates the playful tone carried over into the expansion.

The second phase of the project was focused on creating a grand stair as the heart of the office. It forms a dynamic gathering space, expanding the existing communal area, and connecting the two floors. Moss and geometric millwork recall ActiveCampaign's directional logo, and reflect the bold branding elements at the entrance.

Lit by a customizable marquee sign, a training and screening room was a needed addition for more formal presentations and after hour movie gatherings. A full-service coffee shop now fuels Activecampaign's busy days, and a library/action figure display room doubles as a theater-inspired happy hour lounge," says Eastlake Studio.
Location: Loop – Chicago, Illinois
Date completed: 2020
Size: 100,000 square feet
Design: Eastlake Studio