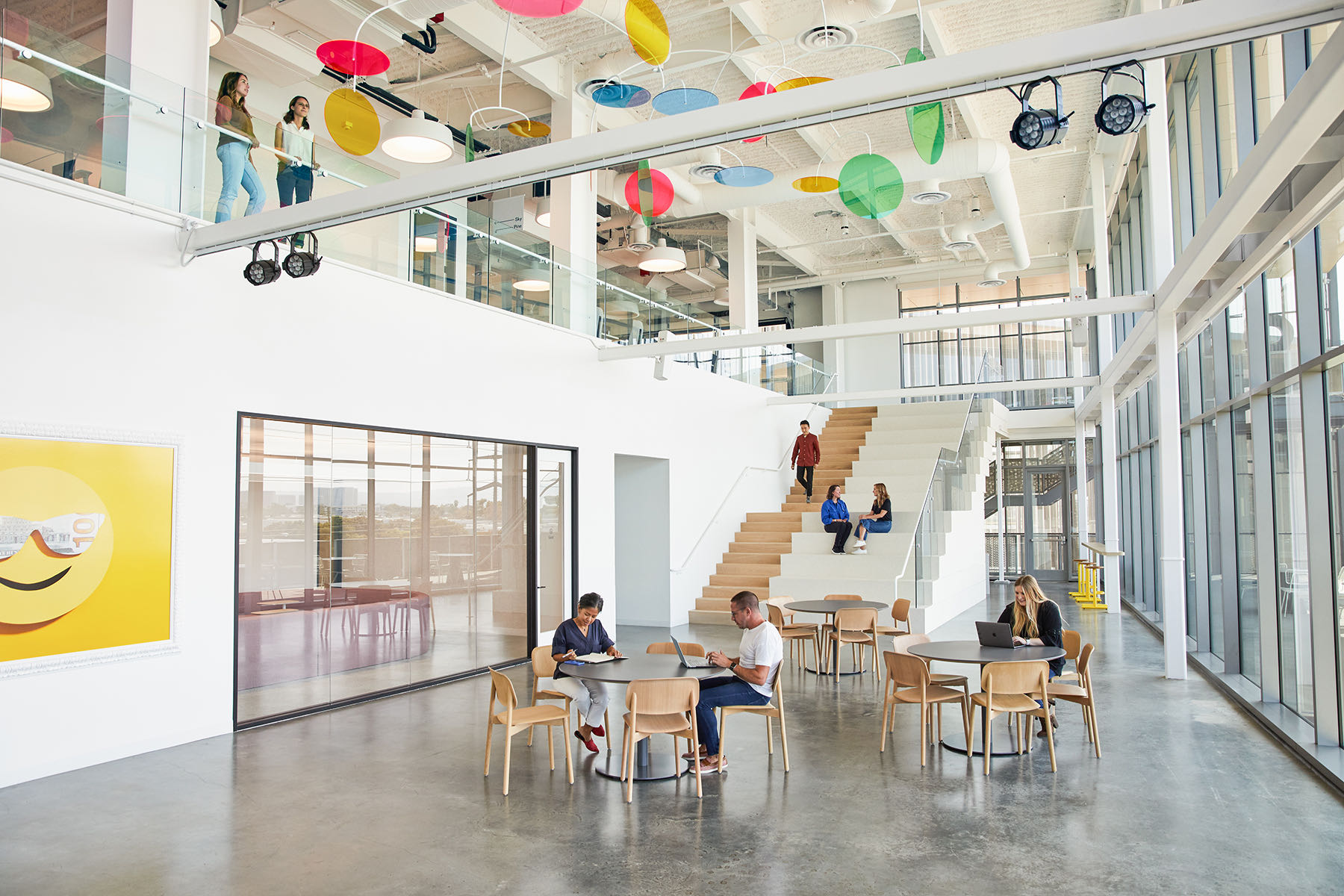 A Tour of Happy Money's Eclectic Tustin Office
Fintech company Happy Money recently hired architecture firm Rapt Studio to design their new office in Tustin, California.
"The bright Orange County office became the canvas on which we translated Happy Money's newly refreshed visual identity into three-dimensional space. Upon entering, you're greeted by swag — something you'd never find upon walking into a traditional financial institution. Then, across the office, bold graphic murals inspired by the brand's iconography and colors wrap around walls and cross corners and doorways, painted by design fabricators SPMD as well as Coco Nella, a woman-owned mural company in LA. Custom art installations and curated framed prints inject bright hues, while the company's altruistic manifesto is spelled out with raised lettering using shadow and dimensionality. A cohesive wayfinding system tying it all together leads people where they want to go.

Inviting light and fresh air to the first and second levels are glass garage doors that open up to balconies. The indoor-outdoor connection lifts everyone's spirits. Across the floors, individual desks are grouped by teams — those working on nurturing existing partnerships and those devoted to developing new ones. Placed at an even rhythm between clusters of desks is reconfigurable furniture arranged in "huddle zones," or open areas where teammates meet to hash out ideas using floor-to-ceiling cork boards and white boards. Adjacent, enclosed "squad rooms" are bookable by teams for more structured collaboration. Each team has its own huddle zone and squad room.

At the heart of the office is All Hands with its wide bleacher stair bridging the first and second levels. Open and inclusive, it draws together employees throughout the workday to chat and catch the sun streaming in through double-height windows. As host to weekly Happy [Money] Hours and events like TED Talks that bring in visitors, it's flanked by a café and serves as a social hub. A custom mobile fabricated by Powerhouse Sets is suspended above and catches the light with pink, blue, green, and yellow discs. Balancing mid-air, it's a nod to the old money scales used in banking," says Rapt Studio.
Location: Tustin, California
Date completed: 2021
Size: 70,000 square feet
Design: Rapt Studio