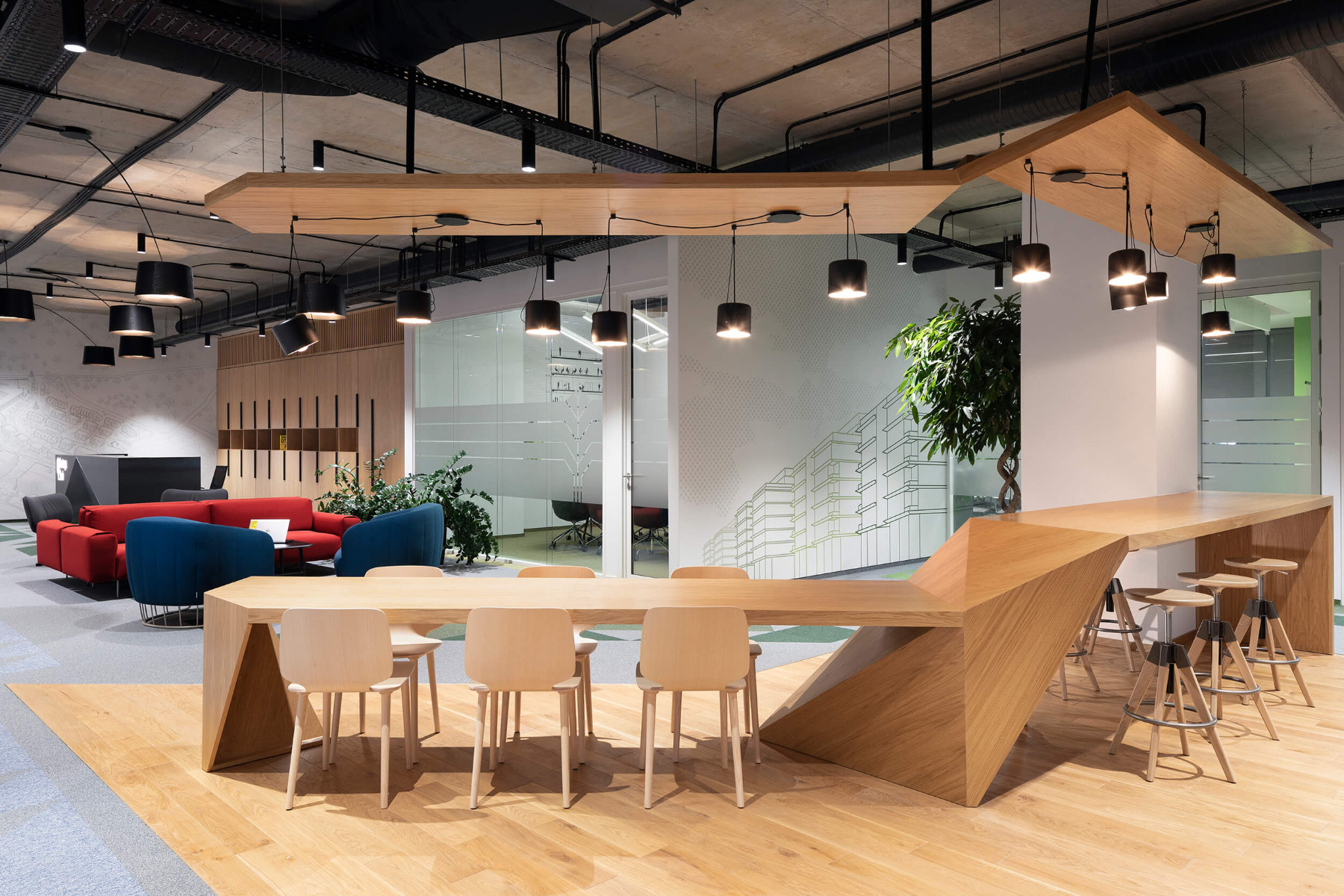 Inside Garitage Investment and Management's Sofia Office
Investment management company Garitage Investment and Management recently hired architecture and interior design studio Cache Atelier to design their new office in Sofia, Bulgaria.
"Garitage Investment and Managing team office space accommodates the team of 20 people managing the largest complex of office buildings in Sofia – Bulgaria and is located in one of the premises built by the team. So when commissioned with the task Cache atelier was determined to expose at most the building itself and design a welcoming and cosy environment breaking up the expected corporate feeling. Thus an industrial feeling is mixed with soft textures and vivid colours in a straight-up green-blue colour scheme.

Space consists of a welcoming reception area that is transitioning into the break kitchen area of the office. Several meeting rooms are used in the front zone of the space to make a semi buffer for the outside visitors and thus separating naturally the flow of visitors from the actual work area. The workstations of the team are located in a small open space in the back area of the office. A challenging task for the architects was to accommodate space for the large amount of actual paper documentation and drawings that the team is using daily. All external walls are aligned with archive storage that is incorporated in seamless cladding with straight forward raster and rhythm.

The triangle shape is used as a main forming element in the space deriving from the outside areas of the complex where it is used as a prime architectural form. The triangle pattern on the floor comes in subsequent tones of green and blue and is used as a wayfinding and navigation element, leading to each of the meeting rooms for outside visitors. Since all clients, potential leasers and partners are the main users of the meeting rooms Cache atelier developed linear minimalist graphics that are derived and present the projects that are developed by Garitage Investment and Management team. Axonometry views, typical architectural sections, plans and details were graphically reimagined and incorporated subtly in the working environment," says Cache Atelier.
Location: Sofia, Bulgaria
Date completed: 2021
Size: 6,996 square feet
Design: Cache Atelier
Photos: Minko Minev