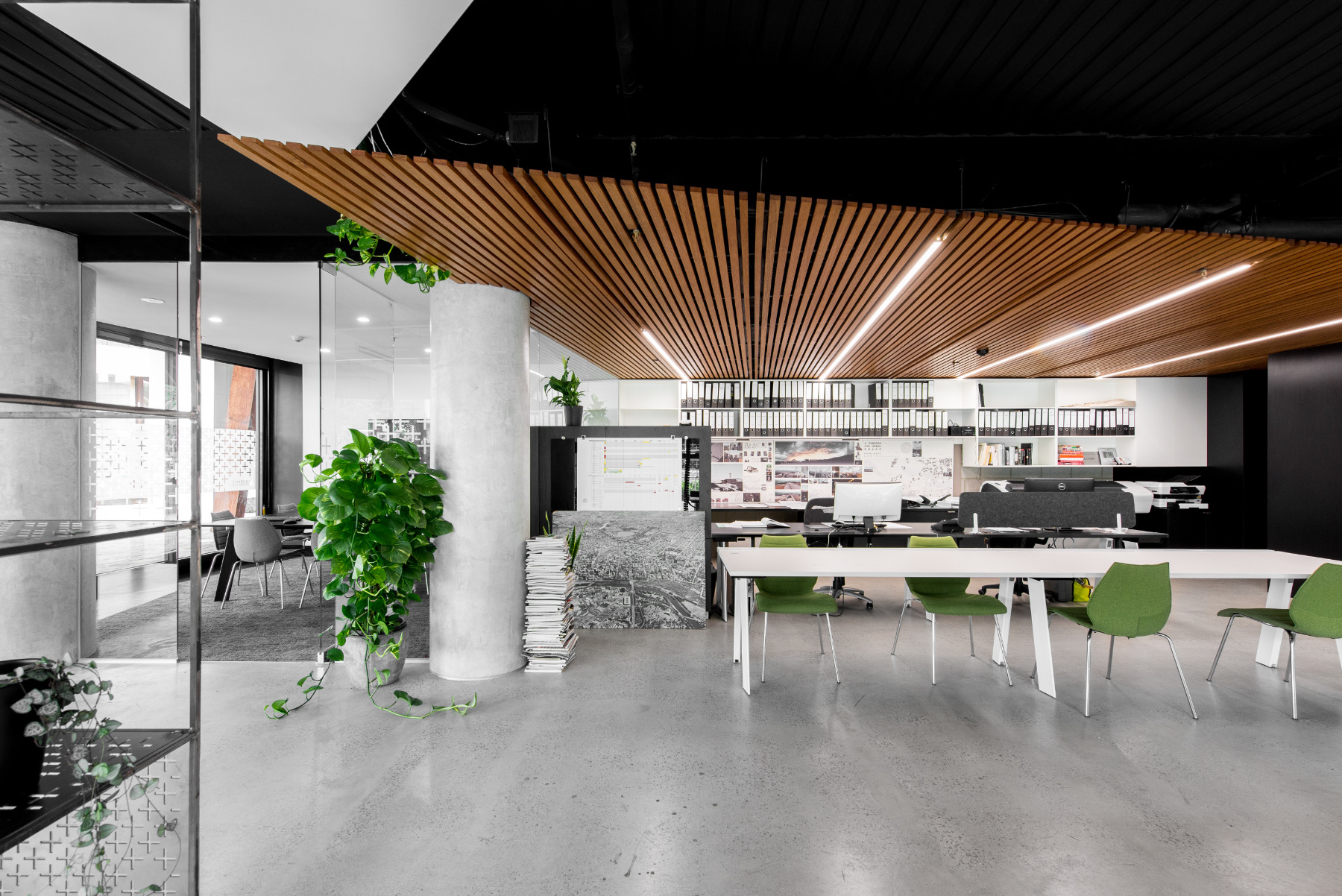 A Look Inside SGKS Architects' New Abbotsford Office
Architecture firm SGKS Architects moved into a new office in Abbotsford, Australia which they designed themselves.
"Our objective with this project was to create a new home for our second-generation architectural practice – a contemporary studio space that would reflect the practice's heritage and grow with it in the future.

Located alongside the Yarra on a prominent Victoria Street site, the 135-square-metre office occupies a ground-floor tenancy of the Sanctuary apartment development. Bold geometry and honest materials create a masculine aesthetic. Raw concrete floors and columns contrast with timber-battened ceiling panels, while trailing greenery softens the hard edges. Frameless glass panels play with ideas of openness and enclosure, ensuring visual connections throughout the space while maintaining privacy where it's needed.

Banks of smart desks provide a flexible open-plan layout – they can be reconfigured from meeting tables to individual work stations as the team evolves. The craft of making buildings has always been central to the firm's ethos, so space for founder Peter Sgourakis's hand drafting was accommodated in the design. Custom storage was installed, along with mobile pinboards to display work in progress. A well-loved print of Portofino from the original studio recalls the practice's 40-year history.

The studio's trademark crosshair motif is embedded in the design, creating a subtly branded interior. It appears as a window decal and again in the custom shelving unit suspended from a concrete pillar. Designed by director Henry Sgourakis, this finely detailed unit celebrates its own construction, with unpolished welds and a lustrous patina. Elsewhere, streamlined furniture from Space and Arthur G finishes the interior," says SGKS Studio.
Location: Abbotsford, Australia
Date completed: 2019
Size: 1 453 square feet
Design: SGKS Architects
Photos: Lance Van Maanen