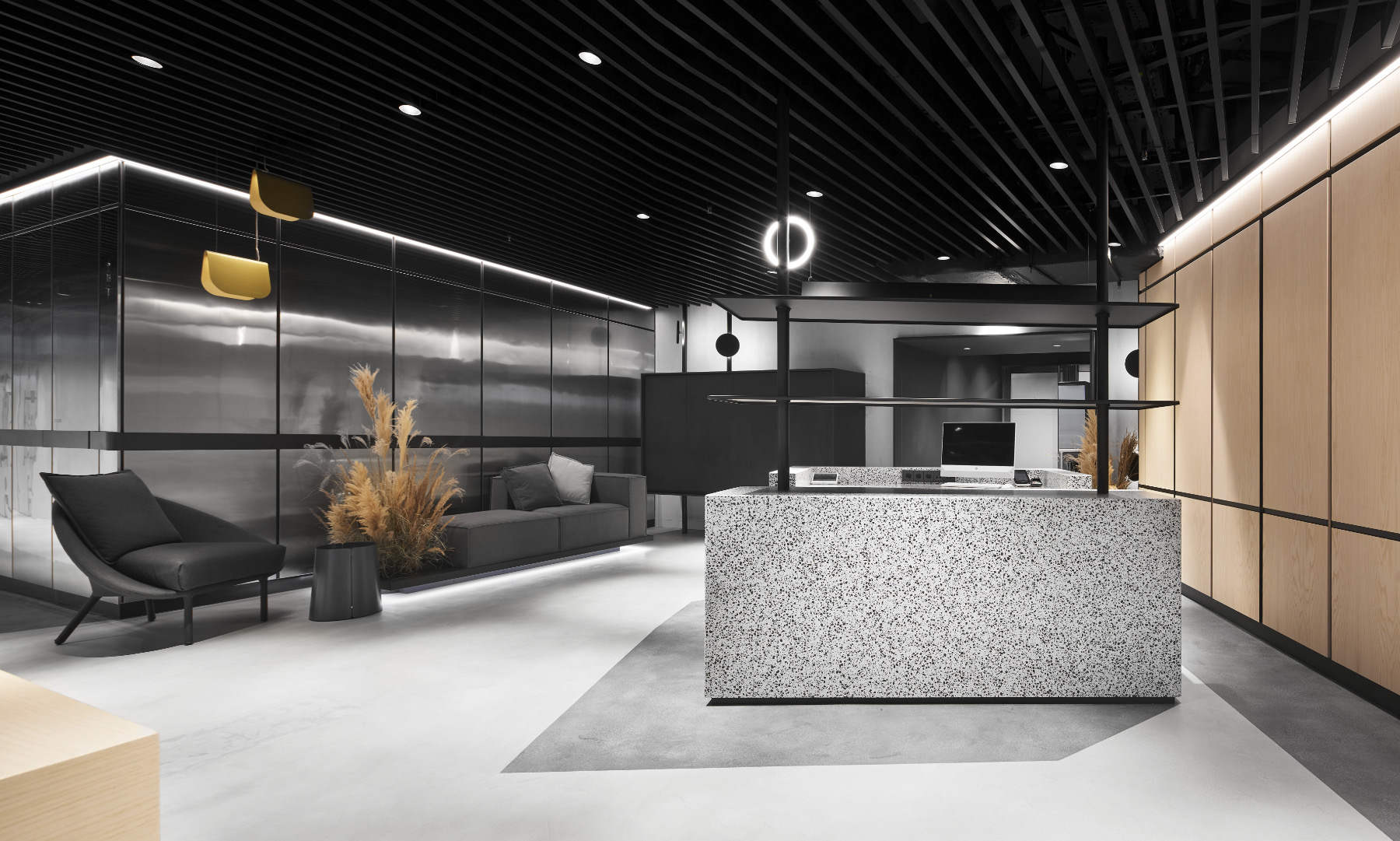 A Tour of Headway's New Coworking Space in Moscow
Coworking space provider Headway recently hired architecture & interior design firm DA Bureau to design their new office in Moscow, Russia.
"Our goal was to create a space of total concentration and one-pointedness in the business centre of the bustling metropolis, where anyone can fully focus on their work. The design concept was based on the idea of dividing the space into two contrasting areas: The working area block is austere, transparent, advanced, lightweight; The public space units are out of line, chaotic, compact, eye-catching.

The forms and arrangement of these areas made it possible for us to depart from the concept of a long blank corridor and transform it into an integrated multifunctional space made up of lounge areas, reception units and open space areas flowing one into another. This partition is achieved not only through space zoning, but also through the use of proper materials. To create maximum aeriality, the working area is framed by glass partitions down to the level of the floor, with a minimal profile thickness. Carpet tiles were used on the floor to enhance acoustic comfort. The public areas, on the other hand, are executed in a monolithic and blind manner to a greatest possible extent, all of different materials. The meeting rooms are decorated with wood, the coffee point has a finishing of concrete with terrazzo, the utility area and sanitary facilities abound in stainless steel. The floor coating represents poured concrete of two colours: dark geometric shapes against a bright background create an illusion of shadow falling from the public-area framing, which enhances the contrast of the two zones.

The furniture by Danish and Italian manufacturers and the original stand lamps made according to our sketches give a touch of brightness to the interior. Particular attention was paid to the offices and their interior. Every office is a self-contained unit with an open concept: this makes it possible to create a workspace according to particular requirements of any company. All offices are well soundproofed owing to the use of up-to-date materials. In combination with the custom-made furniture, this ensures excellent autonomy and does not restrain the employees.

The greatest challenge in creating the minimalist interior was the extensive utilities and lots of structural elements in combination with a non-standard layout executed as a part of the Reuleaux triangle. However, the unconventional approach helped us not only to resolve these difficulties, but also to reproduce the standard functional areas in a new way. In addition, the attention todetail, coupled with non-mainstream design, helped us to create an unusual design code that became the hallmark of the coworking space," says DA Bureau.