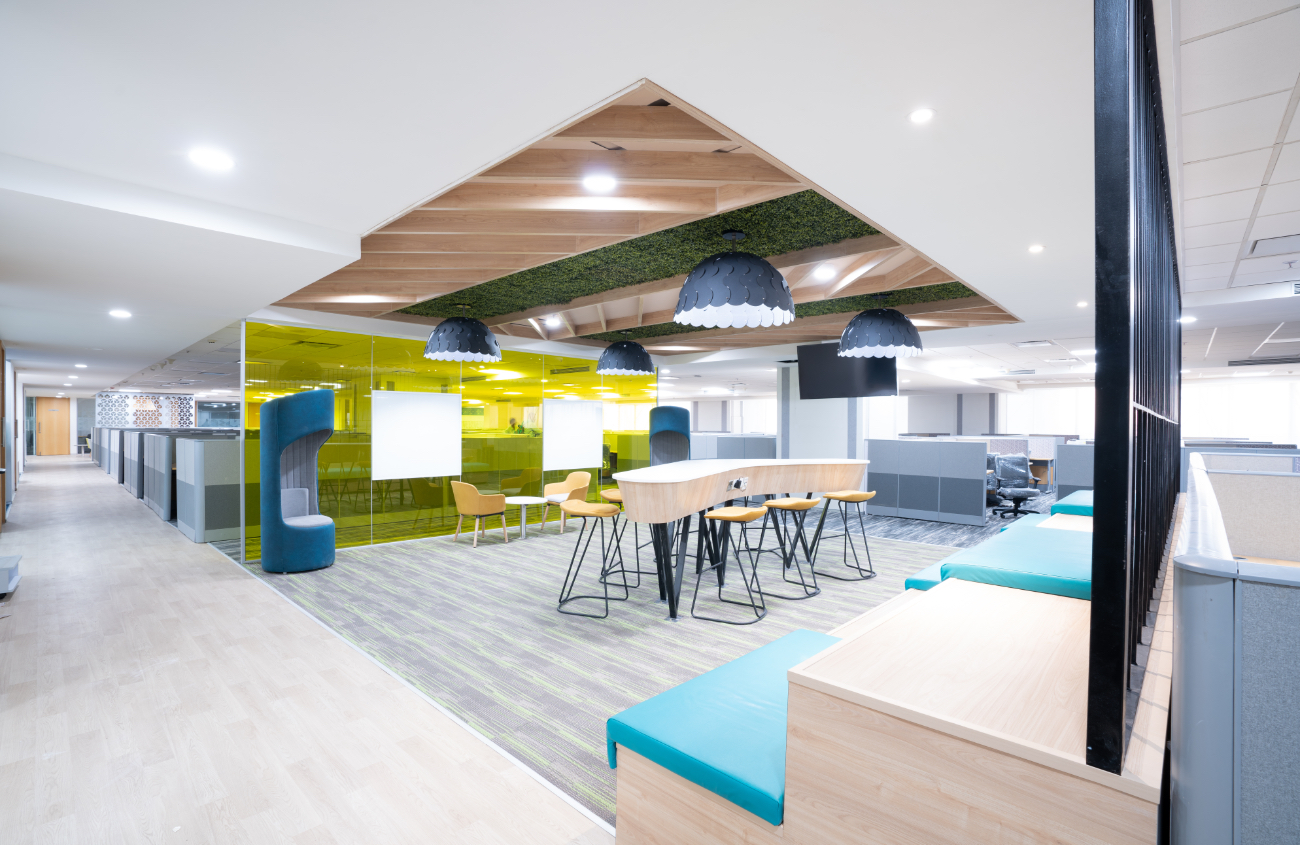 Inside Ness Technologies' New Mumbai Office
IT provider Ness Technologies recently hired architecture and interior design firm Zaxis to design their new office in Mumbai, India.
"Ness's new environment combines elegance with a variety of setting choices. The design solution is neutral in tone for the workspace, full of light benefiting from controlled colour treatments for the social spaces. The office space exhibits biophilia across with live green elements mixing well with pop out colors. Ample natural light is available for the workstation area by ensuring that no solid masses are aligned with the external glazing. The office by its design promotes "casual collision" culture between employees, a case study in demonstrating how collaboration promotes creativity and drives production.

The reception exudes a sense of calmness as one enters the space with a balance between raw timber moulded into a rhythmic backdrop and the grey tones for floor and ceiling. The moss wall adding fresh air into every breath and the stretch fabric lighting giving a daylight ambience in a space that is away from natural light

The social spaces address individual and community needs, inculcating a workplace culture that wants to place high value on collaboration and meaningful engagement. Embellished with greenery, the social hub can be reconfigured to fit diverse user and business needs.  Vivid representations of core colours and natural elements bring vibrancy into the workplace while fostering closer connections between staff and the organisation. Located at the heart of the space it fuels interaction and features multiple settings for teams to touch down providing respite from workstations in the open plan – saving on the high level of square footage used by cellular meeting rooms and without the requirement of booking a room.

Natural timber and planters, colour coordinated with mosaic tiles add to the charm in the cafeteria. The red, blue and green colors for the seating graphics and tiles imparts cheerfulness. The seating design ensures ample avenues for employees to collaborate and engage while enjoying their daily meals.

The transformation of NESS was significant and well received by staff. The refurbishment is a stunning example of evolving trends in design which can be seamlessly amalgamated even into a refurbished office, with the open plan work area and increased emphasis on collaboration," says Zaxis.
Location: Mumbai, India
Date completed: 2020
Size: 35,000 square feet
Design: Zaxis