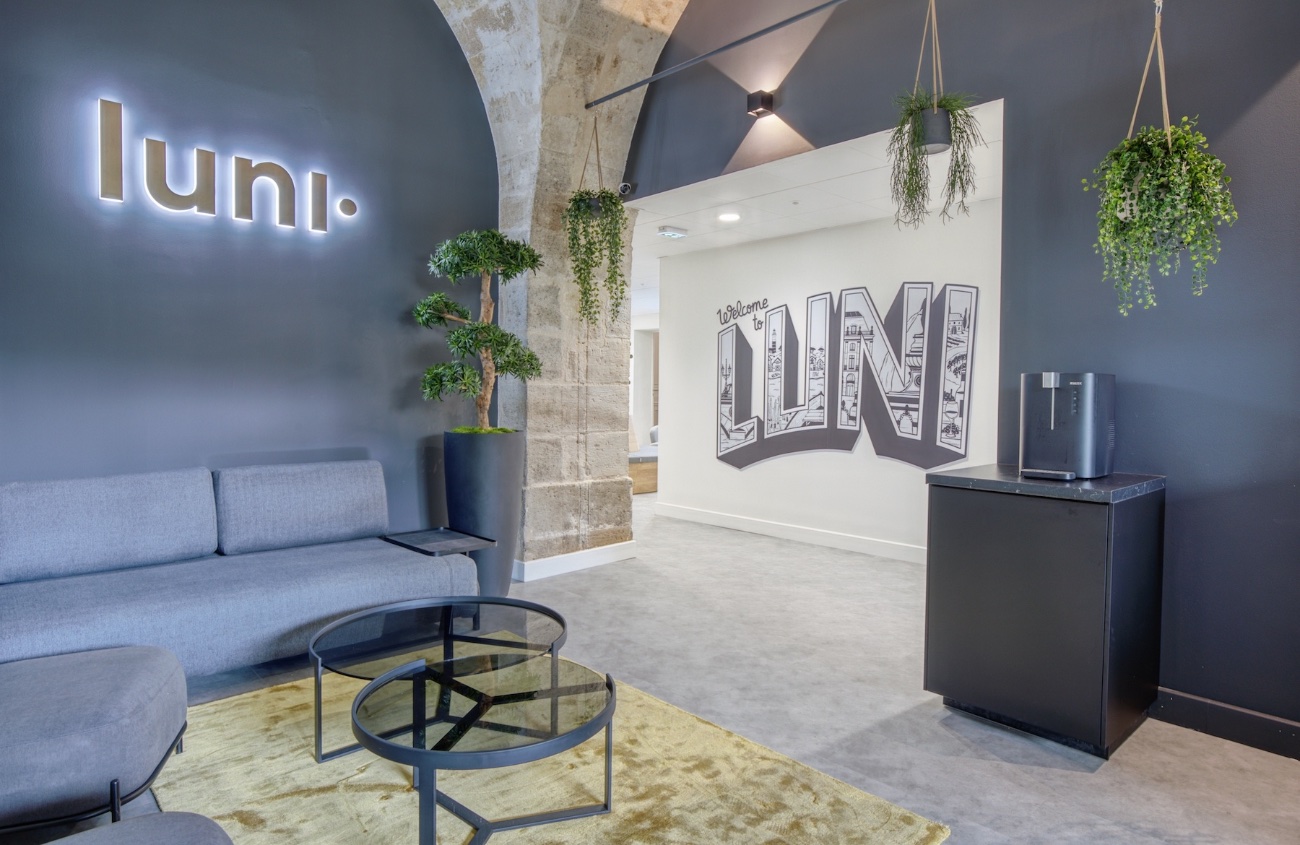 A Look Inside Luni's New Bordeaux Office
Mobile app publisher Luni hired interior design firm Yemanja to design their new office in Bordeaux, France.
"TOne of the first challenges for Yemanja was to give a second life to the building and its original architecture, to further add a touch of modernity and elegance. This was done in every corner of the place : keeping a 8m high perched skylight, restoring the "bordelaise" stone arches, searching under multiple layers, the one-of-a-kind parquet.

In addition to the workspaces, the young and effervescent team at Luni also wanted many entertainment zones: omnisports fields, boxing room, a gym, video studio, zen garden, board games room, video games room…

In order to keep the beauty of the existing place and have a common thread as a guide, Yemanja chose a subtle color combination for every floor. A blend of refined elements and neat aesthetics furnitures. In that elegant shell, everything has become inspiring and stimulates the team's creativity !

The overall space, distributed on 5 floors by a majestic staircase, offers the collaborators a multitude of possible works positions and to the visitors an original experience like no other office in Bordeaux. Luni's headquarters offer multiple activities. On the ground floor and at the 2nd floor, offices are thought to facilitate exchanges to create, transform and invent the most daring concepts. Comfortable furnitures with refined lines invite workers to collective and individual emulation.

On the 3rd and 4th floors, the atmosphere is quieter, more studious. Then, on the last floor, visitors can access a space dedicated to self development. The highest floor offers the possibility to meditate, do yoga and entertain with board games," says Yemanja.
Location: Bordeaux, Paris
Date completed: 2021
Size: 16,145 square feet
Design: Yemanja