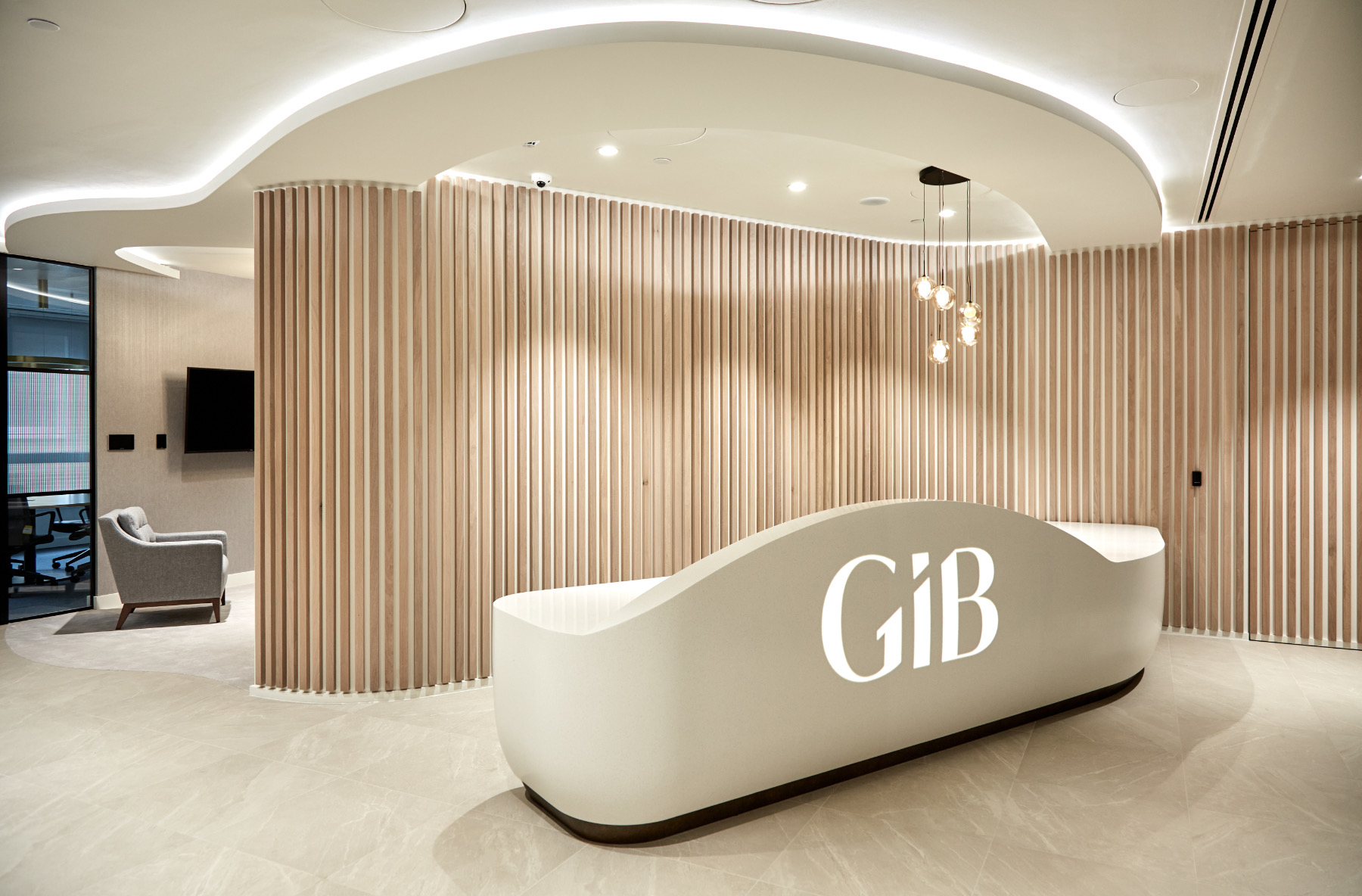 A Look Inside GIB Asset Management's New London Office
Global asset manager GIB Asset Management recently hired workplace design firm Peldon Rose to design their new office in London, England.
"For GIB AM, making a positive impression is an integral part of its business, so it was important that the company's office did the same from the outset. This meant the workplace reception needed to create an impact, acting as a multi-functional space to host meetings, greet clients and entertain high-profile guests. The Peldon Rose team created a striking and inviting front of house meeting suite, which includes catering facilities, so it can easily be adapted for a variety of meetings and events.

Creating a positive space

Employee wellbeing is one of GIB AM's top priorities, so the company wanted an office layout that offered flexibility, inclusivity, and would accommodate a growing team. Moving away from the idea of cellular cubicles and fixed workstations, Peldon Rose designed the new office with a variety of flexible spaces to support different working styles and purposes without compromising on capacity. This includes spaces for collaborative team meetings, one-to-one catchups and quieter areas for confidential phone calls. The team also ensured the space was carefully designed so staff workstations were positioned in locations wherever possible with access to natural light , to help elevate the team's health and wellbeing.

Aligning with GIB AM's sustainability values, Peldon Rose set out to achieve accreditation to champion the company's commitment to the environment. Through sourcing sustainable, natural materials, such as a carpet tile with a 100% recyclable base, by selecting British products where possible, and with careful management of the build process, the workplace was awarded SKA Gold certification.

Embedding the company's heritage

Georgia Nogas, project designer at Peldon Rose said: "It was very important that the roots of the company's heritage were firmly planted in the office. Inspired by the geography of the Middle East, we came up with the idea of creating a central 'island'. This acts as the focal point of our design, playing host to alternative work settings and areas focused on wellbeing, such as touchdown zones, a wellness room and quieter work booths for concentration.

A workplace accessible to everyone

GIB AM is committed to being a fully inclusive employer and is a proud member of the Valuable 500 initiative, a global movement putting disability on the business leadership agenda. This meant that creating a space that is accessible and inclusive for all underpinned the entire design process. This included installing automatic doors and incorporating a variety of comfortable working environments. The design also features private areas to encourage focused work, designed with calming colours, adapted to be used by those who are susceptible to sensory overload," says Peldon Rose.
Location: London, England
Date completed: 2021
Size: 12,150 square feet
Design: Peldon Rose