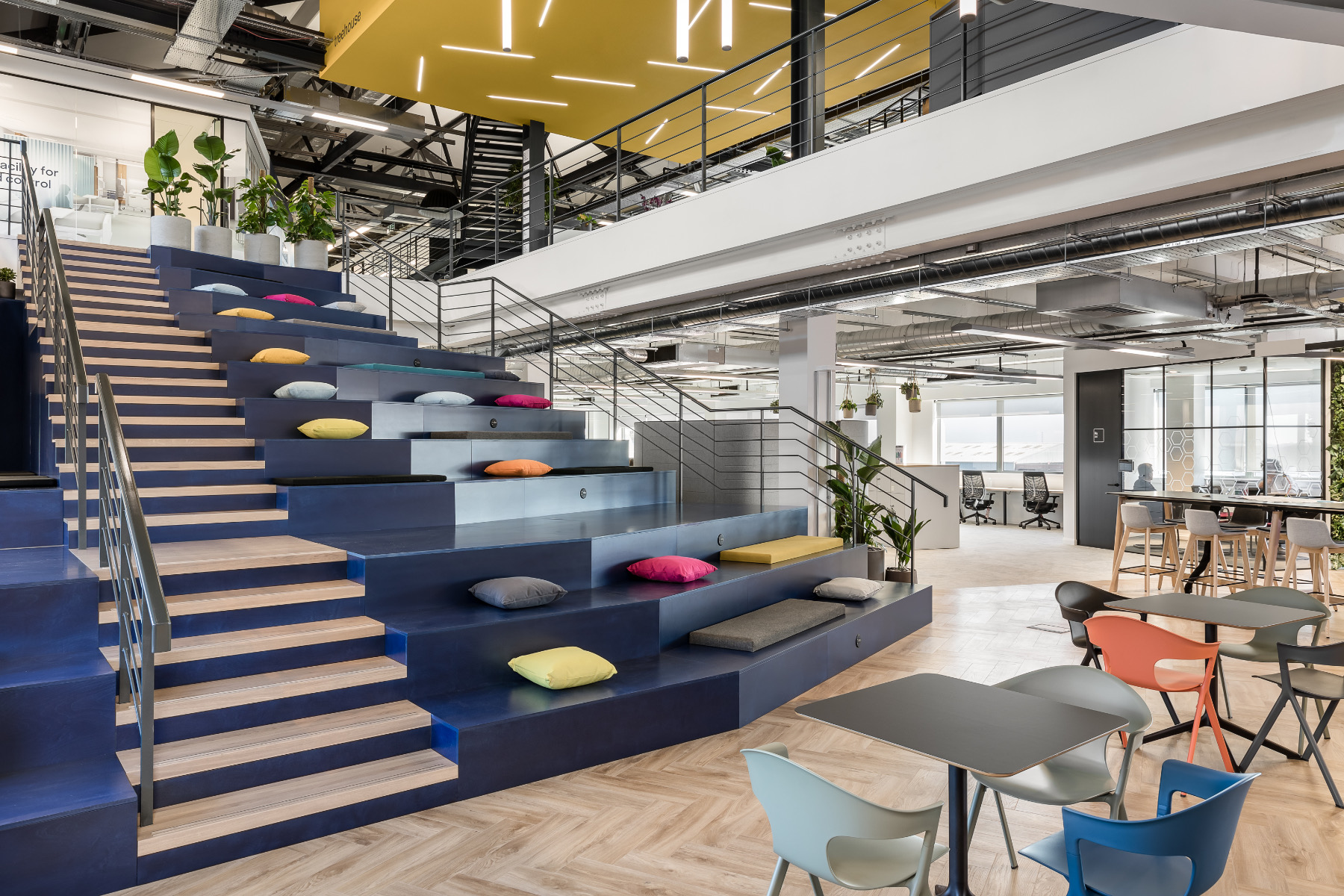 Inside GAMA Healthcare's New Hemel Hempstead Office
Workplace design firm Oktra recently designed a new office for healthcare technology company GAMA Healthcare in Hemel Hempstead, England.
"With their building already fitted out to a high Cat A standard, we transformed the space even further, connecting the two floors with a striking bleacher seating area which also acts as a staircase at the heart of the space.

Constructed to cater to a company-wide hybrid working model, agile spaces and flexibility are prioritised over standard workstations, with mobile furniture elements enabling employees to customise their own space. Two treehouse meeting rooms in the rafters of the building feature glass walls that offer stunning views right down to the bleacher seating below. We also achieved a Gold SKA Rating for this project, ensuring a 99% waste recycling rate in its construction.

GAMA's new workplace is also host to a world-class healthcare environment, containing complete training facilities comprised of a full hospital suite designed by LSI, the UK's leading healthcare architects, as well as an adjacent classroom area for academic study, and is where GAMA intends to train 10,000 NHS staff. With a games area, wellness suite, and state-of-the-art video-conferencing technologies, this is a workspace built to enable and excite, as well as providing GAMA Healthcare with the facilities necessary to achieve their business goals," says Oktra.
Location: Hemel Hempstead, England
Date completed: 2021
Size: 30,000 square feet
Design: Oktra
Photos: Oliver Pohlmann