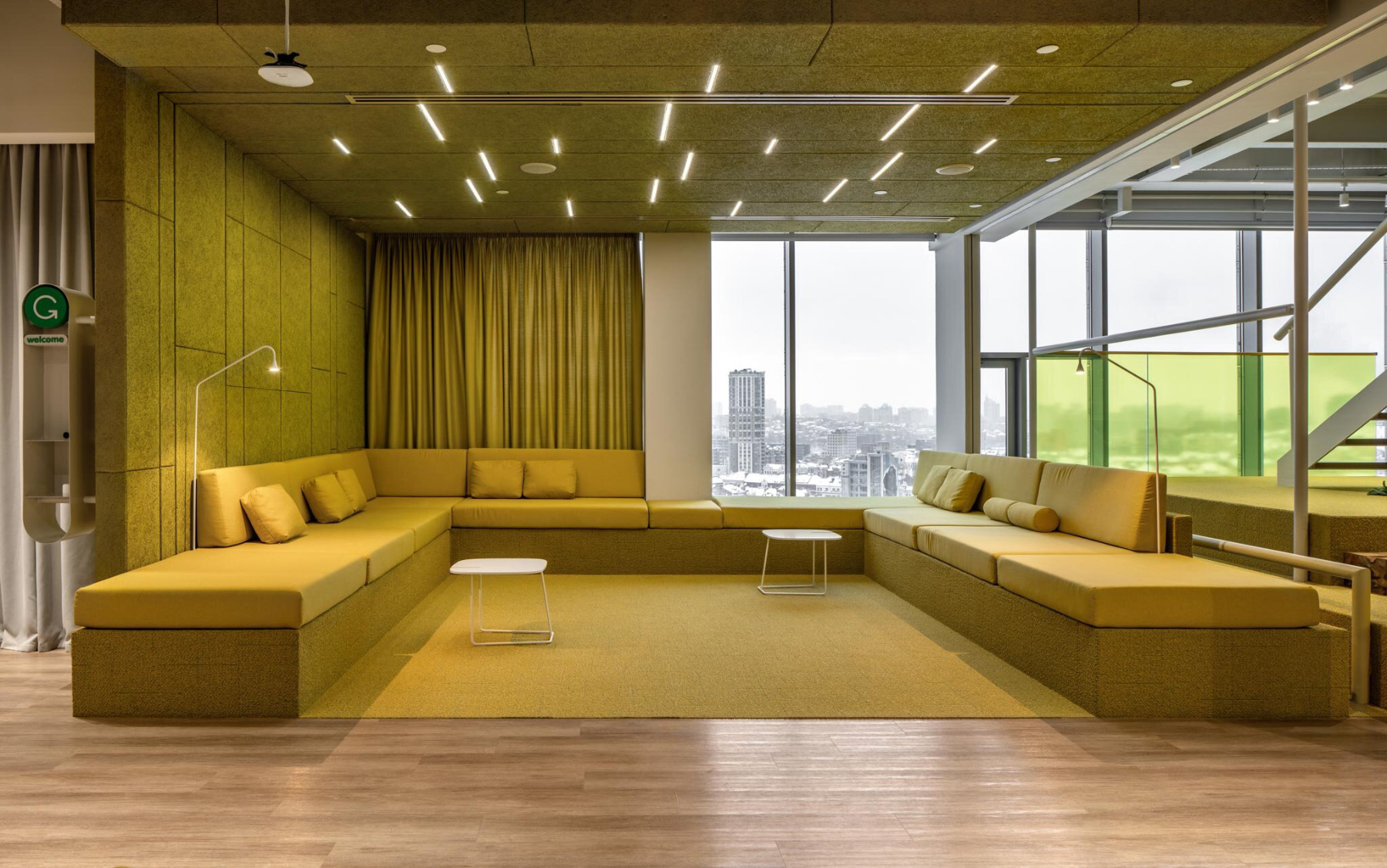 A Look Inside Grammarly's New Kyiv Office
Technology company Grammarly hired architecture and interior design firm Balbek Bureau to design their new office in Kyiv, Ukraine.
"The main design requirements were regarding the flexibility of the space; integration of high-tech multimedia solutions; implementation of smart technologies for lighting, air conditioning, and humidification systems; use of environmentally friendly materials; and — very important to Grammarly — a warm home-away-from home atmosphere that would create a comfortable work environment for the Grammarly team.

The new section of the office is designed for 128 workstations. It also includes state-of-the-art meeting rooms equipped to conduct video conferencing with the company's offices around the world; a reception area, a kitchen, and an activity zone with sports equipment and TRX; a lounge and a 30-seat amphitheater; auxiliary rooms (for cleaning and technical staff), cloakrooms, and other spaces.​​​​​​​​​​​​​​

Though the business center has an elevator for movement between the two levels, we also designed an internal flight of stairs in the reception area to uniquely symbolize the connection and to extend the concept of the catwalk bridge we had already designed for the 14th floor. To build the stairs, we cut an opening in the intermediate floor in strict conformity with all requirements of current building codes. The square area of the level is 1,300 sq m, and the ceiling height is 3.6 m.

The entrance zone is designed as an open-concept space. It combines the reception area, a soft seating area for both waiting and informal work, and the flight of stairs. The office layout separates the space into five soundproof open-plan work zones. They are located around a core area that has become a symbolic center for the office's communication and information exchange. The core area has six meeting rooms of various sizes and an amphitheater with a 30-seat capacity. Zones located further away from the core have their own meeting rooms.

The spatial design of the entrance group includes a ramp and plywood panels with the lighting emphasizing the entrance to the office. Perforated panels contain an LED matrix that mimics the flickering of fireflies in a forest. Other themes can also be programmed into the matrix.

The central part of the office is designed as a core. Meeting rooms of three various sizes (which can accommodate 5–18 people) are located there, along with the 30-seat amphitheater and the main transit zone to the offices adjacent to meeting rooms," says Balbek Bureau.
Location: Kyiv, Ukraine
Size: 13,993 square feet
Design: Balbek Bureau
Photos: Andrey Bezuglov, Viktoriya Gibalenko