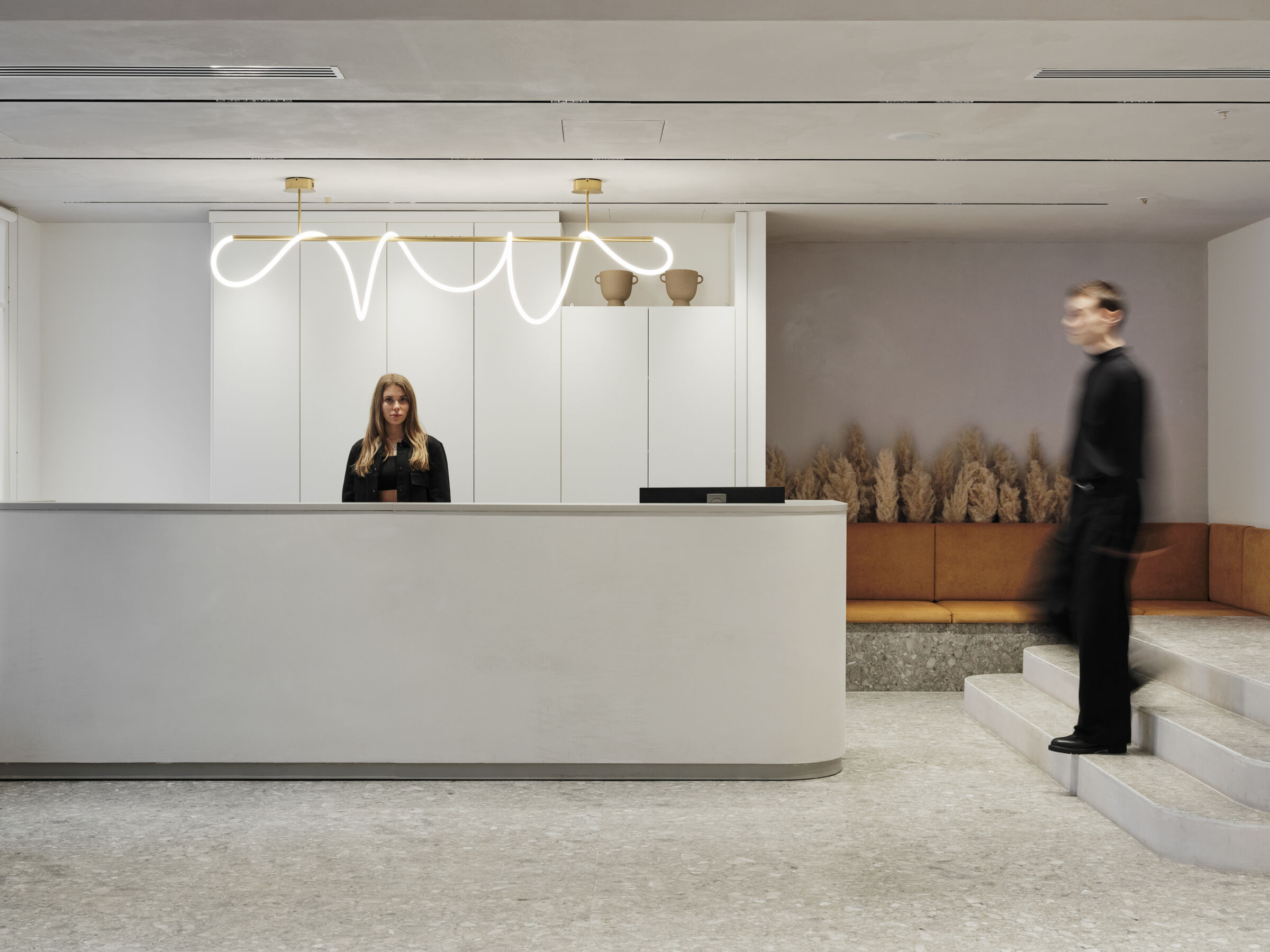 A Look Inside Space 1's New Moscow Office
Office-as-a-service provider Space 1 recently hired architecture firm IND Architects to design their new office in Moscow, Russia.
"The new space of the Space 1 network of service offices in Moscow on Tverskoy Boulevard is located in a historic mansion of the 18th century. The project has integrated the historic atmosphere of the mansion with a modern, technological and efficient interior. For the architects of the bureau in this project, the task has expanded, we did not just work on the customer's office space, but took a direct part in the creation of his product – relevant and liquid.

The original texture of the building required an individual approach. The different heights of the ceilings on the floors influenced the planning decisions. So, on the first floor, the space was recessed, and on the second floor, a mezzanine was completed, which made it possible to create additional spaces for meeting rooms and lounge areas. The project includes various places for recreation, private corners for secluded work, areas with upholstered furniture for communication, free-standing and fully equipped telephone booths for 1-2 people, high-tech soundproof meeting rooms, as well as a large number of lockers.

All service office spaces have the possibility of flexible customization within the framework of the designed mortgages, on which partitions can be installed in a few days and the layout of the premises can be changed to create a separate meeting room or a manager's office by transforming the office according to the requests and needs of the tenant. When designing, we were required to predict the scenarios for the use of premises and to maximize the flexibility and versatility of the layout.

The laconic interior is complemented by unusual images that visually resonate with the architecture and aesthetics of the building. The image of the arch is presented in glass partitions, corridors. Furniture and soft areas act as a bright accent, unusual memorable colors, somewhere bright and saturated, somewhere more calm and pastel, set the dynamics of the interior. The flowing semicircular shape, which we find in soft zones, refers to the architecture of the building and intersects with other images of the arch in the interior. The elegance of the arched elements and architectural lighting make the interior airy, while the rough concrete finish enhances the contrast of the space," said IND Architects.