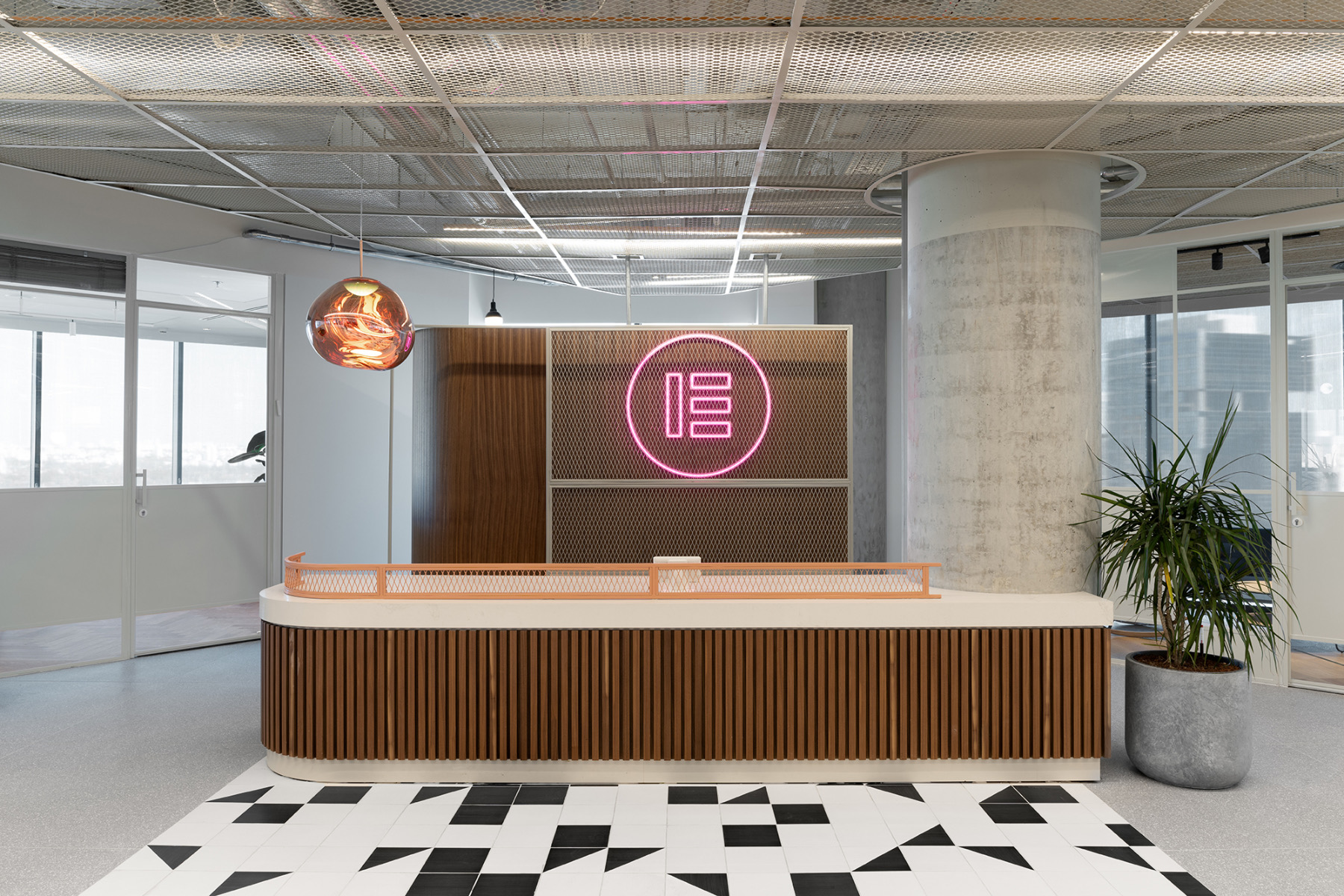 A Look Inside Elementor's Tel Aviv Office
Software company Elementor recently hired interior design studio EN Design Studio to design their new office in Tel Aviv, Israel.
"As interior planners, it was important to create an office that would feel treated from every angle and provide a consistent experience. Another emphasis in the design process was the need for a sense of fun at the office and the use of elements that make people smile. The space consists of power centers and continuous elements that connect the power centers. These formations diverge and merge in the space, like trails in a park.

The offices are located in the Sapir building in Ramat Gan, an eye-shaped building with many varying radiuses. The main challenge was to create an open space concept while maintaining practical work areas without a feeling of corridors. The solution was achieved by separating and unifying the space by using functional elements as partitions between open areas.

When we met the entrepreneurs, we were surprised to find they were ultra-Orthodox yeshiva graduates who had entered the high-tech world.In our first conversation, we discussed the concept of "beis midrash", the Yiddish word for a house of religious study. In such a place, learning occurs in an open space, with study partners sharing and discussing ideas. The entrepreneurs were keen to transplant this experience of collaboration and cross-fertilization into the office design, and so we did.

The space consists of a number of power centers, such as the central cafeteria and collaboration areas. There are also many intermediary areas that provide supplemental functions in the open work space, and feel like ornaments that decorate the environment. However, the most prominent element in the office is the pink stairway with a modern FLOS chandelier above it. This dramatic design element is essential in creating a vertical public space that joins the two floors of the company office.

The project began before COVID-19, and construction took place during the pandemic. Despite the restrictions and difficulties of this period, we completed the project successfully. Our biggest achievement was in designing an office space prior to COVID that withstood the test of changing work environments, and continues to provide a conducive and productive work space for our client", says EN Design Studio.
Location: Tel Aviv, Israel.
Date completed: 2021
Design: En Design Studio
Photos: Gidon Levin