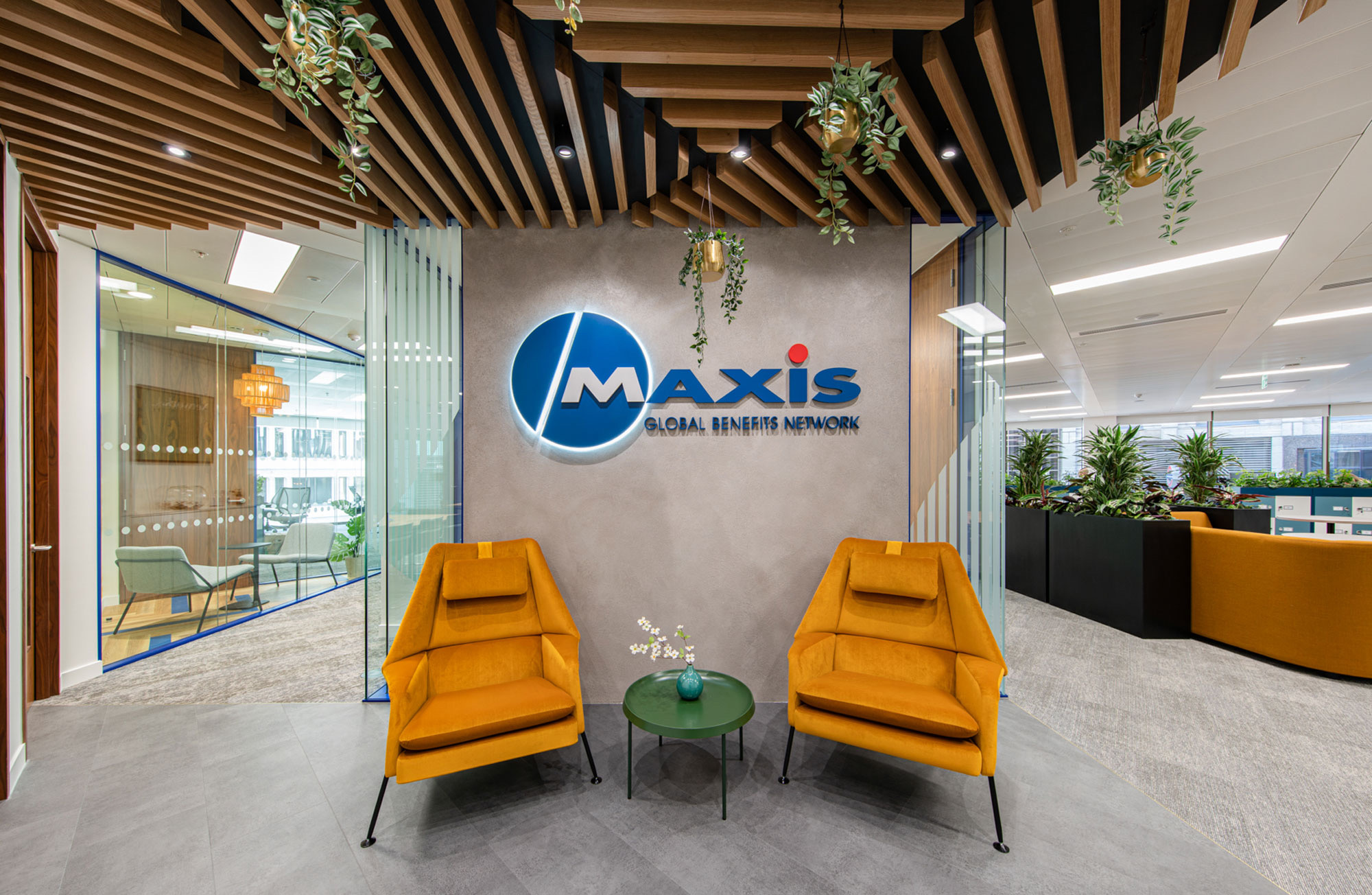 Inside MAXIS Global Benefits Network's New London Office
Insurance company MAXIS Global Benefits Network recently hired workplace design firm Peldon Rose to design their new office in London, England.
"Working with a global customer base meant that the office needed to be a place to welcome clients and create an impactful first impression. Peldon Rose transformed the reception area to give it the 'wow' factor. Guests are now greeted with a large MAXIS GBN logo with lighting built into the design to provide a striking contrast against the polished concrete wall. Additional impact is delivered through hanging planting as well as yellow and green furnishings to create an earthy, calming presence, from the moment you enter the office space.

Peldon Rose designed the space to promote collaborative working and thinking. The previous one-to-one static working format became a new agile open-plan space with social areas such as the new tea point with banquet style seating, and modular style tables offering employees a chance to build those all-important relationships and friendships in person. The new office is now an inspiring, comfortable workspace which supports the team's transition back into the office.

The previously cramped office place is now a space which encourages all styles of working. The reconfiguration saw the removal of the rows of regimented and introduction of collaborative areas for creatively driven brain storming sessions. By opening up this space, staff now have an area where they can come together to socialise and escape their desks. The team reangled boardrooms to create agile, multi-functional areas with features such as sliding folding partitions allowing for larger meetings.

For those times when employees need a quieter environment to really focus, they are now able to choose from smaller meeting rooms, booth seating or a new library space that offers privacy away from the central hub of the office. To further promote flexibility Peldon Rose's furniture team worked cleverly to introduce multi-functional, modular pieces of seating in the breakout areas, that could easily be moved to open up the space for larger team events.

The deep blue that can be seen in MAXIS GBN's colour scheme is woven into the design. Glass panelling throughout the office has been framed with a blue outline whilst select floor panels within the meeting rooms have been painted blue. Unique features, such as a 'knick-knack wall' where employees and clients can place souvenirs, act as a happy reminder of the global nature of the business and creates a sense of unity between teams.

The library has a nook that is surrounded by bookshelves and allows people to have their own quiet space whilst not feeling too disconnected from the rest of the office. The space is completely unique to MAXIS GBN with personalised finishes and decorations," says Peldon Rose.
Location: London, England
Date completed: 2021
Design: Peldon Rose