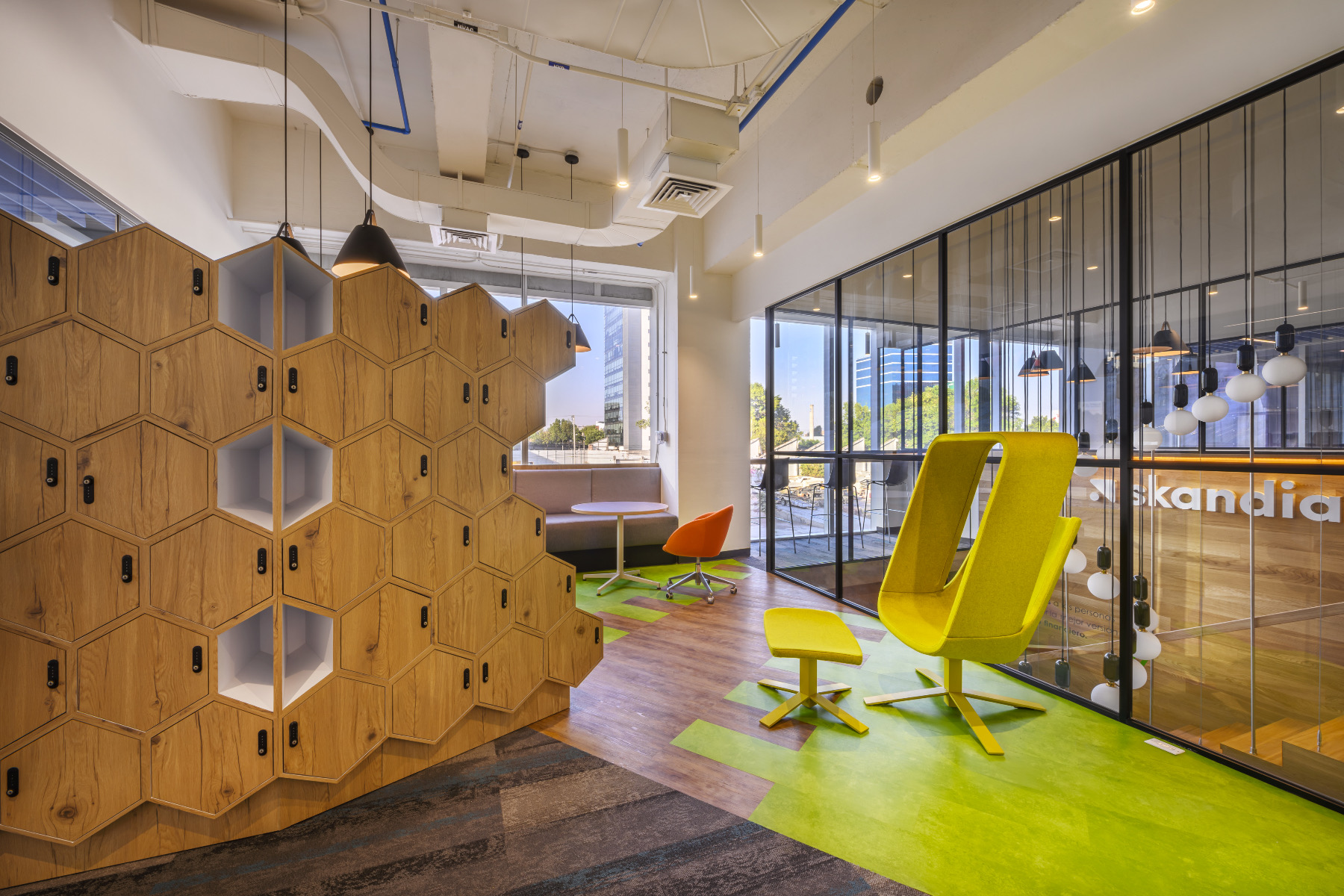 A Look Inside Skandia's Mexico City Office
Insurance company Skandia hired architeture and interior design firm SPACE to design their new office in Mexico City, Mexico.
"The present project succeeds in increasing creativity and productivity within a framework of comfort, and the collaborative work in the organization becomes more visible through areas that inspire effective communication between everyone to strengthen the pride of working there. Spaces that integrate and promote both working and recreational life are designed with solutions that allow people to create the environments they need and choose the workspace that improves their individual experience of habitability.

Spaces with natural lighting, fresh and air-conditioned. Application of acoustic materials in interiors and open areas. Lightweight and transparent materials. Integration of dynamic and functional furniture. Open-door privates. Different types of Boardrooms and Casual Collisions (informal meeting spaces) between work teams that facilitate interaction. Balance between workspaces and common areas, suitable for appropriate technological connection between all users.

Skandia is equipped to meet every need that may arise within the workspace, surrounded by color accents in functional spaces specially designed for efficiency and productivity. Workstation trains rotate at different orthogonal angles, following ceiling planks and apparent slab with colored accents on the carpets. The color of the space responds to the color theory, adopting the combination of neutral and warm tones to uplift concentration and productivity, with details in green, blue and yellow to energize the people who inhabit it.

Game tables, TV screens and seating spaces were installed. As well as the University space, adapted with dynamic furniture, moving walls, front-bleachers and high-tech equipment to facilitate communication and videoconferencing. The Work Café was designed with a bar on the ground floor to enjoy the terrace, accompanied by some cabins, benches, tables and chairs," says SPACE.
Location: Mexico City, Mexico
Date completed: November 2020
Size: 20,182 square feet
Design: SPACE
Photos: Fabian Cano Aldaco