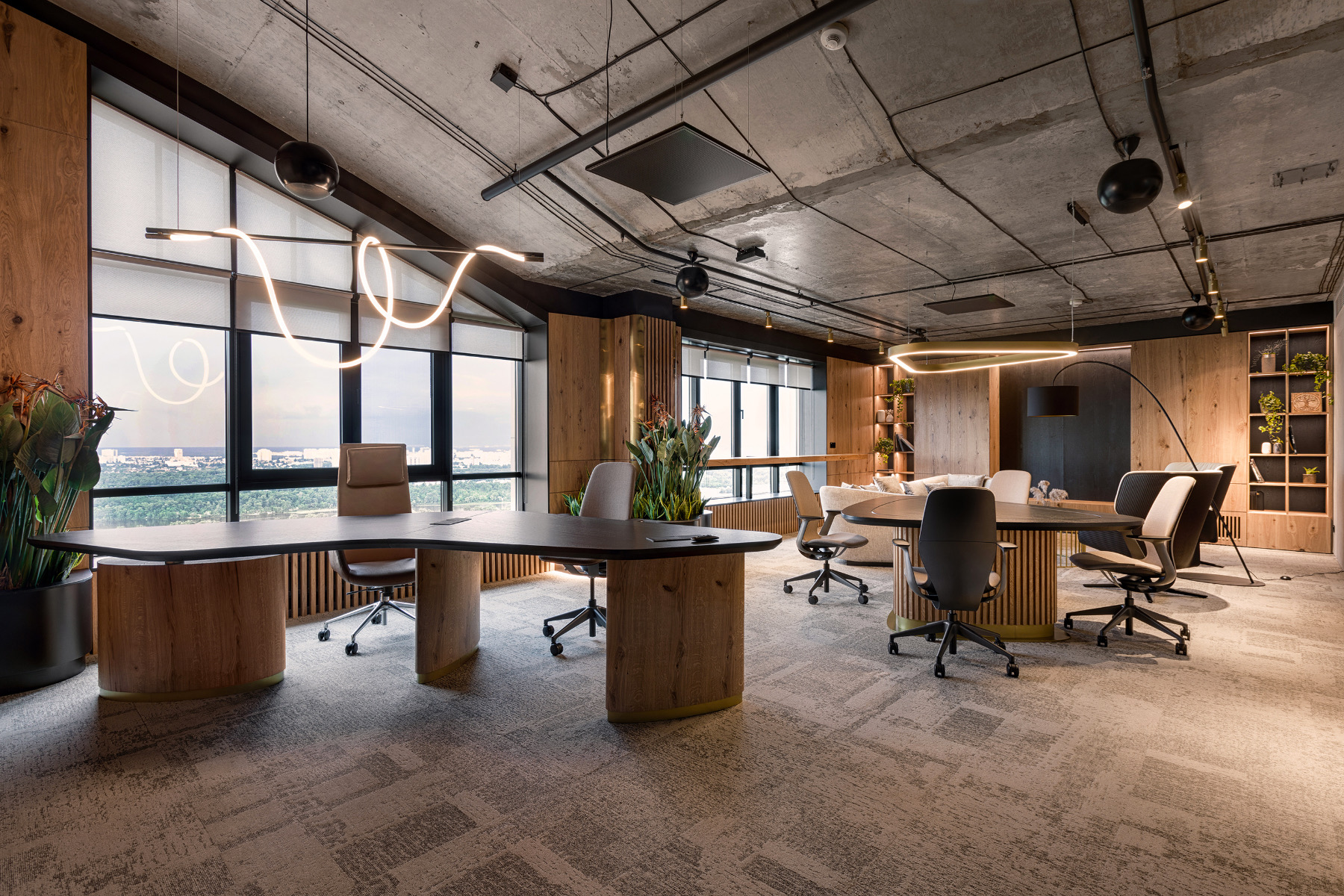 A Look Inside Parimatch Tech's New Kyiv Office
Provider of tech solutions Parimatch Tech hired architecture interior design studio ZIKZAK to design their new office in Kyiv, Ukraine.
"The Parimatch Tech corporate coworking space developed by the ZIKZAK design bureau combines deepwork, lounge, relaxation, food. 70% of the office is without partitions. There are no places rigidly assigned to employees, there are unique boomerang tables, sliding walls of meeting rooms, a waterfall, Skype capsules, multimedia panels.

The principles of well-being were originally incorporated into the concept of the project. The premises adapt to the biorhythms and the degree of natural insolation. Floristic compositions, quiet rustle of water, sound-absorbing panels create an anti-stress environment in which it is cozy at home.

Intuitive logistics, instant volume transformation, different rhythm, change of mood, color, sound, halftones in the style of a VIP lobby of an extra-class hotel. Work on the verge of relaxation, an enveloping atmosphere of comfort and well-being. Corporate well-being.

In the deep-zone with increased sound absorption, they are discussing projects at the hightable with a panorama of the capital. At any time, you can switch to the lounge format: leaf through the tablet under a floor lamp, dine with taste in the cozy kitchen, relax with a cup of espresso in a wicker chair on the view terrace. The team also created different lighting scenarios. We used dimming according to the dali protocol in the central and transit zones, which made it possible to create a calm and comfortable working atmosphere. They actively used decorative light in the form of illumination of a waterfall, panels, shelves, sconces on the walls, floor lamps. All these details only emphasized the general concept of corporate coworking.

The shift to hybrid work has changed the way the employee interacts with the employer. Highly qualified specialists easily combine several projects, change cities and continents. Freelancing is typical not only for large companies: office employees of all companies have felt the taste of freedom of choice. The fight for the best is just beginning. The winners are those who offer their source of income, their labor units the most comfortable conditions. Including – the space in which you can work … while playing. Communicate, get pleasure from a visit to the office, a feeling of well-being. Parimatch Tech has flexible hours, but in the new coworking space, employees prefer offline mode," says ZIKZAK.
Location: Kyiv, Ukraine
Date completed: 2021
Size: 16,000 square feet
Design: 9 256
Photos: ZIKZAK