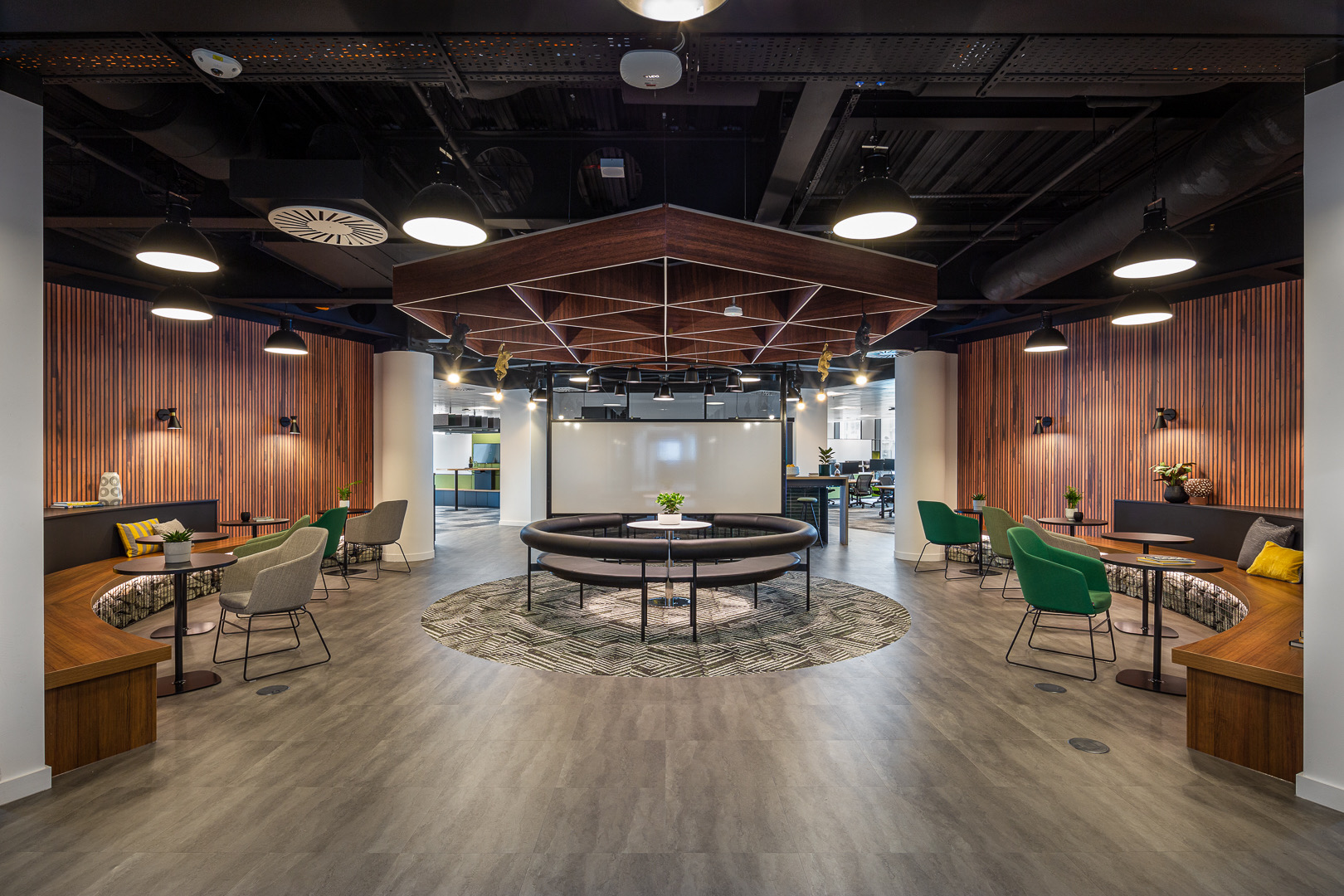 A Look Inside Flutter's New Leeds Office
Entertainment company Flutter Entertainment recently hired interior design studio TSK Group to design their new office in Leeds, England.
"Flutter wanted their new environment to be adaptable and allow people to do their best work, supporting employees' evolving work activities, and empowering their people to change the space on demand to suit their purpose.

Our design process began by looking at the shape of the building. The sharp triangular nature of the building presented a challenge but lent itself to creating consistent spaces within each floor. As you journey through the eight floors of Flutter Entertainment's office, we've created an inherent sense of brand celebration, encouraging staff to feel proud of their collective achievements and connected to the business.

The new office not only brings people together but also liberates employees from fixed positions within their environment. This promotes collaboration and creativity in an accessible and spontaneous way.

On the working floors, a unique space of collaborative settings and scrum spaces allows for ideation, retreat and team working. The rear is less exposed to sunlight throughout the day so is home to meeting, training and focus spaces. The central space was reserved for social spaces, providing an impressive and unique sense of welcome on every floor.

The furniture and fittings are mobile to encourage the team's own space management and set-up. Writable walls are available across the site for ad-hoc sessions to be organised at a moment's notice. Unpluggable tables ensure that new teams can be brought together for project-dependent situations.
To support global communication, we designed digitally-enabled meeting rooms on each floor around the core, setup with video conferencing and AV equipment. Providing employees with choice in how they move between structured and unstructured collaboration is now vital to keeping staff fresh and ideas constantly flowing.
Against the status quo, over 20% of the entire office is dedicated to non-working areas (for socialising, relaxing and recreation) to encourage a 'one-team dynamic' and connect people on a deeper level through social activities to build a stronger team culture. The top two floors house the social heart, complete with 200+ person amphitheatre, social space with café, state-of-the-art gym, shower and locker facilities, a dedicated gaming floor as well as a two-tiered external terrace connecting the spaces together.

Flutter's new office space cements their position in the heart of Leeds. In an ever-changing work environment, the building allows them to operate with greater adaptability and flexibility for their workforce. The contemporary and people-focused environment makes Flutter a highly attractive workplace to be," TSK Group.
Location: Leeds, England
Date completed: 2021
Size: 136,000 square feet
Design: TSK Group
Photos: Midi Photography, Jody Hartley