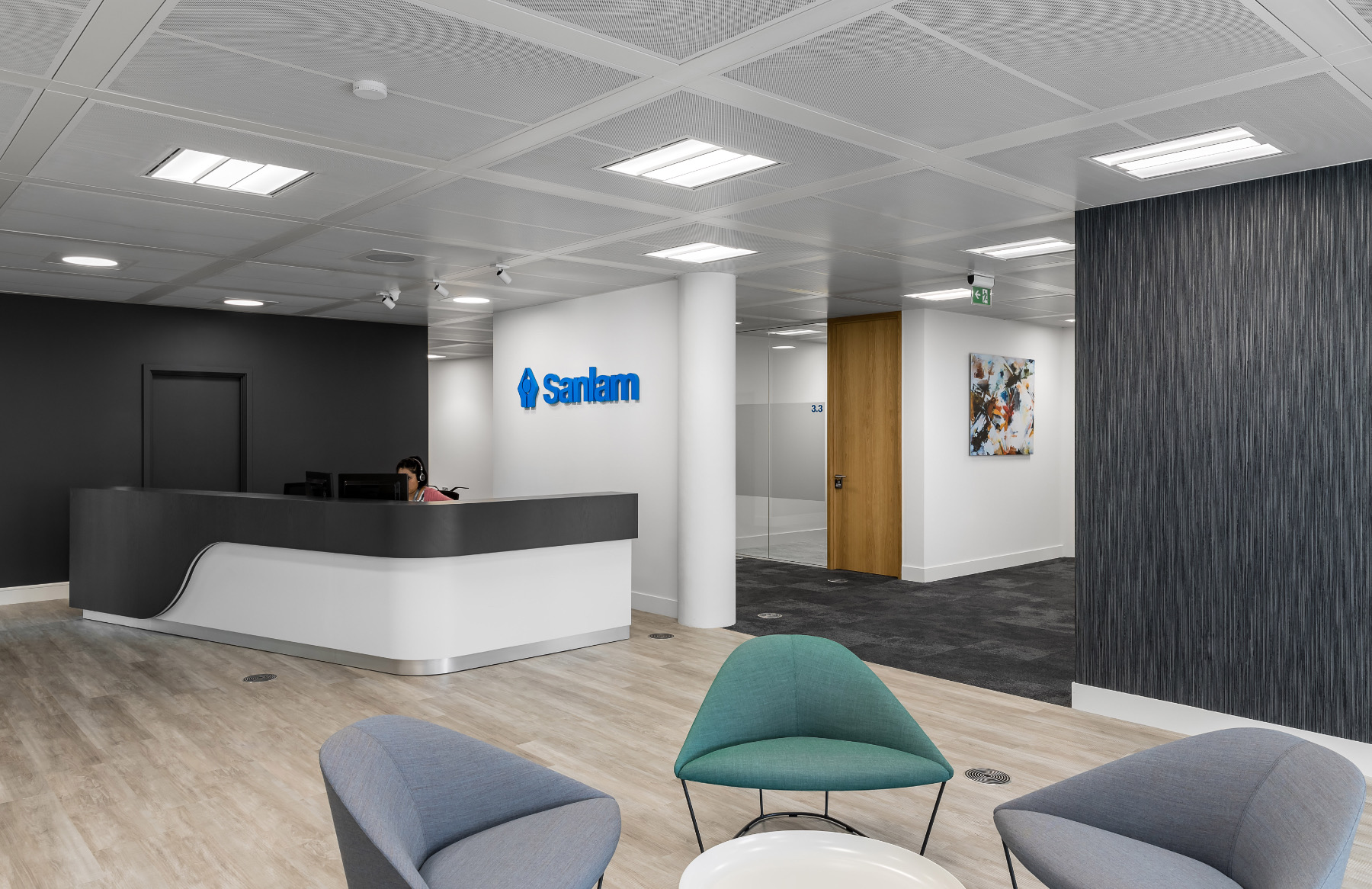 A Look Inside Sanlam's New Bristol Office
Insurance company Sanlam hired workplace design firm Oktra to design their new office in Bristol, England.
"Following the successful refurbishment of their London office, financial services group Sanlam decided to relocate their Bristol workspace and create a more cohesive space that matched the standard set by the London location. Our client was previously spread across multiple floors, and wanted to move to a single floor workspace that would open up lines of communication and break down silos in the business. Sanlam employed a workplace consultant to evaluate their spatial requirements and develop design concepts which we detailed and built at Temple Quay.

Having seen the impact of the London office design, Sanlam appointed us to fit out their Bristol office and employ the same design principles. This brief determined the aesthetics and types of working areas included in the new scheme, and drawing on our previous understanding of Sanlam's business, our designers developed a clean, slick design that embodies our client's brand.

The L-shaped floorplate of the space informed the location of work areas and the journey through the office. The new office layout is comprised of open plan desking with pockets of breakout space in the wings of the building, while a variety of meeting rooms are concentrated at the centre of the workplace and support both formal client meetings and informal team meetings. Flexibility is built into the architecture of the space, with folding walls in the meeting rooms which can be opened to create a large board room.

The new space considers Sanlam's client journey; following an ascent via the glass lifts overlooking the lobby, visitors are met with a professional, on-brand reception and waiting area before being guided to the client suite. The first impression of Sanlam's brand is consistent with that of the London office and predominantly uses their brand's grey and blue with touches of blush and green to soften the corporate feel of the space.

Sanlam recognise the important of good office design in attracting and retaining talent, and wanted to provide their Bristol teams with a workplace that catered to their working needs as well as supporting their wellbeing. Staff now benefit from spacious desk areas with increased natural light and planting, a large breakout area with high-back sofas and soft seating for informal meetings, and a modern, bright teapoint that pulls people together at the core of the workspace.

By transitioning to a more open workplace that promotes transparency, Sanlam have encouraged cross-departmental communication and collaborative work practices. With the design and build of comfortable, welcoming workspaces for both Bristol and London teams, we have achieved Sanlam's vision of an agile workplace that can simplify, harmonise and evolve people practices," says Oktra.
Location: Bristol, England
Date completed: 2021
Size: 20,000 square feet
Design: Oktra
Photos: Oliver Pohlmann