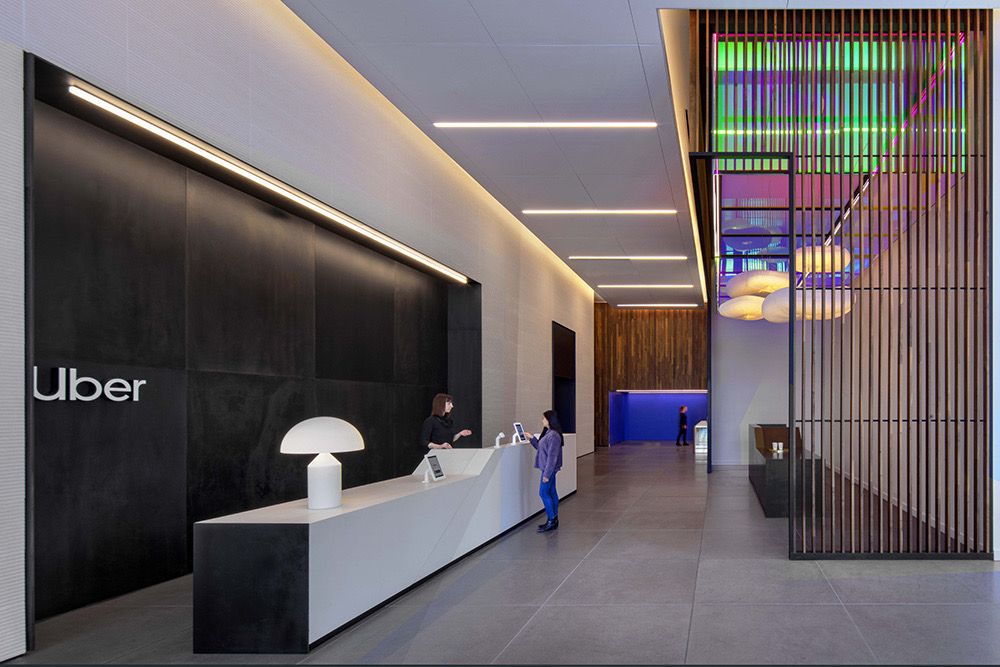 A Look Inside Uber's New San Francisco HQ
Technology company Uber hired architecture and interior design firm Huntsman Architectural Group to design their new office in San Francisco, California.
As a part of a four-building superblock campus, Buildings 3 & 4 encompass two eleven-story towers totaling 584,000sf. Huntsman's design centers on Uber's vision of the future workplace: Places for collaboration contrasted with quiet respites for considered work. Huntsman's design approach conveys a sense of place and the experience of wellbeing.
The story begins with community and identity evident in the building lobbies where Huntsman deployed Uber's evolved brand to set the tone for the user experience. The building lobbies, each with floor-to-ceiling curtain walls, visually connect and integrate with the broader community, outdoor plaza, and bustling Third Street. Other public spaces are also designed around views of the outdoors, framing Mission Bay's unique character, including the adjacent Chase Center Arena, home to the Golden State Warriors. Landscaped roof terraces with panoramic views provide communal spaces for work, fitness, and events, further connecting users with the dynamic and unique Mission Bay neighborhood. Huntsman created opportunities for users to choose how to work or connect with others, or recharge.
The diverse spaces throughout the campus accommodate unique user needs. Designed with physical barriers and silos removed, the workplace offers transparent and connected spaces with unobstructed sightlines to the outdoors and between floors. Open desking configurations create distinctive neighborhoods supported by a variety of enclosed spaces for training, conferences, and private phone calls. Personal autonomy and choice are reflected in the design of intuitive transitional spaces for solitary work and ancillary spaces for small group collaboration. Facing Chase Center plaza, a two-story community stadium serves as a large-group assembly and social gathering space. With comfortable bleacher seating and a state-of-the-art programmable backlit ceiling, color varies throughout the day creating a dynamic and energetic environment.
To promote employee wellbeing and enhance the user experiences both buildings achieved LEED v4 Gold and WELL certifications. Design interventions focused on sustain ability and employee wellness are the foundation of the campus ecosystem. Huntsman strategically located slab openings and interconnecting stairs to increase activity, connection, and interaction between floors. Daylighting, views to the outdoors, and biophilic interventions are distributed equitably across floors to ensure users experience wellbeing throughout the day. An array of amenity spaces throughout the floors — quiet rooms; care rooms; wellness suite; a full-service two-floor café; staffed barista coffee bar and smoothie bar; event lounge; snack rooms; pop-up food spaces; and libraries — offer employees a variety of destinations for recharging, renewal, and self-care.