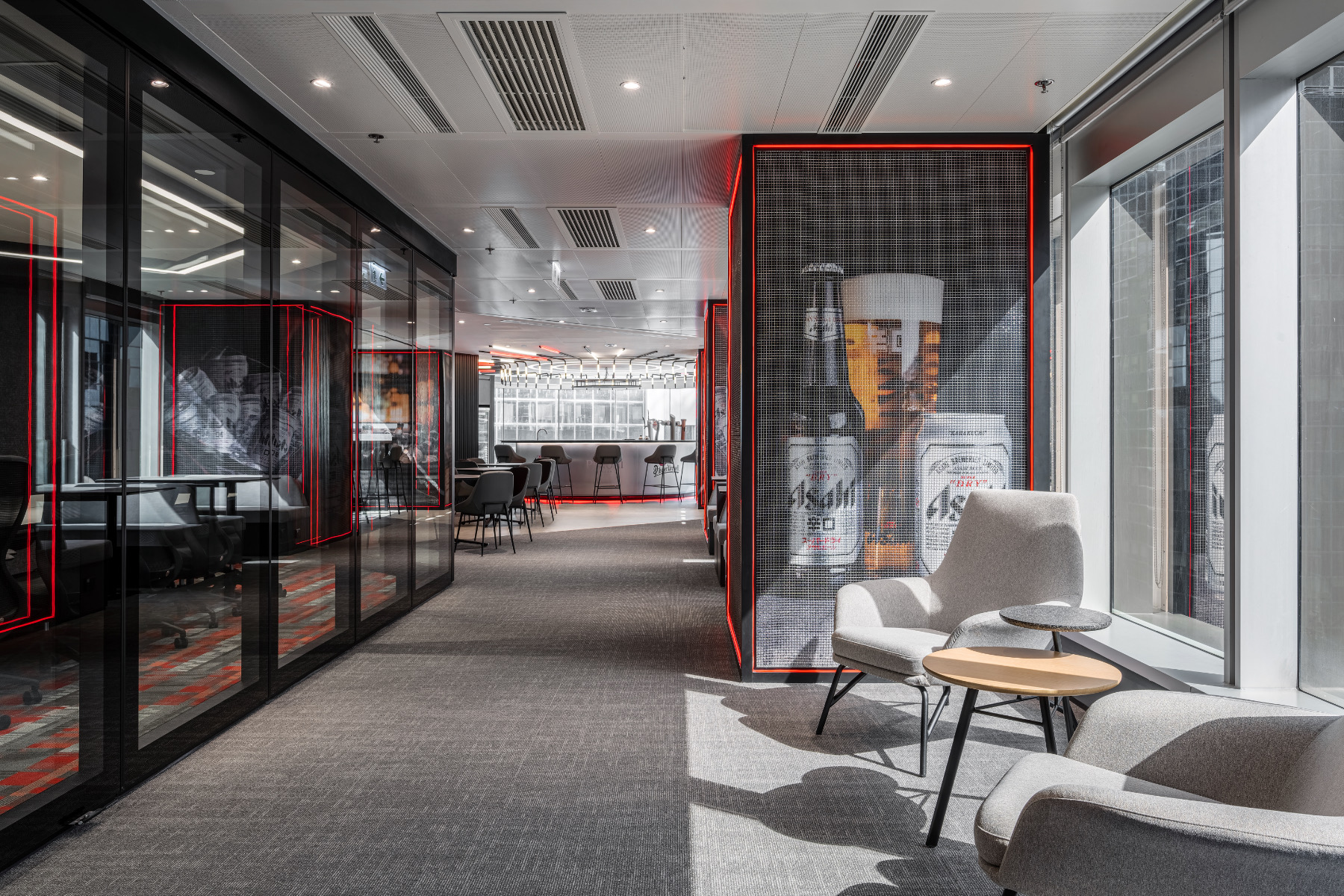 A Look Inside Asahi Group's New Hong Kong Office
Global beer and spirits group Asahi recently hired architecture firm Steven Leach Group to design their new office in Hong Kong.
"Aiming to establish a main hub for their business activities in Asia Pacific, the Asahi Group Hong Kong office is a brand new Design and Build office project that occupies a total of 5,047 square feet across the bustling metropolitan area in Hong Kong. The main design theme was to showcase Asahi Group's strong branding identity across the office space. By incorporating detailed observations and approaches, this office design allowed concepts to be pushed and new design ideas to become a reality.

The centralized theme of the office design was heavily inspired by observing the "A" in Asahi Group's logo design, which displayed numerous parallel 45 degree diagonal lines across the logo. An example of utilizing this interesting observation was to strategically divide the office space using parallel 45 degree diagonal lines, with the workstation and furniture intelligently placed in the back of the house area to demonstrate this observation.

To construct a progressive approach to this office design, Steven Leach & Associates often constructed both 2D and 3D Layout Plans of the entire office design for Asahi Group, with minor details such as wall finishes, ceiling design and floor finishes being fully visualized. This unique approach allowed the concept of juxtaposing the brand identity of Asahi Group with their office design to become a reality.

One remarkable feature of the office would be the World Map at the reception area of the office. The World Map was composed of hundreds of bottle caps from the five beverage brands under Asahi Group, which symbolizes the group's brand identity of being a globalized company," says Steven Leach Group.
Location: Hong Kong
Date completed: 2021
Size: 5,047 square feet
Design: Steven Leach Group
Photos: Steven Ko