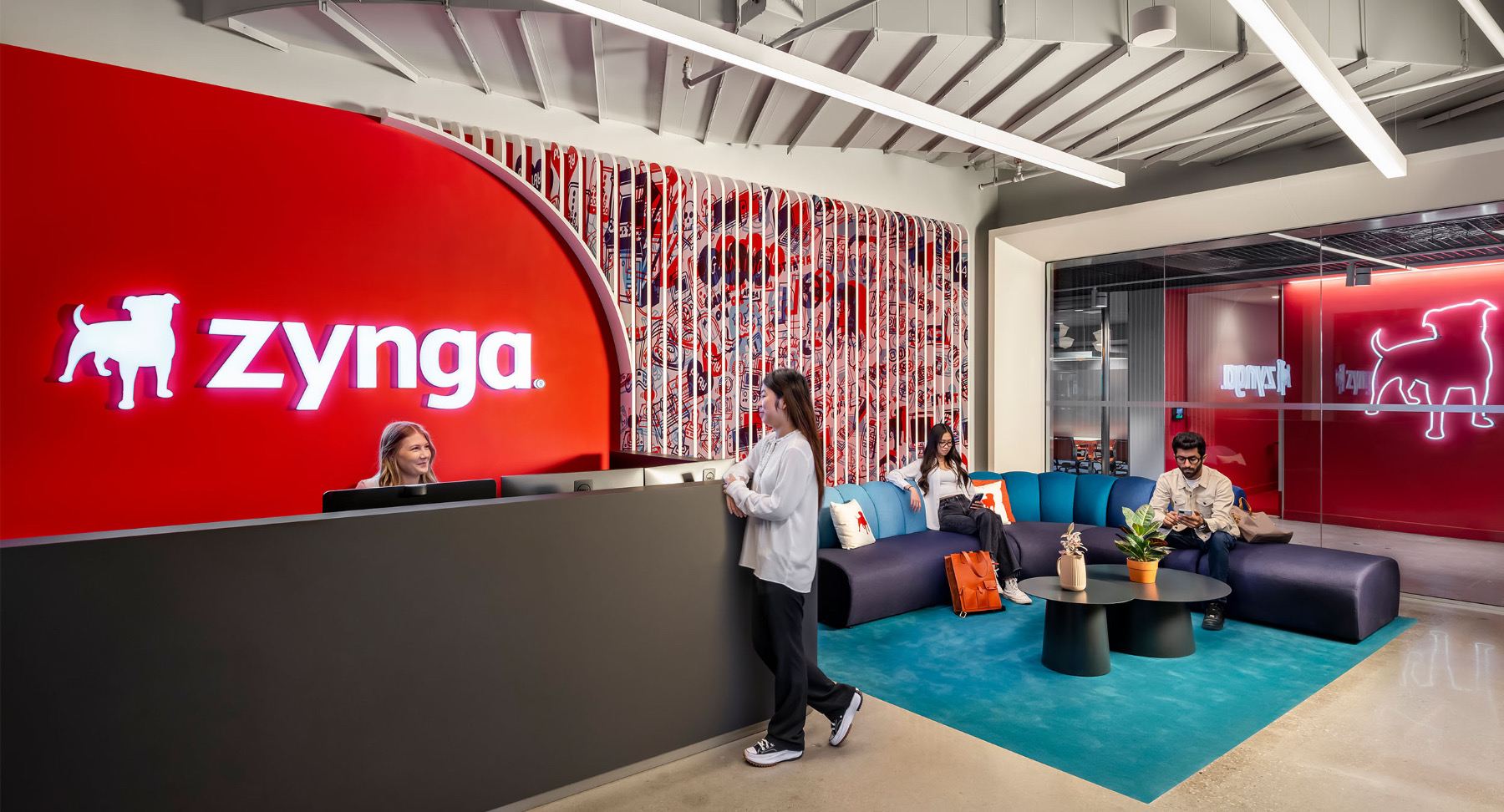 A Tour of Zynga's New Toronto Office
Gaming company Zynga recently hired architecture and interior design firm M Moser Associates to design their new office in Toronto, Canada.
"This new space caters to Zynga's connected, hybrid workplace strategy, placing individual and team flexibility at the centre. Designed to engage, enlighten and encourage employees to be their best selves, the environment emulates the magnitude of fun, excitement and collaboration that Zynga's culture thrives upon.

Located within Toronto's historical CBC (Canadian Broadcasting Corporation) building, M Moser recognized the need for adaptive solutions. They worked to maximise the existing build-out and rework the open office area to suit a new hybrid work model and strengthen environmental and financial sustainability. Furthermore, M Moser's on-site due diligence verified all as-built conditions of the space, documenting what would be salvaged and repurposed.

Throughout this office design for Zynga, M Moser's team focused its strategy on changes to IT infrastructure, furniture, equipment and AV while using Zynga's playful brand to completely reimagine the space. Additionally, they led multiple design visioning, needs analysis and programming + planning workshops. These studies aided in clarifying, documenting and qualifying the company's vision for its brand, culture and workplace. To address this transformative era of work for Zynga, the firm employed its Behavior Based Design approach. By elevating our understanding of Zynga's people, M Moser was able to focus on connecting employee behaviors with what would enable a team's best work in hybrid mode.

Adjustable work settings have been fundamental for Zynga as a collaborative business tool for their various meeting styles. The new space features updated AV technology for virtual meeting connectivity and a flexible mix of collaboration areas, meeting rooms and phonebooth-style spaces for individual work. As the next evolution of Zynga's workplace, this fusion of traditional and collaborative spaces encourages hybridization and mobility. This multi-floor space has a communal booth wall featuring worksurface space beneath beautiful colour-blocked archways. A reception area communicates Zynga's playful branding and the Toronto skyline, while bold, positive colour schemes coupled with accent lighting bring stimulus to the meeting rooms.

Personalized elements and local art are flexed throughout the office, connecting team members to their work environment. From the reception area and elevator lobby to the gaming space, open collaboration areas and quiet spaces for heads-down work, an uplifting brand experience is ever-present. The materiality elements chosen for this space allow for pronunciation and harmony. Each element, from furniture to fixtures, work cohesively together for a visually stimulating yet comforting atmosphere," says M Moser Associate.