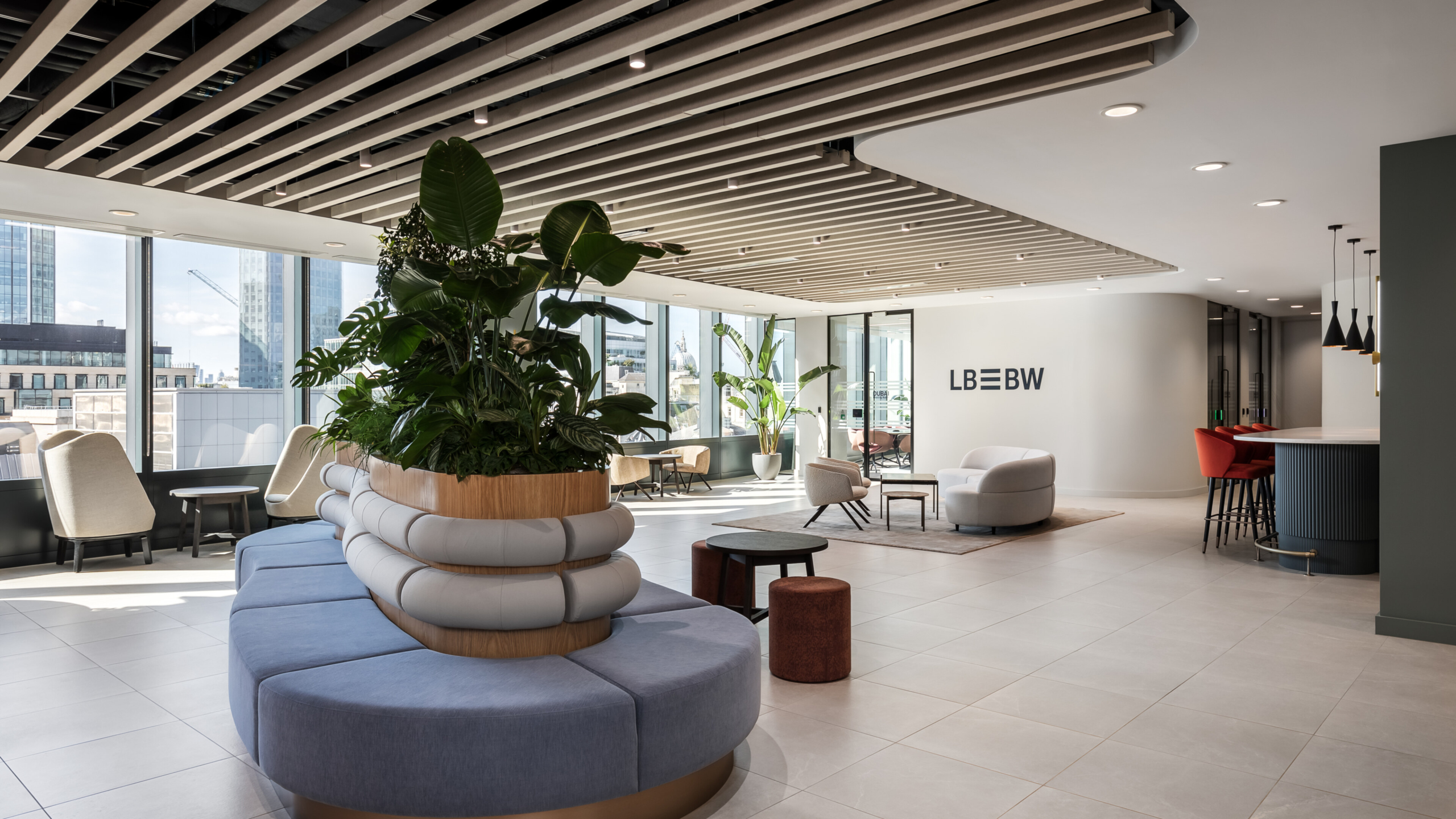 A Tour of LBBW's New London Office
Commercial real estate firm LBBW recently hired workplace design firm Oktra to design their new office in London, England.
Landesbank Baden-Württemberg (LBBW) were looking to upgrade their office space to establish a more inviting working environment for their people. The German commercial bank chose to relocate to 100 Liverpool Street, a new iconic building in Broadgate that would act as their flagship office and encourage staff back to the office. The new location features elegant, sophisticated design and branding, with a mixture of office and open spaces, all contributing to an improved working experience.
With LBBW's traders working predominantly from the office, the new space needed a central trading area consisting of open plan desking, supported by smaller private offices, a staff breakout space, and a separate client welcome area. All desking is sit-stand and was recycled from their previous building, with a flexible seating policy in place to aid agile working. Given the company is primarily based in Germany, all meeting rooms are also equipped with AV technology to enable hybrid meetings. The space was designed with the employees and clients in mind, promoting an uplifting, welcoming and collaborative environment, something that is especially evident with their embracing of biophilic design principles.
Whilst the front-of-house acts as a formal introductory space for guests with meeting rooms adjacent to this area for client meetings, the back-of-house contains a casual breakout space with soft furnishings giving employees space to relax and interact away from their desks. An impressive, curved banquette seating space with planting in the centre forms a focal point of the breakout area and contributes to the biophilic design, alongside natural wood finishes and ample natural light, offering benefits to employees' health and wellbeing.
LBBW's contemporary office design creates a warm, inviting office space that retains a professional feel. The colourway avoids any monochrome colours and prioritises subtle hints of LBBW's brand colours which are used to brighten the neutral palette of the space. Company graphics are utilised throughout the space, with a timeline of the banking company's history manifested on glass panels near the entrance to communicate a sense of pride in their company and its values. Paired with planting, soft furnishings and colourful tiling around the teapoint, the space leans into the resimercial design style and echoes the aesthetic of the landmark building
Location: London, England
Date completed: 2023
Size: 8,300 square feet
Design: Oktra