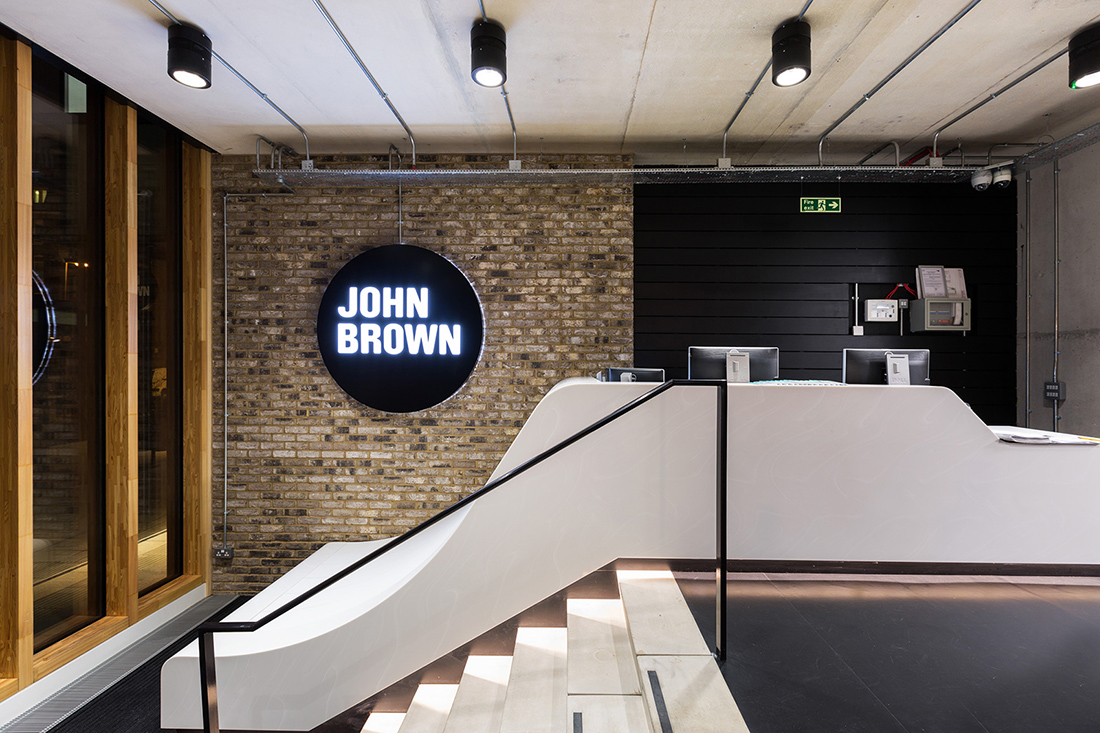 A Tour of John Brown Media's Cool London Office
John Brown Media, a global content marketing agency that helps brands engage with their customers, recently hired Inhouse Brand Architects to redesign their newly acquired offices in London's Shoreditch.
"Foregoing the company's traditional corporate colours, teal and yellow, John Brown Media UK opted for a black and white scheme, which became one of the fundamental elements of the interior design. The monochromatic branding and styling unites all four floors of the office. The flooring continues the monochromatic scheme with black vinyl in the break-away areas and carpeting in the open-plan spaces. Pops of colour appear throughout the office in the form of ottomans, poufs and scatter cushions – all in shades of turquoise and blue that serve as a visual nod to the original John Brown Media branding. Stepping through the doors at reception, visitors are greeted by a striking white reception desk with a wave-like form that matches a nearby staircase. The organically shaped desk was custom-made in order to establish the entrance as a key area. The logo proudly draws the eye to the exposed brick wall that supports it. At the entrance, a memorabilia wall displays John Brown Media's achievements, including its many magazine covers. The wall will be regularly updated and is directly visible to guests in the waiting area. Beyond reception, the ground floor functions primarily as a social hub, featuring break-away areas, a staff kitchen and raised lounge. The boardroom and an additional lounge area are housed in a series of slatted timber frames. This visual language is continued in several cosy booths that are located on all four floors, and which are popular for informal meetings. An internal staircase connects the ground and first floors (instead of relying on external fire escapes or lifts); the second and third floors are also united in this way. The second floor houses a working kitchen set – a Miele-sponsored space created for Waitrose, one of the company's premier clients. Although the clean lines of the kitchen match the urban look of the office, it also incorporates homely touches like cookbooks lining the walls, ensuring that it doesn't present as a sterile space".