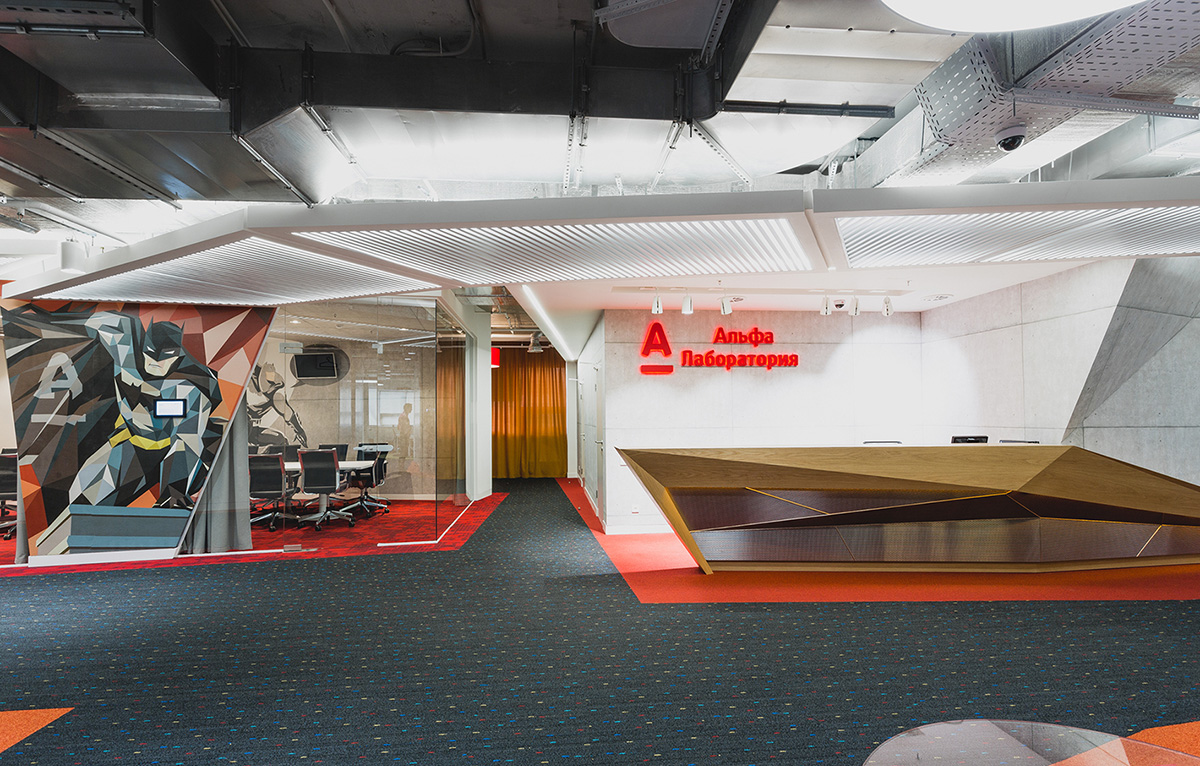 A Look Inside Alfa Bank's Modern Moscow Office
Private commercial bank Alfa Bank hired architecture and interior design firm IND Architects to design their new offices in Moscow, Russia.
"The idea of the interior is based on superheroes and street art — the components which Laboratory employees can relate themselves to. The finishing materials used are as follows: textured concrete, wood, perforated metal, various kinds of glass — clear, dim, and patterned. A bright carpet tile facilitates the navigation — meeting zones are colored, while various circles in an open space zone help employees to find required groups and departments.

Walls of the office combine several functions: 1) a decorative function — bright wall murals featuring superheroes and comic books; 2) a practical function — a special surface where you can write with felt-tip pens; a bulletin board material has been pasted on some walls, where employees can fix their materials; and 3) an informative and motivational function — a wall with quotes of great people. Ceilings in a presentation and a game zones are decorated with human silhouettes, which stands for a team spirit. There are lamps between the silhouettes — they represent creative thoughts and fresh ideas. Besides, such solution improves the room acoustics.

A distinguishing feature of the Laboratory is that employees can not only work on their work places, but take an active part in brainstorms and meetings as well. This feature has identified the laying out of the office — there are many meeting zones and buzz session zones (coffee points); the game zone to have a rest with a ping-pong table, various board games, and carpet-covered walls to play darts; and two outdoor porches with gleamy furniture here. There is an open meeting hall in the center of the office – a place to make presentations with a gong on the wall used to announce that a meeting is on. There are LCD screens in front of meeting rooms which display if the rooms are available or not.

Various lighting solutions have been implemented in the office — linear light in the open space zone, LED backlighting in a hallway, and soffits in the game and the presentation zones. The classy, dynamic, and functional design with striking elements and interesting details — this is not merely an office, but a really comfortable place to create unusual and contemporary solutions too," said IND Architects.
Location: Moscow, Russia
Size: 28,309 square feet
Design: IND Architects