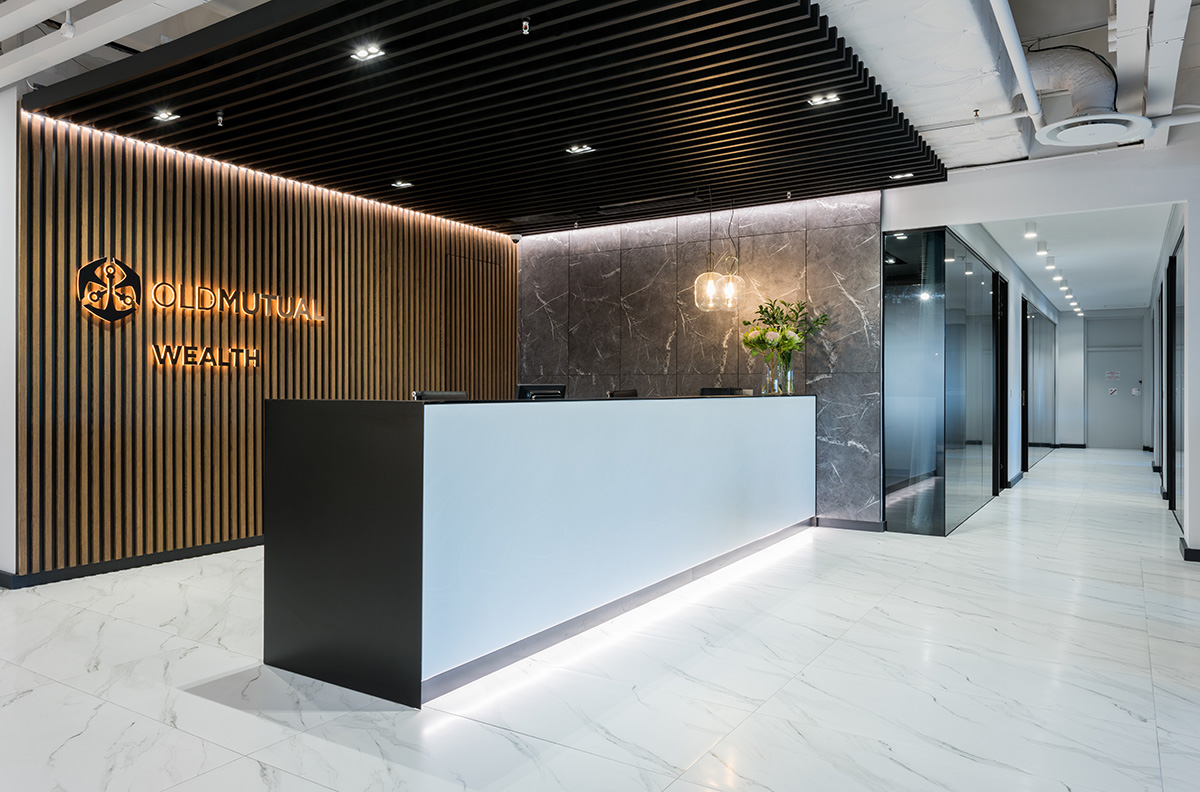 A Look Inside Old Mutual Wealth's Cape Town Office
Old Mutual Wealth, a wealth management company that provides long-term investment solutions, recently hired interior design firm Inhouse Design Studio to design their new office in Cape Town, South Africa.
"The brief sought an interior upscale that repurposed and preserved as much of the existing services and infrastructure as possible. The result is a sleek and contemporary office space that boasts improved functionality and five floors, each with their own aesthetic identity.

The ground floor functions exclusively as a client-facing space and exudes a sense of high-end luxury. A monochromatic colour palette is broken by pops of gold, copper, blue and plum – Old Mutual Wealth's new brand colours – while touches of living greenery add a softness to an otherwise chic-formal space. The open-plan setting boasts a host of functional meeting spaces that cater for varying needs; formal enclosed rooms afford privacy for both large and small meetings, while open-plan breakaway lounges illuminated by statement pendant lights offer a more relaxed setting.

Each floor has a unique identity expressed through accent colours and patterns. These are expressed through custom vinyls set on glass glazing panels and wallpapers in the various brand colours. Careful consideration was made to place varying employee groups in their most ideal setting and each floor hosts a variety of large boardrooms, smaller focus rooms, and breakaway lounges to cater for them accordingly. Smart technological systems that afford ultimate ease of use, such as power-integrated tables/panels and daylight-harvesting time systems boasting lighting that dims as the day goes by, complete this modernised office space," says Inhouse Design Studio.
Location: Cape Town, South Africa
Date completed: 2019
Size: 11,000 square feet
Design: Inhouse Design Studio