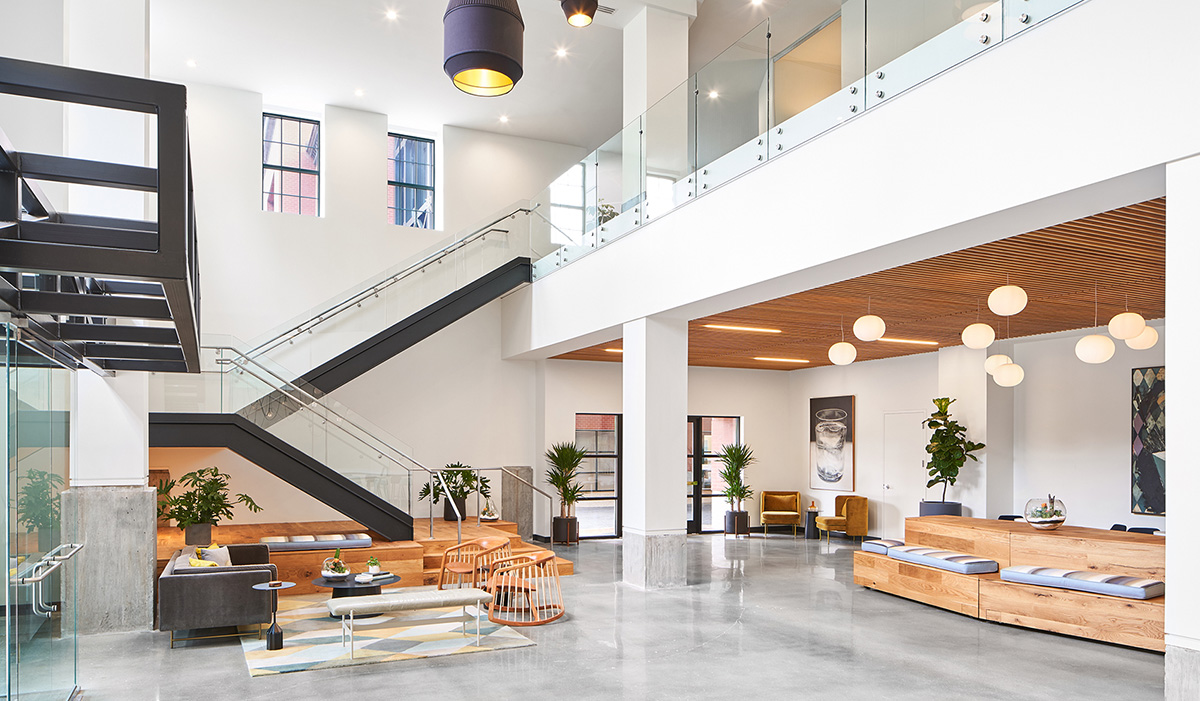 A Tour of The Martin Agency's New Richmond Office
Advertising agency The Martin Agency recently moved into a new office in Richmond, Virginia, designed by architecture and interior design firm 3north.
"Over time their building hadn't kept up with their style of work. Dark hallways flanked in green steel were ubiquitous, piecemealed renovations left the building with little design consistency, and the formal common spaces provided little room for creative collaboration.

Committed to maintaining a presence in Shockoe Bottom, the agency started working with 3north to renovate "nodes" within the agency, starting with an overhaul of the creative space on the second floor. In 2019, the firm completed its largest project with the agency to date — a complete renovation to the Atrium and Lobby areas.

The Atrium had fallen into a state of misuse. Spiral staircases bottlenecked traffic, bronze railings cut up conference room access, and unorganized seating made it difficult to use the space for meetings. 3north, instead, imagined the Atrium as the heart of the agency — an area with glass-fronted conference rooms and tucked away "havens" that formed a dynamic and versatile workplace. To give employees more reason to gather, 3north designed a bar that celebrates the agency's Richmond roots, complete with rotating taps of local brews and a large interactive map that indicates where the beverages are made within the city.

When it came to the Lobby, both parties wanted to reimagine the definition. Instead of the traditional, bunker-like reception desk and separate seating area, the space was transformed into a gallery — inviting, dynamic, and embedded with the character of Richmond. 3north stripped the decorative metalwork and returned the space to natural materials, clean lines, and plenty of light, complete with a wood ceiling and dancing globe lights. The reception desk was replaced with a custom-made steel-framed table that doubles as a co-working space for employees.

Further, the desk was relocated to the west side of the lobby to give guests a direct view to the gallery upon entering. Finally, rising in the same location as the spiral staircase before it, the new lobby stair was dramatically simplified both in form and material palette. The architecture takes a step back to put the spotlight on local art and craft. ," says 3north.
Location: Richmond, Virginia
Date completed: 2019
Size: 122,000 square feet
Design: 3north
Photos: Keith Isaacs