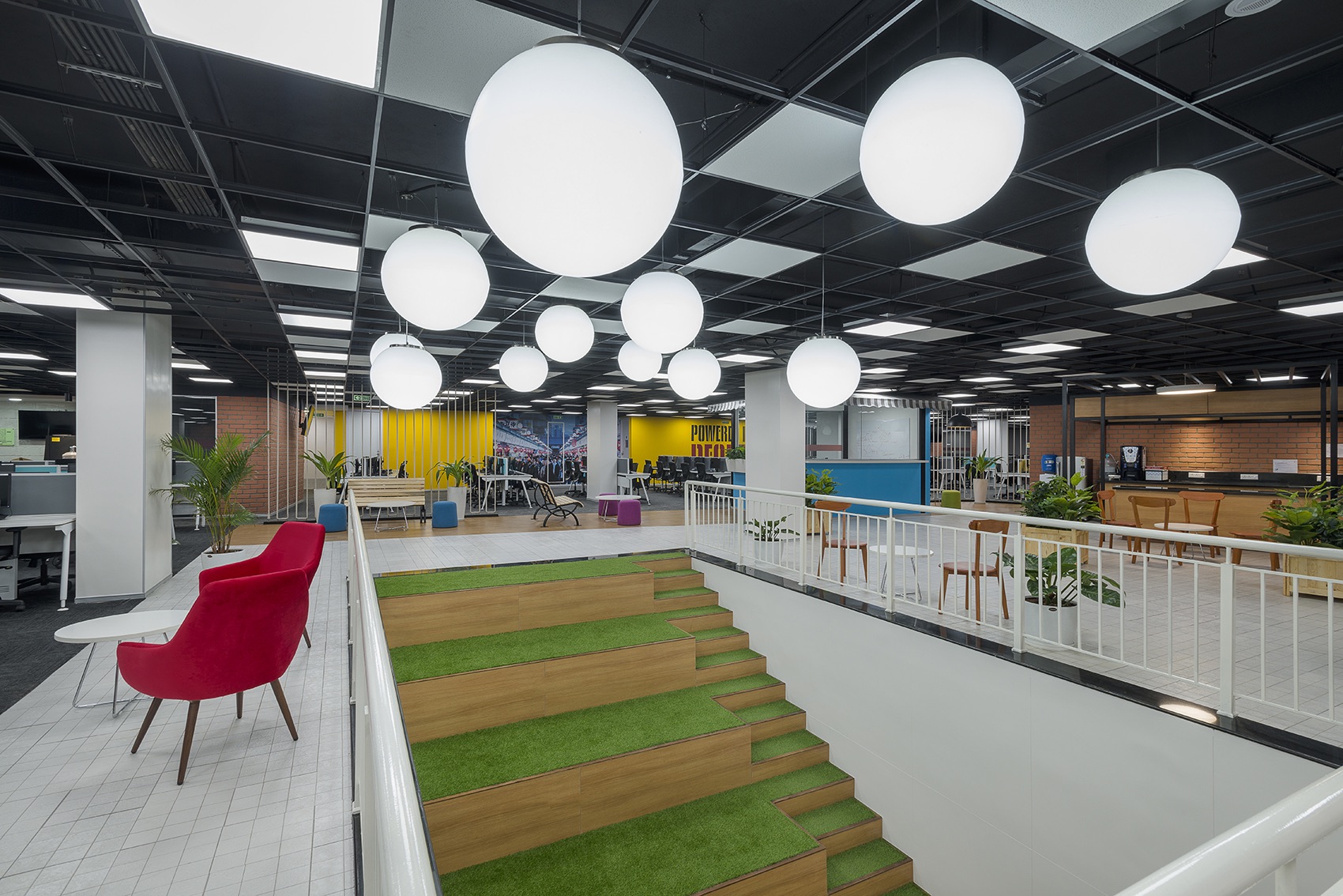 A Tour of Udaan's Modern New Bengaluru Office
Udaan, a B2B platform designed for small & medium businesses in India, recently hired interior design firm Zyeta to design their second office in Bengaluru, India.
"The workspace, which primarily houses the B2B trade platform giant's backend / customer support forms a vital part of the company's operations. Multiple batches of employees work throughout a 24/7 cycle, making human capital the most important element of the equation. Zyeta's collaboration with the company has helped it develop the ideal design for its newest office. One that's not only bold in appearance, but also bathed in a logical aura of wellness towards the employees.

The total area of is spread over four floors. Thematically, the office design represents 'City Building' (aka 'Udaan City'). Each floor symbolically represents an aspect of what comprises of a modern city and carries its own distinct look and feel: The ground floor represents 'City Gardens' and espouses natural elements; the first floor by contrast represents 'Commercial Districts'; the second floor is designed on the theme 'Culture'-focusing on music, cinema and the arts; the third floor represents a city's 'Transit' and has elements like terminals, transport hubs etc. Finally, the fourth floor—which is the central cafeteria, is themed on 'Garages'—managing to carry off a cool, trendy and urban vibe. The material palette is also synchronized with the theme of each floor of the township, adding a lot to its specific nature and identity. This boldness in look ensures that the visual milieu around employees always remains vibrant throughout the day and never gets stale or repetitive.

Aside from the look, extreme consideration is paid to ensure employees are always enveloped in a pristine aura of well-being. The ground floor reception in itself, acts as an outstanding example—able to house more than 35 employees at once—with five interview-cum-vendor discussion rooms housed within. This outstanding and spacious construction is also complimented by an adjacent Amphitheatre, which offers a peek inside the vibrant company culture. The ground floor also offers a direct glimpse at the first floor—which becomes a holding space for a town hall. All in all, it is ensured that each one of the 1700 employees gets the space required to do their jobs with ease and efficiency.

This level of care also extends to the distribution of light and sound in the workspace interiors. Workstations arranged in closed proximity to the glazing ensure that there is always an ample supply of natural light during working hours. The meeting room, which is placed in the center acts as a logical barrier between the collaboration areas and the workspace. It also eliminates visual distractions and absorbs extra, residual noise on the floor—minimizing discrepancy and allowing for more focus.

Employee recuperation is also an important consideration in the design. To accommodate the hectic, day-long work schedule, facilities are made for internal relaxation—informal seating, relaxation zone, booth seats (which double as sleeping pods). This enables spaces where they can relax, refresh and regain their focus. Overall, Zyeta was able to successfully collaborate with the company in developing the ideal modern office interior design for their latest phase. One that ensures that employees remain content, engaged, collaborative and satisfied– being able to manage hectic schedules with a smile on their face," says Zyeta.
Location: Bengaluru, India
Date completed: 2019
Design: Zyeta
Photos: Anand