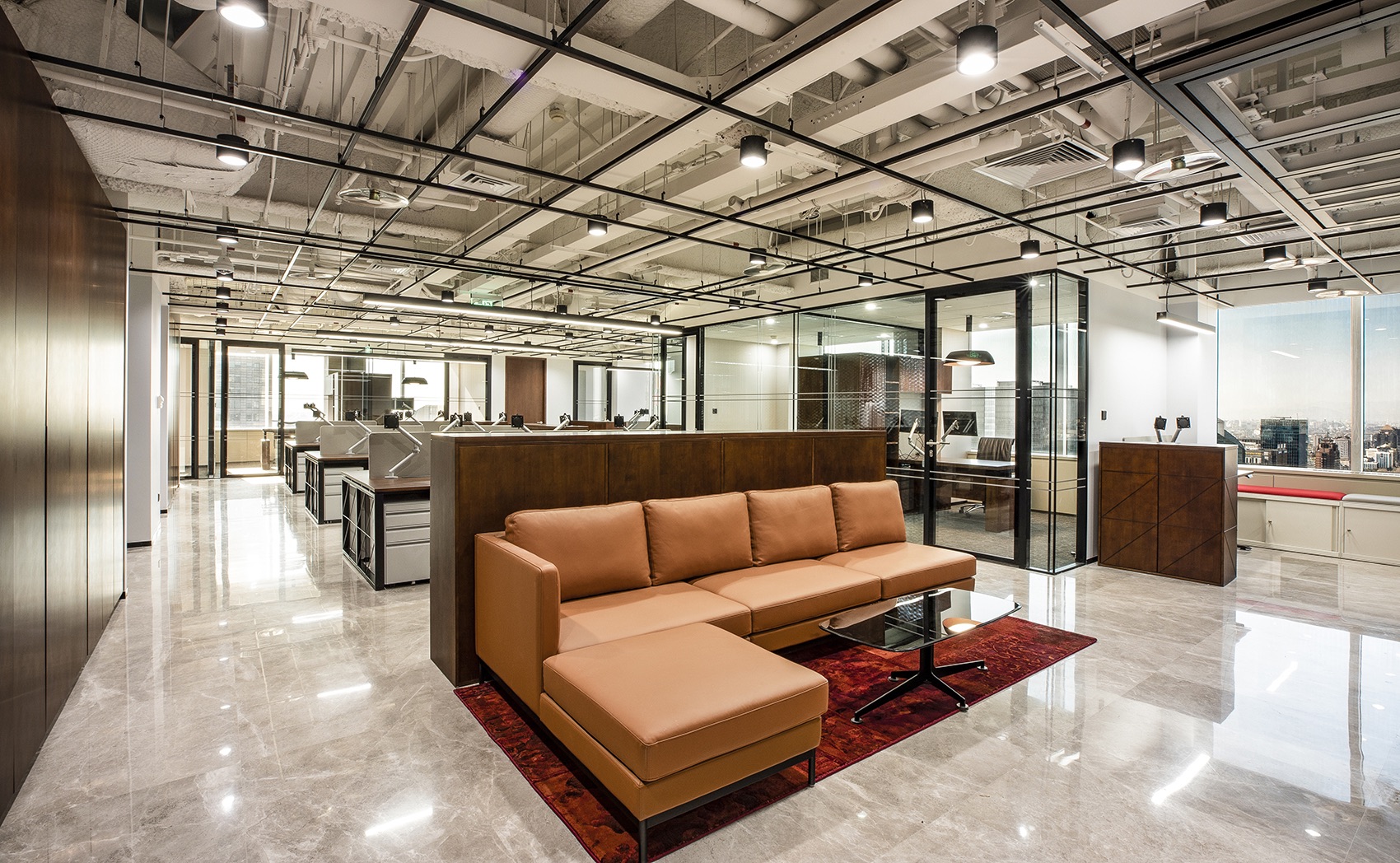 A Tour of Perkins Coie's Elegant New Beijing Office
Perkins Coie, an international law firm specialized in a wide range of industries, hired architecture and interior design studio MCX Interior to design their new office in Beijing, China.
"Perkins Coie's youngest partner, Scott Palmer, insisted on a forward-thinking, modern office that combined elements of Chinese culture with an open, industrial vibe, even including a coffee bar open to the largest open office area. Jim Zimmerman, who literally "wrote the book" on the practice of law in China (the ABA's China Law Deskbook, now in its fourth edition as "the ultimate reference and an indispensable tool for those involved or interested in the laws of the People's Republic of China") brought tradition to and even allowed the use of his own collection of antique Chinese maps in the space.

Finally, Mike House, firmwide co-chair of international trade and transactions, helped tie together the two extremes with his appreciation of solid materials such as hardwood surfaces, natural stone flooring throughout the entirety of the open office areas and double-pane glass walls that keep communications private while maintaining the open feeling, culminating in a vibrant feeling while maintaining the traditional elegance appropriate for a firm with Perkins Coie's 100+ year history and status as international "Counsel to Great Companies".

With each of the three partners standing as a leader in his own practice areas in Beijing and China generally, the firm asked MCX Interior to create an office both comfortable and productive for working and also suitable for hosting events as well. MCX Interior made openness a theme with views from reception through the main boardrooms to panoramic cityscapes and into the open office and its café area. At the same time, the office maintains necessary privacy and security using features such as electronic polarized glass on the conference room walls and strategic placement of classical furniture to keep all documentation and computer screens shielded from public view. When the office hosts large events, the secure entrances and even the boardroom walls relocate, changing the café area from part of the secure, internal open office area to making it part of the front-of-house for enjoyment by the firm's guests, while maintaining the same security for the internal office area.

Inside the office, all staff enjoy the use of dual monitors at ergonomic workstations with greenery abounding in the very natural-feeling office, while the firm provides adjustable-height workstations for all lawyers. Partner offices remain private yet open and airy, with acoustically strong, double-pane glass that wraps beyond the front of each office, maintaining necessary audible privacy while creating greater openness than typical offices due to their wider peripheral views into the open office area as well as outward across the Beijing city skyline," says MCX Interior.
Location: Beijing, China
Date completed: 2019
Size: 9,000 square feet
Design: MCX Interior