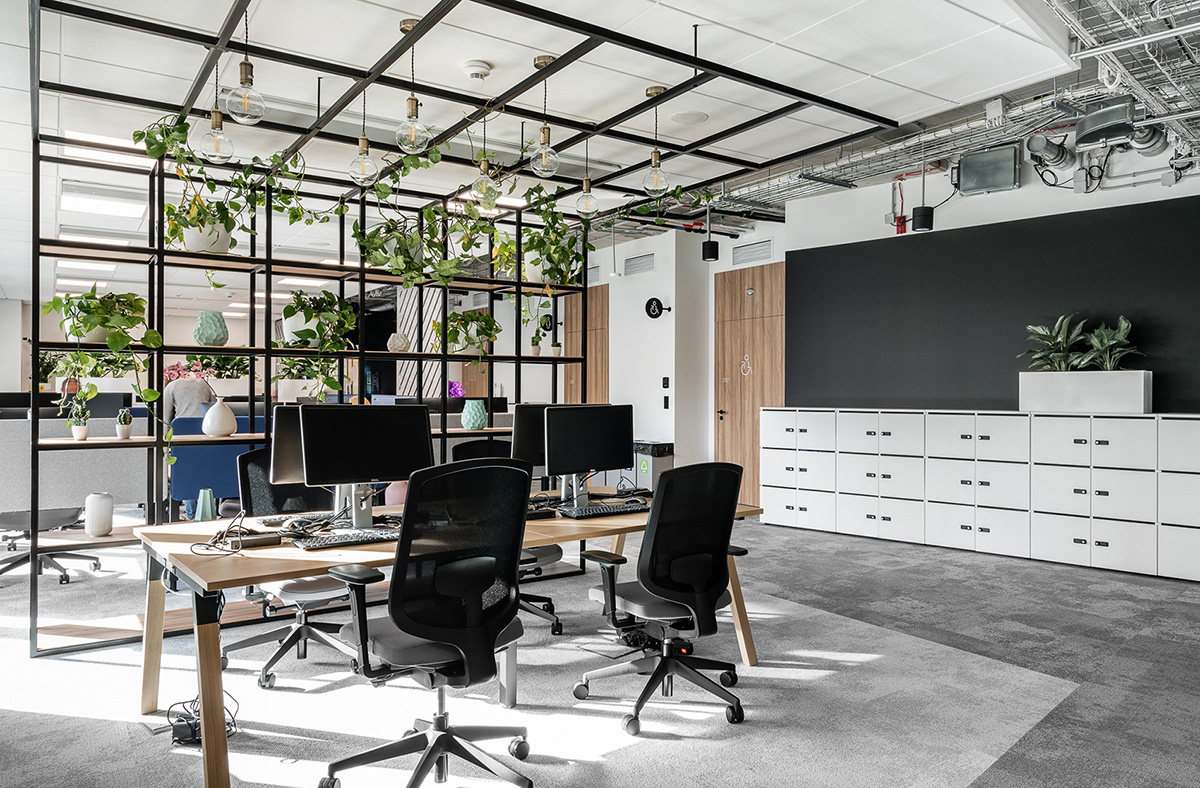 A Tour of UPC's Biophilic Warsaw Office
International telecommunications company UPC recently hired architectural studio The Design Group to design their new office in Warsaw, Poland.
"A good impression is necessary right from the moment you enter. And this is the case with the UPC office. The reception area was designed in a futuristic, technical style, with a solid dose of greenery and elegant furniture. Each of the elements has a cylindrical or oval shape, which can be seen especially in the shape of the enclosures and the phenomenal lamps under the ceiling.

Against the background of the installation, there are interweaving luminous circles, three of which symbolize the complementary services of UPC. The elegant furniture from the best manufacturers makes this part of the office look more like a living room or a café than a typical waiting room.

Already here you can see a characteristic element of the office arrangement – refined, graphic iconography. It helps with orientation in space and provides visual enrichment. As a result, the space looks a bit like being a part of a computer interface, and to some extent like a comic book universe. The whole is completed by full-wall graphics with illustrations and motivational slogans, which were created as a result of UPC's and The Design Group's cooperation with a creative agency. Thanks to this, this environment is pleasant, modern and youthful. The distinctive color scheme blends with elegant industrial black and modern styling.

The key stage of this project was to develop a precise space plan. It was very detailed, based on a projection of the future behavior of employees and their working style. The Design Group's experience in designing offices allows for an accurate prediction what functional solutions will work in a given space. In consequence, it was possible to arrange individual office areas to make the happy office idea and home climate perfectly visible. The goal could be achieved by, among others small chillout zones, coffee points or separate silent zones for concentrated working, spread over two floors.

A home-like atmosphere has also been created thanks to the focus on high quality products and sophisticated aesthetics. For example, the catering area looks like an elegant, home kitchen. This effect is enhanced by, among others cabinet fronts made of copper-colored laminate," says The Design Group.