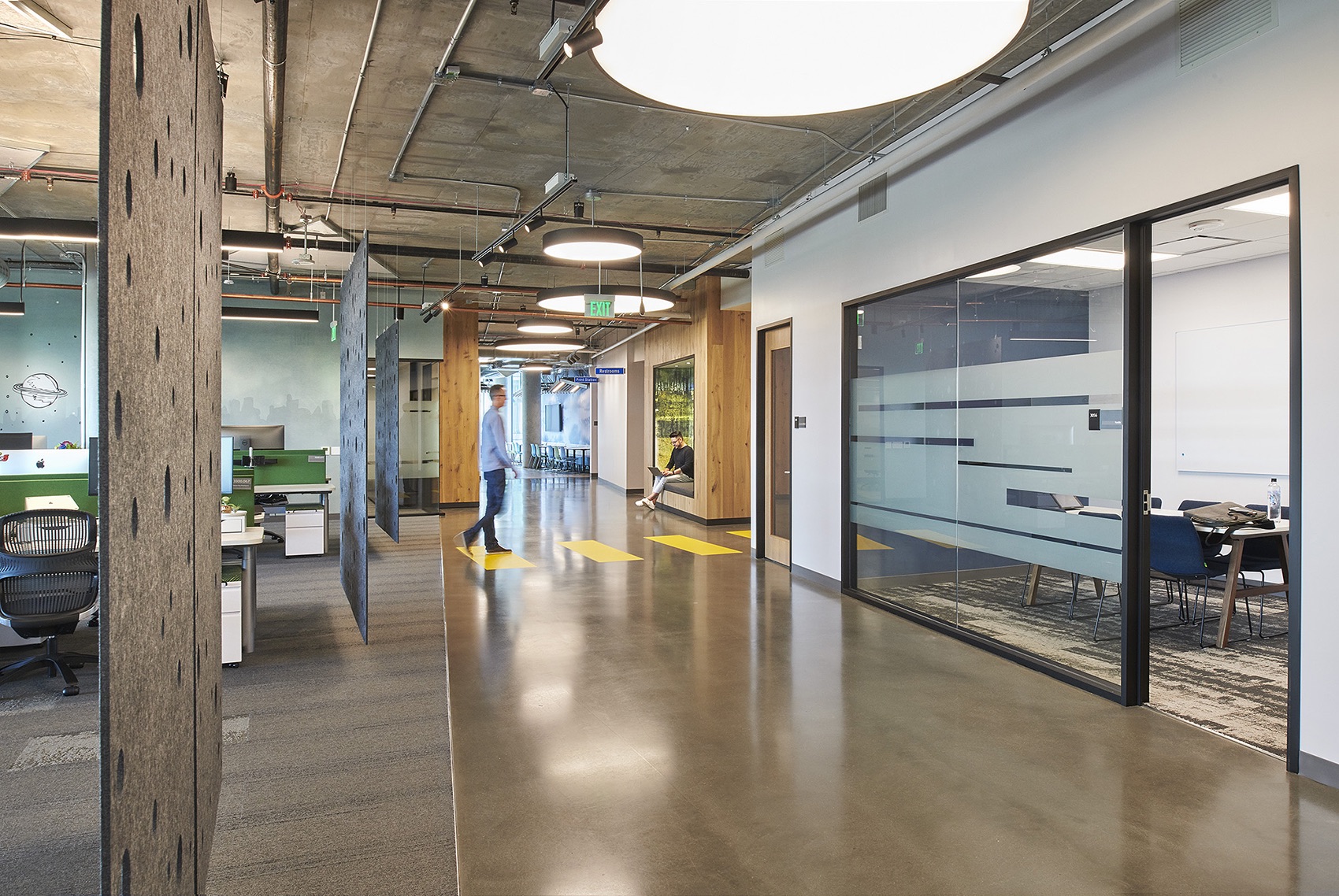 Inside Guidewire's New San Mateo Office
Guidewire, a software company that offers platform for property and casualty insurance carriers, recently hired architecture and interior design firm David Whitney Architects to design their new office in San Mateo, California.
"The overarching design concept centers around themes of wellness, bringing the outside inside, and collaboration in an open, easy to navigate layout with accents dedicated to the world of P&C insurance throughout the building. In addition, Guidewire considers itself to be part of the global P&C insurance community and wanted its new office to convey its commitment to serving an industry responsible for protecting people and business.

A diagonal "Boulevard" organizes the office into zones, allowing occupants to easily comprehend orientation. The Boulevard allows direct access to the full spectrum of cultural, work-related, recreational, and business function spaces in the project. Natural elements like wood and abstract plant textures are incorporated into graphics, wall signage and key markings (crosswalks lead to stairs) and textural changes (carpet vs. wood plank flooring vs. polished concrete) identify changes in use.

The open office uses refined textures and vibrant color. The goal is to subtly change the environment as one traverses the space. To that end, occupants and visitors can easily navigate within the space with minimal directional signage. Ancillary pieces and graphic elements add excitement, and green "parklet" lounge spaces and break rooms provide a respite to the daily buzz. Casual spaces (cafes, break areas, and game rooms) feature varied supplementary furniture and complementary yet unconventional flooring. The end result is an engaging and visually exciting space that inspires the Guidewire team to venture beyond the typical open office work area for a broad range of choices in workspace for enhanced collaboration.
In order to visually represent the emotional connection to its customers and employees and the importance of serving the P&C community, Guidewire selected three artists to create artwork that captured the world of P&C through their respective lenses with each artist's work displayed on a different floor. The artwork utilizes complementary colors to the office's palette, so it really feels like it belongs.

The Executive Briefing Center, created to honor Guidewire's customers, includes smaller conference rooms, a huddle room, and small kitchenettes to create a welcoming, comfortable space for customers to engage in meetings or work. Included in the space is a customer wall, made up of wood and contrasting metal, where the names of Guidewire customers are etched on removeable wooden tiles that provides both a visual and tactile experience.

The new building has been designed with an eco-friendly focus highlighted by centralized trash centers so all waste can be correctly disposed of (e.g. compostable, recyclable, and landfill) and the elimination of single use cups and utensils. The building is located near a Caltrain station and sustainable methods of transportation including ride-sharing, carpooling, leveraging green vehicles, and biking are also encouraged," say David Whitney Architects.