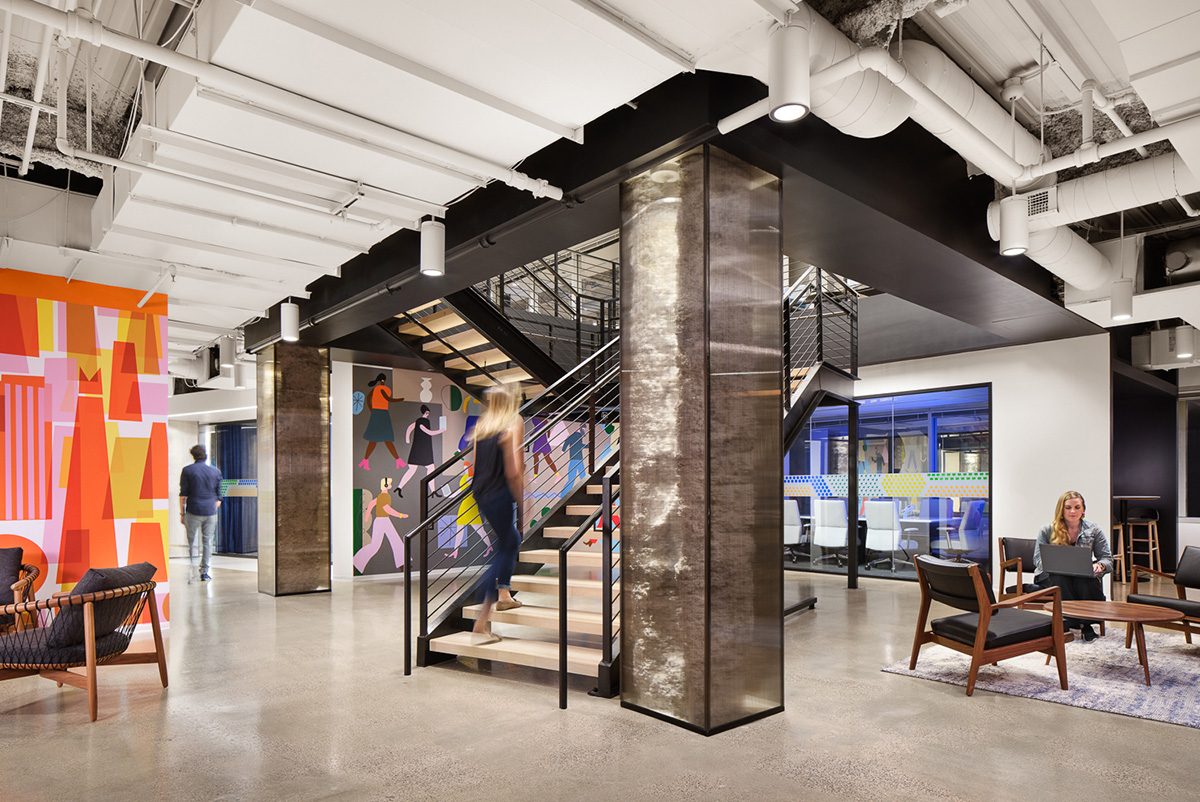 A Look Inside CareerBuilder's New Chicago HQ
Online-hiring platform CareerBuilder hired architecture & interior design firm Perkins and Will to redesign their headquarters in Chicago, Illinois.
"To breathe new life into the tech company's three-and-a-half-floor, 75,000-square-foot HQ, Perkins and Will designed a sophisticated yet minimalist interior informed by the valuable input of a team of CareerBuilder employees from various departments who helped pinpoint day-to-day necessities.

Upon entering the office on the 11th floor, visitors and employees are welcomed into a wide reception area, which serves as a large hub together with a multi-use lounge and pantry space. This communal area is visible from multiple vantage points to enhance visual connections between departments and foster a transparent company culture. Further into the space, a centrally-located feature stairway functions as a main artery, connecting all levels. The stairs are framed by two exposed columns, encased and illuminated within corrugated polycarbonate sheets that display the building's industrial interior. Continuing this raw architectural theme, white slatted ceilings are open to the structure above, which is painted a vibrant blue. A training center is located just beyond this area, separated by a garage door, which allows for the center to be acoustically isolated when needed and open when not in use.

Aiming to strip the space of hierarchical design elements such as tall partition workstations and private offices, Perkins and Will integrated low partitions and benching-style workstations for a more horizontal organizational structure. Split into neighborhoods, the workspace promotes movement and employee connections through thoughtful spatial planning and vertical connections. Owing to the open space plan and fewer private offices, an abundance of conference rooms and phone rooms were integrated into the floor plan to provide employees with breakout spaces for meetings and quiet focus. All conference rooms were strategically wrapped around the core, allowing natural light to permeate the office throughout.

Employee health and wellbeing was a top priority for the redesigning of the space. Consequently, uplighting was installed in the open office to help reduce glare and eye strain, workstations were outfitted with height-adjustable desks, while the dispersion of smaller breakout spaces encourages employees to move around the office throughout the day.

For the interior color scheme, a neutral base palette is accented by a thoughtful use of company branding colors and graphics. The design team blended natural wood with concrete elements and soft textiles to create an inviting workspace that would help spark creativity. Various branded graphics throughout the space encourage activity and interaction, such as a magnetic block wall, 211/212 degree ping pong ball feature, and rotating photo elements," says Perkins and Will.
Location: Chicago, Illinois
Date completed: 2019
Size: 75,000 square feet
Design: Perkins and Will