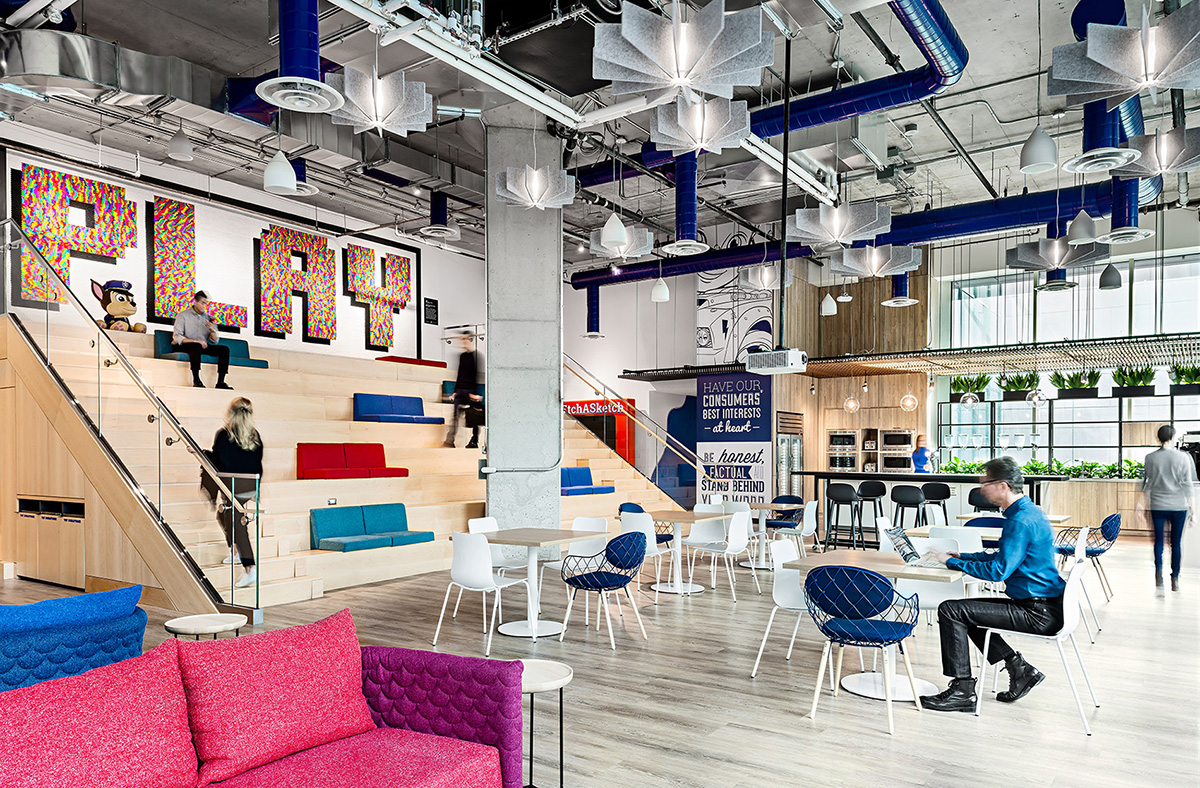 A Tour of Spin Master's Cool New Toronto Office
Global toy company Spin Master recently hired interior design firm iN STUDIO to design their new office in Toronto, Canada.
"As a fundamentally creative company, Spin Master had a vision for their new workspace and was involved in the creative process from initial design stages through execution. Working in close collaboration, iN STUDIO leveraged innovative ideas brought to the table by Spin Master, fostering their evolution into forward-thinking design solutions that brought Spin Master's visions to life. Spin Master's workplace expresses its unique story in an engaging and creative way, while simultaneously serving as an incubator for the many ideas hatched there every day.

iN STUDIO stripped the interior of the space back to the building's original concrete, creating a raw backdrop for the mostly open-plan office, reminiscent of what one would find in an old factory or warehouse. A giant interactive video wall in the reception area encourages visitors and staff to engage with the brand and products through a 16' x 10' touch screen display featuring graphics custom designed by Spin Master. The past, present, and future of Spin Master comes alive through a wayfinding "ribbon" that begins in the ground floor reception and weaves through the six-floor workspace, and features installations that are a reminder of Spin Master's history.

When approaching the design throughout the rest of the office, iN STUDIO drew inspiration from the client's product line-up. For example, the show-stopping "Block Stair," a centerpiece of the space, playfully brings to life Spin Master's Jumbling Tower, a stack of wooden building blocks, in the form of a statement staircase. Similarly, iN STUDIO and Spin Master worked closely together to create fun signage for the town hall made out of Spin Master's Bunchums, colorful little balls that stick to each other.

Open and collaborative areas for team brainstorms are featured throughout, along with a cafe and town hall for larger staff gatherings. Height adjustable workstations and office suites are incorporated to provide additional comfort for employees, and biophilic elements bring nature into the mix. A children's library showcasing a variety of products fosters child-like inspiration for creative teams and provides entertainment for younger guests. The tinker lab provides a behind-the-scenes look at where the magic comes to life. Equipped with a 3D printing lab and workshop, teams have the ability to prototype, test, and develop new innovations
on-site," says iN STUDIO.
Location: Toronto, Canada
Date completed: 2019
Size: 100,000 square feet
Design: iN STUDIO