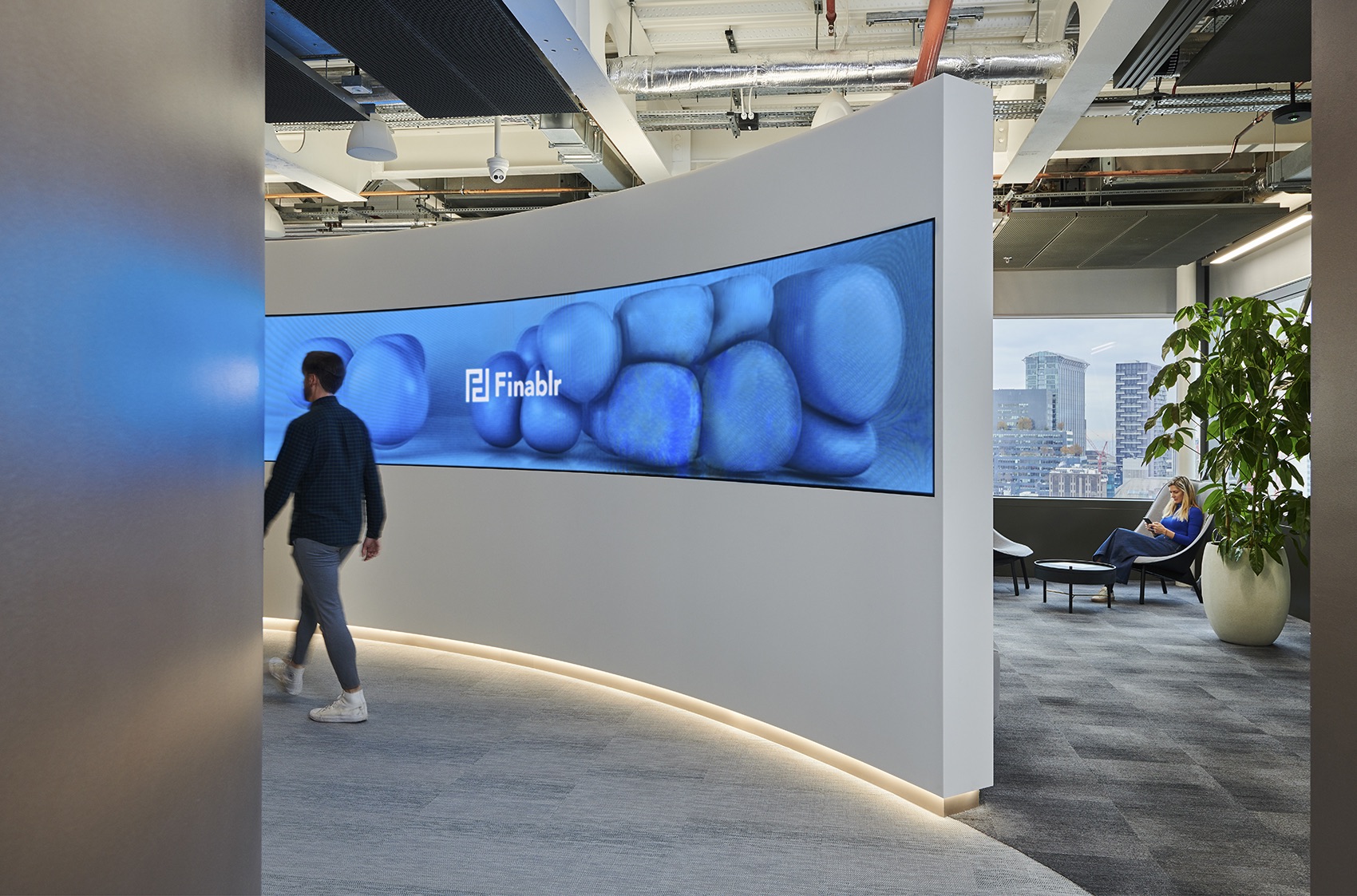 A Look Inside Finablr's New London Office
Fintech payment platform Finablr recently hired architecture and interior design firm M Moser Associates to design their new office in London, England.
"A platform for innovation

Enabling Finablr to disrupt a competitive FinTech market, the workplace supports the launch of new products and services. The multi-purpose amphitheatre, UX lounge, and Research Room create a community-driven incubator to pioneer new technologies.

Stakeholders strategise, experiment and intelligently risk-take within the innovation centre. The landscape dilates through the remodelling of comfortable work settings that support the needs of a changing workforce. Employees and teams adapt areas, without restriction, to achieve their goals.

Understanding user behaviour

Developing an understanding of the intended users was one of the biggest considerations. The project team needed to examine the roles, personalities and behaviours of employees from initial occupancy.

Our approach to "behaviour-based design" has enabled settings such as a curved digital wall that guides staff and guests into the showcase space, The Counter. This impactful user experience combines branding and wayfinding, whilst providing privacy to the business lounge.

A series of stakeholder journeys guided the interior design. These touchpoints provide staff, customers, and partners organic intersections to engage and collaborate.

Freedom of choice

A variety of work settings provides freedom of choice for users. A crucial consideration for top talent in the workplace. Creating environments that support every individual to be as effective as possible can have a dramatic impact on their overall output.

Private and focused work settings balance open areas to create options for the individual to choose how they want to work.

Choice enables the user to create a unique experience – this is especially essential for Gen Z who value experience over ownership.

Future-proofing an evolving environment

Future versatility drove base-build enhancements to involve high-level components into the ceiling. Removing elements such as floor boxes has enabled the creation of an adaptable workshop space clear of obstacles.

To respond to cycles of flexibility, a combination of mobile-tiered seating, whiteboards on tracks and lightweight stackable chairs activate the amphitheatre to accommodate up to 120 people. The space supports TED-talk style presentations, training sessions, and workshops. TV/AV equipment offers the ability to stream Finablr's town-hall meetings globally.

Acoustic curtains that zone the amphitheatre feature a transparent honeycomb pattern. The holes in the net-like fabric trap sound to block it from entering or leaving. Booth seating situated behind the curtains is a perfect space for private calls or discussions," say M Moser Associates.
Location: London, England
Date completed: 2019
Size: 11,000 square feet
Design: M Moser Associates
Photos: Alex Kendrick